Here's Who You'll Find In Tiffany Trump's Circle Of Rich Friends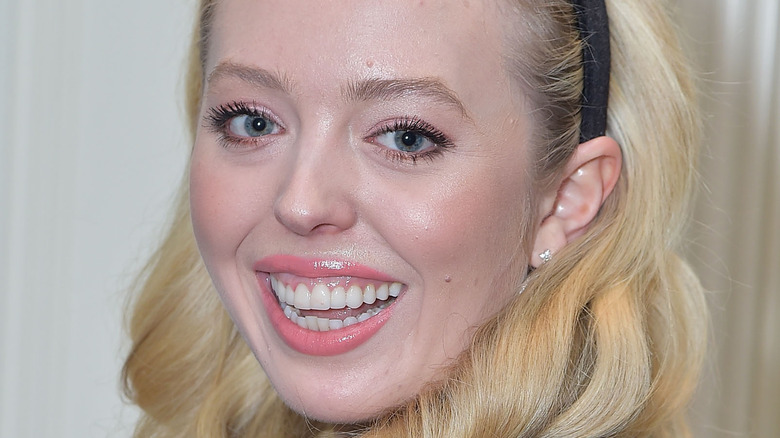 Theo Wargo/Getty Images
Despite being the daughter of one of the wealthiest men in America, Tiffany Trump reportedly doesn't act like she comes from money. Tiffany, who is former president Donald Trump's child with actor Marla Maples, is deemed humble compared to the rest of the Trump kids. "When staying at a Trump hotel, she's careful not to go overboard on room service," a source told Us Weekly. "I've heard her say, 'I'm lucky to have a room here!'"
Tiffany also didn't enjoy the same privileges her half-siblings had growing up. In fact, if it weren't for big sister Ivanka Trump, the 29-year-old wouldn't have been given her own credit card, per Vanity Fair. And even then, Tiffany had to make do with a budget of $500 a month, which is generally considered chump change compared to her siblings' wealth. Even her circle of friends is starkly different, with the outlet noting that she failed to secure a spot in the notoriously exclusive Tabard Society at the University of Pennsylvania, an elite sorority known for recruiting well-connected students.
Of course, this doesn't mean that Tiffany is an outcast. In fact, she's the exact opposite. She's still a Trump, after all, so it doesn't come as a surprise that she belongs to a popular group known as the Snap Pack.
All about the Snap Pack
You may not know Tiffany Trump's friends, but you've probably seen them on Instagram. The social media-savvy Trump is part of the "Snap Pack," a coin termed by The New York Times to describe a group of friends who are famous for being, well, rich. They often post photos of themselves on yachts and private planes or gallivanting in different parts of the world.
Per Vanity Fair, most of the Snap Pack comes from prominent families and the New York City elite. Aside from Trump, members include Henri Matisse's great-great-granddaughter Gaïa Matisse, Robert F. Kennedy Jr.'s daughter, Kyra Kennedy, and DJ John "Jellybean" Benitez's daughter, Raya Benitez. While they seem like spoiled kids who do nothing but document how they spend their parents' money, each of them has their fair share of ambitions. Matisse is trying to make it big as an actor, while Benitez is following in her father's footsteps without using his name.
Thanks to their social media fame, the Snap Pack has gotten offers to star in their own reality TV series, but they know better than to accept them. "It conflicts so much with all of our different personal goals. Besides, it's not about money or fame, it's about our friendships. It's about us being f****** amazing people and loving each other," said Matisse, while Tiffany dished that "you have to think long term." Even Kennedy balked at the idea. "I think that it's just selling yourself, and it's not an attractive look," she said. 
Are the Snap Pack still friends?
When Tiffany Trump joined her father's 2016 Presidential Campaign, she had to make the sacrifice of distancing herself from her friends. She had stopped posting Rich Kids of Instagram-adjacent posts on her socials, and at the time, it seemed like she only exclusively hung out with the rest of the Trumps and people in politics. Even her friends knew not to associate themselves with her as much. Andrew Warren, who owned the now-defunct brand Just Drew, told The New York Times that he didn't ask Tiffany to model his clothes for better optics. "With Tiffany Trump, there is too much going on," he admitted. "It was great press, but it was a distraction from the designs. I don't want to mix with politics."
Does this mean the Snap Pack is no longer a thing? Well, not quite. In 2018, Tiffany started using social media normally again. And apparently, her isolation from her friends was temporary. The writer who covered the friend group on NYT revealed that during Donald Trump's campaign, Tiffany had not been allowed to hang out with them. With her occasionally showing up on their posts again, it looks like the Snap Pack is back in business.