Everything We Know About Mindy Kaling's Time In College
Tinseltown/Shutterstock
When it comes to comedy writing and acting, Mindy Kaling has done both. She was a writer and actor on "The Office," a comedy that is still meme'd and quoted to this day. She then went on to star in "The Mindy Project," which featured her in the titular role named after her. One of her most recent successes is the Netflix series, "Never Have I Ever," where she feels like each character makes up a "different part of [her] personality." as she said in an interview with People.
But another one of her latest endeavors is as the showrunner and creator of "The Sex Lives of College Girls," an HBO Max original series about four roommates navigating their different lives at an elite east coast school. And that rings familiar for Kaling since she attended an Ivy League school in a very familiar setting. And very similar to Bela (Amrit Kaur) on the show, Kaling went to college with the desire to be a comedy writer and performer one day, which eventually landed her the writer/actor role she had on "The Office," per The New York Times.
Mindy Kaling went to an elite East Coast college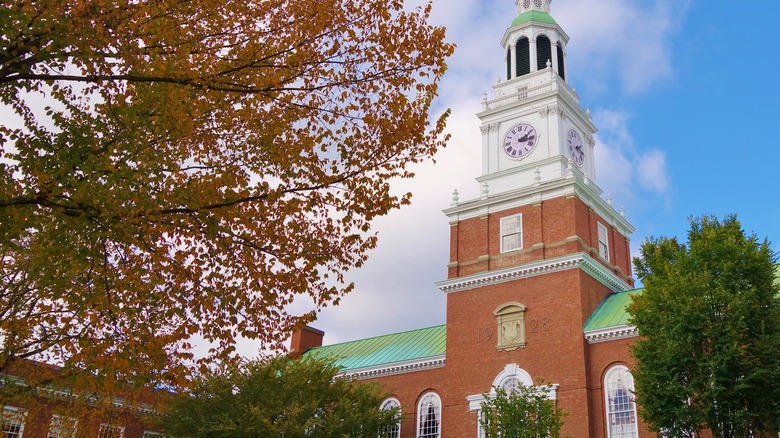 Dan Lewis/Shutterstock
If you want to know what Mindy Kaling's life was like in college, "The Sex Lives of Colleges Girls" takes place in a similar setting. The girls in the show go to a prestigious college on the east coast and Kaling went to Dartmouth College which is almost an identical campus (via Bustle). She earned a bachelor's degree in playwriting when she graduated in 2001, per The Dartmouth. In a Nov. 21, 2021 interview with Bustle, Kaling revealed that she planned out exactly what she wanted to use college for. She planned to "sing with an a cappella group, join an improv comedy troupe, and write for the college's humor magazine." And just like Bela on the show, Kaling wanted to eventually be on "Saturday Night Live." It's very ambitious, and Kaling knows this. "I was almost diabolical in how planned everything was," she said. "I did not care at all about academics."
In an interview with The A.V. Club on Nov. 18, 2021, Kaling shared that she loved her time in college. But unlike the girls on the show, Kaling revealed that because she was "sexually repressed as a kid," fear of sex followed her into adulthood too. "I'm Indian," told Bustle, "My parents were not telling us about sex, and it was taboo growing up." She shared that "sex scared [her]" and that partly influenced her to write about it.
Kaling's college life influenced only parts of her HBO show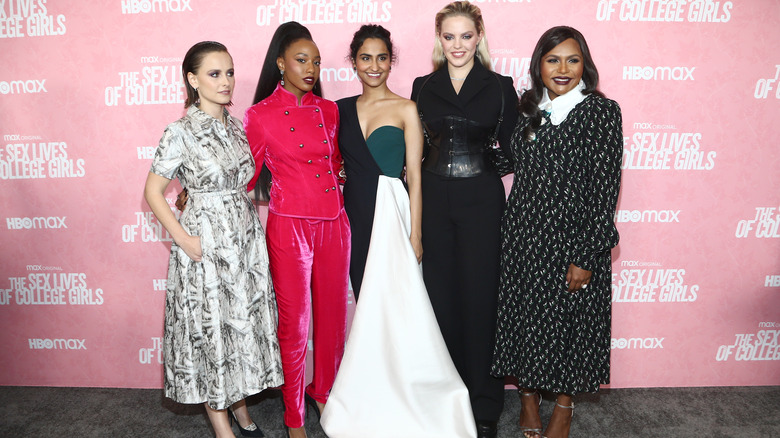 Tommaso Boddi/Getty Images
Because Mindy Kaling was so different in college when it came to sex than the characters on her show, "The Sex Lives of College Girls," she had to do research and write things that made her uncomfortable but the experience was also "kind of titillating and exciting," she told The A.V. Club. But another thing Kaling feared about spearheading this show was that people would think or feel like her college experience fully influenced the show. "I was also terrified about the show seeming like it was about my experience or it feeling dated," she told The A.V. Club. To fix this, she and her co-creator Justin Noble (who went to Yale) went to their alma maters for research. "We went to the type of places we cover on the show, like a women's center, and talked to the girls there. We wanted to find out what their world was really like," the actor said.
This was more than helpful for Kaling. Her co-creator told Bustle that the idea of sex is very different now than it was. "There's just such a different perception of what a sex life is to an 18, 19, 20-year-old girl now in an extraordinary way," Noble said. "We want[ed] our show to be in that realm of sex positivity."