Inside Blake Shelton's Relationship With Gwen Stefani's Sons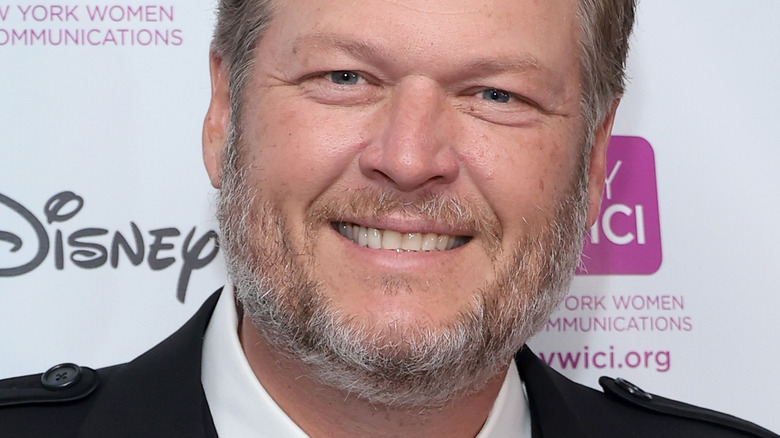 Dimitrios Kambouris/Getty Images
Never in Gwen Stefani's life did she think she would eventually end up with country superstar Blake Shelton.
In an interview on "Today" in 2019, back when they were still just dating, No Doubt's lead singer thanked her lucky stars that their paths somehow crossed, leading her to marry the man of her dreams. "I just never thought in my wildest dreams, on paper, a cowboy and a ska-like girl from Anaheim would be hanging out," Stefani shared. "But it works perfect and we're just having so much fun, and we just feel so blessed to be at this point in our lives."
But aside from Shelton being the perfect partner for her, Stefani said that a huge part of the reason why she's head over heels in love is that the "God's Country" crooner is a great father figure to the three kids she shares with ex Gavin Rossdale. "He is a good dad, actually," she added. "He's been helping me out a lot, so I literally get to the point where I'm like, 'You gotta get home, I need help.' It's hard. I got three boys."
Lucky for her, Shelton has grown to love the kids, too — so much so that he chose to step back from making music to focus on their new blended family.
Blake Shelton says he's 'in love' with Gwen Stefani's sons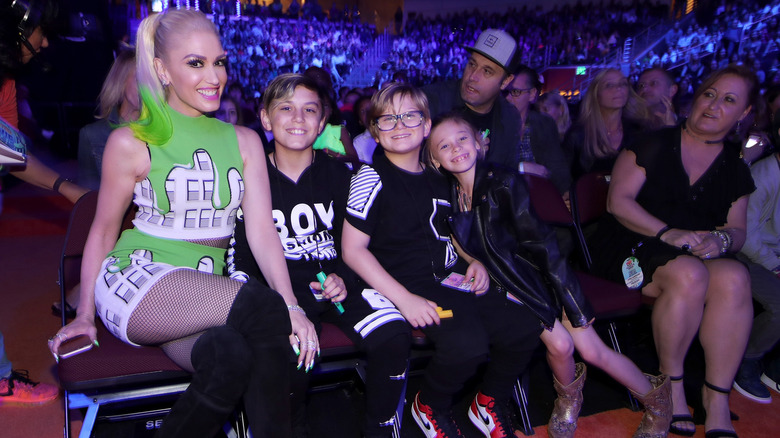 Chris Polk/kca2017/Getty Images
Before getting down on one knee for Gwen Stefani, Blake Shelton first asked for her hand in marriage. But, instead of seeking permission from her father first, he went straight to her three sons, Kingston, Zuma, and Apollo.
"Blake told her boys that he wanted to propose and asked their permission," a source told People in 2020 following the proposal. "Her family very much approves of him. He's an amazing partner and a great extra dad to the boys. Gwen is ecstatic. The proposal was a surprise." 
What's interesting is Shelton didn't know if he was capable of being a dad at the start, especially since he had no parenting experience from his previous marriage. It wasn't until he spent more time with them that he found out that he was a natural. "For a long time, it was awkward trying to figure out what my place is and in their mind too," he shared with the outlet in a separate interview. "The best part for me, selfishly, is discovering a part of myself that I guess I never really knew was in there. It's definitely an instinct that kind of kicks in." And now, Shelton cannot get enough of the boys. "There's days where you go, 'Oh my God, when does school start?'" he joked. "An hour later you're going, 'God, I can't wait 'til they get home... They're so damn funny. It's just my first time being around it, and it's easy to fall in love with those kids."
Blake Shelton on fatherhood
Marrying Gwen Stefani made Blake Shelton realize there's more to life than his work. In 2022, he announced that he was stepping down from being a coach on "The Voice" to focus on their blended family. "Look, I love music and I love The Voice. I love all the cool things I get to do with my job, but those things all take a backseat now to Gwen and the kids and it's just a new phase of my life," he told Entertainment Tonight. 
And while he initially didn't think he would be a good father, he revealed that he draws inspiration from his own dad, who acted as a stepfather to the children of the woman he married after his mom. "The example that my dad set for me was that was not even a consideration. 'You got three boys? Awesome! My dad did it. My dad raised me. I could do this,'" he told "Good Morning America." "I didn't know what I was signing up for, but I was all about signing up for it, and every day I've fallen in love with the boys as much as I do with Gwen."
Now, he wouldn't have it any other way. "They've taught me something about myself that I never knew: I'm more than just a country singer or a goofy guy," he told People of his new stepsons. "I'm someone they actually lean on, and that's not a responsibility that I ever had and not something that I ever considered even being into."