The Serious Medical Condition That Phil Mickelson Lives With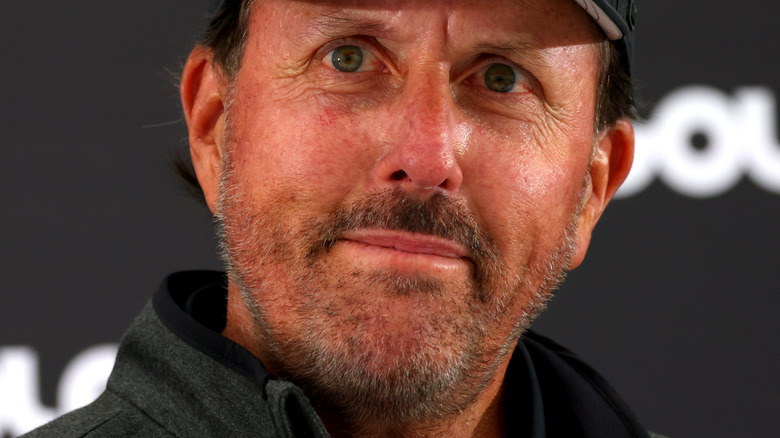 Chris Trotman/liv Golf/Getty Images
Phil Mickelson is one of golf's most famous and accomplished players. According to Britannica, the San Diego, California native became the first amateur golfer to win three national Junior Player of the Year awards in a row in the late 1980s. After a successful stint at Arizona State University, where he continued to hone his skills, he started his professional career by joining the PGA Tour in 1992. In the time since, Mickelson has excelled in over 45 PGA Tour events and racked up a net worth of over $300 million, per Celebrity Net Worth.
Unfortunately, Mickelson's journey in golf hasn't been a totally smooth ride. Not only has Mickelson found himself engulfed in controversy — such as the time he got suspended from the PGA Tour for supporting their competitor LIV, per Golf Digest — his complicated relationship with Tiger Woods has played out in the press for years. On top of that, Mickelson lives with a serious medical condition that once threatened to torpedo his career. 
Phil Mickelson has psoriatic arthritis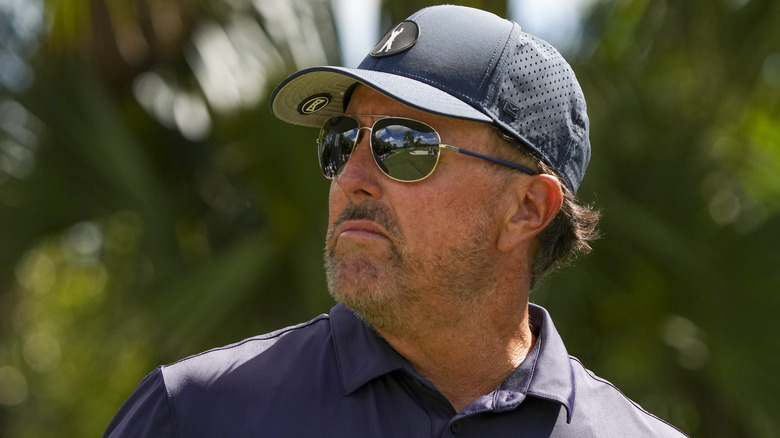 Eric Espada/Getty Images
According to ABC News, Phil Mickelson revealed he'd been diagnosed with psoriatic arthritis back in 2010. Psoriatic arthritis, per Mayo Clinic, is a type of arthritis that mainly affects people already dealing with psoriasis, causing joint issues, back and foot pain and inflammation of the eye. There is no cure; however, treatment can reduce symptoms. 
Mickelson first became concerned after he experienced bouts of joint pain while preparing for an upcoming tournament, per ABC News. "I didn't think much of it," shared Mickelson. "But I didn't know what it was or what it could be."  And while Mickelson first hoped the pain would go (and stay) away, it returned worse than before, scaring Mickelson. "I started wondering what it was, and if it was even treatable," he continued. After scheduling a visit with a rheumatologist, he received his diagnosis.
Unfortunately, psoriatic arthritis can lead to a loss of mobility, which would be extremely detrimental for a professional athlete. However, Mickelson's career is still going strong over a decade after learning of his condition. In 2021, he won the PGA Tour Championship, per CBS News, just one year before he landed a $125 million contract with the LIV Golf tournament, per CNBN — proving his skills are still in high demand.  But just how does Mickelson manage to stay healthy amid his diagnosis?
How Phil Mickelson manages his diagnosis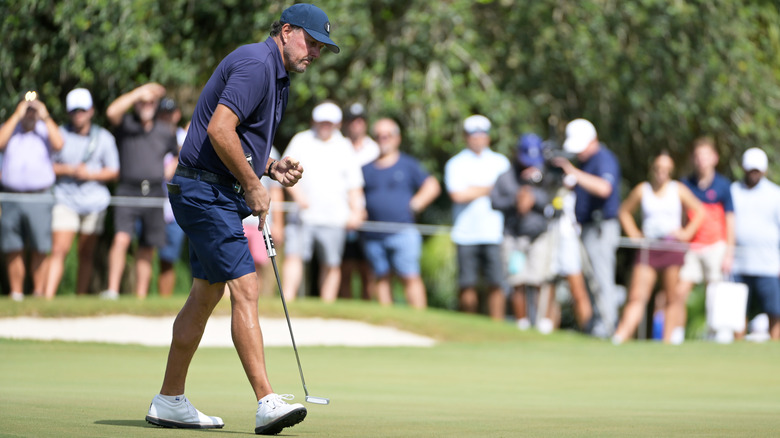 Charles Laberge/liv Golf/Getty Images
As mentioned above, there is no cure for psoriatic arthritis. There are just a variety of treatment options, which don't always work for every individual patient. In Phil Mickelson's case, however, he uses a combination of medication and other therapies. According to Middlesex Health, Mickelson gets treated with Enbrel, which helps reduce his pain. And due to his positive reaction with the medication, he briefly promoted their product in television commercials.
Mickelson has also worked closely with the same doctor who's treated his condition since his diagnosis, per USA Today. "He seemed to have found something," Mickelson shared back in 2017. "This is the best energy I've had throughout [the Dell Technologies Championship] and the best focus. My short game has been very disappointing and I haven't been able to visualize the shot I've been trying to hit." However, with the help of his doctor, Mickelson's energy improved. "And today, and for probably the last few days, I've been able to see the shot again. And so it was a good day."