Christina Hall's New Photo With Her Son Is Telling After Custody Drama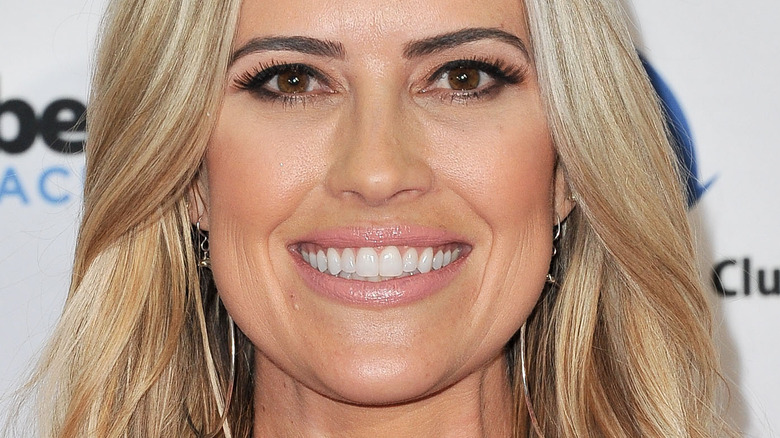 Allen Berezovsky/Getty Images
HGTV star Christina Hall and her ex-husband, Ant Anstead, seem to be following their custody agreement even after all the drama that unfolded. Hall and Antsead were married for three years until their divorce in 2021, per Insider. In the time they were married, they welcomed a son, Hudson. Divorce can already be difficult, but adding custody agreements can make it all the more stressful. The battle between Hall and Antstead was no different.
According to Us Weekly, fans were shocked to hear that in early 2022 Anstead asked to have full custody of their son. A couple of months later, the "Wheeler Dealers" star filed paperwork alleging that Hall's social media advertisements involving Hudson were "detrimental to his well-being." Anstead shared in the paperwork, "It is my goal to ensure that Hudson is allowed a childhood that is joyful, healthy, and natural, with as few stresses as possible, and this should be prioritized above creating commercial opportunity and content." This didn't sit well with the "Christina on the Coast" star.
Hall fired back with her legal response, explaining why Hudson was in some of her posts. She said, "He appeared in a few of my own Instagram ads that each took less than 5 minutes to film. I have all the footage and they were all fun activities that he enjoyed doing, such as playing with toys or making cookies." The former couple's arguments didn't end there, as it took some time before they came to an agreement.
Christina and Ant share separate holiday photos of Hudson
Christina Hall and Ant Anstead were still going back and forth in October 2022, per Us Weekly. The HGTV star claimed Anstead was using "manipulation and false information" against her and her posts. She said, "Because of this, I have made the decision to no longer feature Hudson on Instagram, my TV shows or any social platforms until he is old enough to make this decision for himself."
In November 2022, Hall and Anstead finally agreed on custody over Hudson, with the court granting them joint legal and physical custody. Based on their social media posts, the couple is sticking to their agreement.
Hall posted a photo of Hudson in the holiday spirit on Instagram. Granted, it only showed the back of him as he captured a sweet moment of Hall and her husband, Josh Hall, in front of a Christmas tree. She captioned the photo, "Kid loves being behind the camera..." As for Anstead, he posted his version of their son enjoying the holiday. The photo showed Hudson's side profile as he helped to put an ornament on the Christmas tree. He said, "Tis the season. Having grown in the freezing UK I Still find it wild that a California Christmas tree compliments a warm beach sunset! Temple so cosy and festive, and Hudzo always the willing helper x." The festive season seems to have put whatever drama Anstead and Hall had behind them.