What We Know About Blake Shelton And Carson Daly's Friendship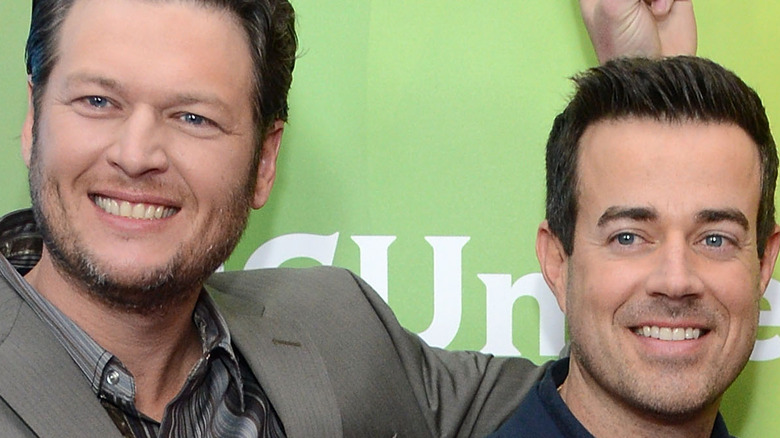 Jason Kempin/Getty Images
Blake Shelton and Carson Daly aren't just co-workers, they're real-life BFFs. The two have appeared on "The Voice" since 2011 and have become friends since. Daly is the singing competition's host, while Shelton has been the only coach who has been on all 22 seasons, per Variety. Shelton and Daly became so close that the former "MTV" veejay officiated the country singer's wedding with fellow "The Voice" coach Gwen Stefani, per Today. Shelton and Stefani got married in July 2021 at the "Ol' Red" singer's ranch in Oklahoma. "It was incredible to be a part of such an important moment in their lives. The ceremony was a perfect blend of country and glamour, of course, just like Blake and Gwen," Daly described.
Stefani later appeared on "Jimmy Kimmel Live!" and revealed why she and Shelton had chosen Daly as their officiant. "Basically, we didn't know who was gonna marry us — it was COVID ... We knew we wanted it to be intimate and I just had the idea of Carson because he's the one person that we both know so well, and we've known through the years," she explained. Although Shelton has been on "The Voice" since Season 1, he revealed some disappointing news to fans, which Daly was not happy about.
Carson Daly hates that Blake Shelton is leaving The Voice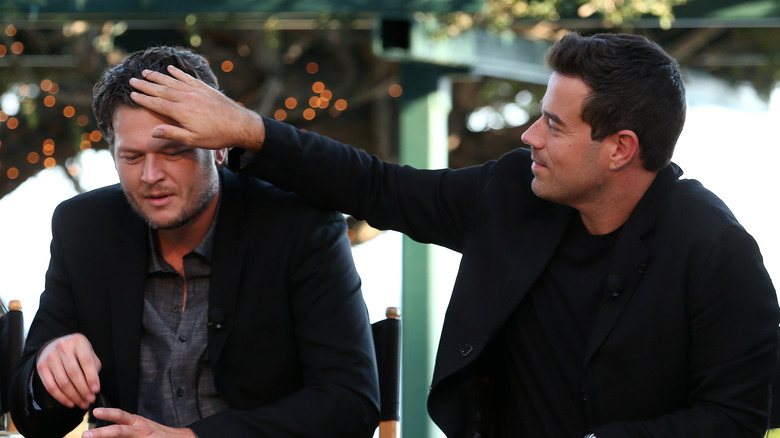 Christopher Polk/Getty Images
Blake Shelton has never missed a season of "The Voice." However, the country crooner told fans that Season 23 would be his last. "I've been wrestling with this for a while and I've decided that it's time for me to step away from 'The Voice' after next season. This show has changed my life in every way for the better and it will always feel like home to me," he shared in a statement via Instagram. He went on to say he made "lifelong bonds with Carson" and his wife Gwen Stefani, whom he met on the show.
Carson Daly shared how he felt about his longtime friend leaving. "I hate it. He and I obviously developed a great friendship at 'The Voice.' I'm bummed, but I get it," he told ET. He acknowledged that Shelton had other businesses to tend to, such as his music career. "I don't know who I'm gonna eat my meals with now. I'm just gonna have to get a cardboard cutout," Daly joked. Although Shelton will be leaving "The Voice," he and Daly will still be co-workers, as they have a fun project in the works.
Blake Shelton and Carson Daly have another show together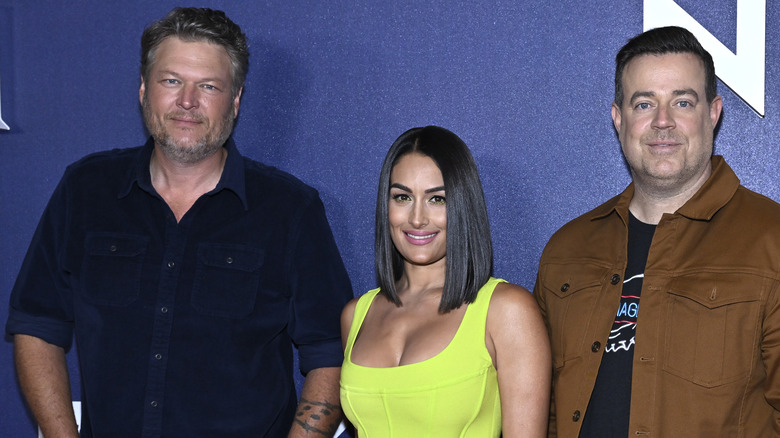 Roy Rochlin/Getty Images
Blake Shelton is not letting his imminent departure from "The Voice" affect his and Carson Daly's working relationship. The two have a new game show called "Barmageddon" on USA, per Today. The show takes place at Shelton's Nashville bar, Ole Red, and features contestants playing bar games with a twist, like drunken axe hole and keg curling. WWE star Nikki Bella is the host of the show.
As for how they came up with the concept, Daly shared, "We started talking about bar Olympics. I used to go with my friends, used to always play bar Olympics. We'd come to a fun bar, like Ole Red in Nashville, with darts." He recalled asking Shelton, "What if we did that kind of thing, but it was like over the top and just a lot talking smack and just drinking and having fun? Like real escapism, good old fashioned American fun." Daly revealed Shelton was all for it.
Shelton and Daly introduced "Barmageddon" on Season 22 of "The Voice." Shelton played the show's games with their fellow coaches, John Legend, Gwen Stefani, and Camila Cabello, while Daly hosted. If the show is anything like Shelton and Daly's friendship, viewers are sure to love it.