Are Winona Ryder And Christina Ricci Still Close?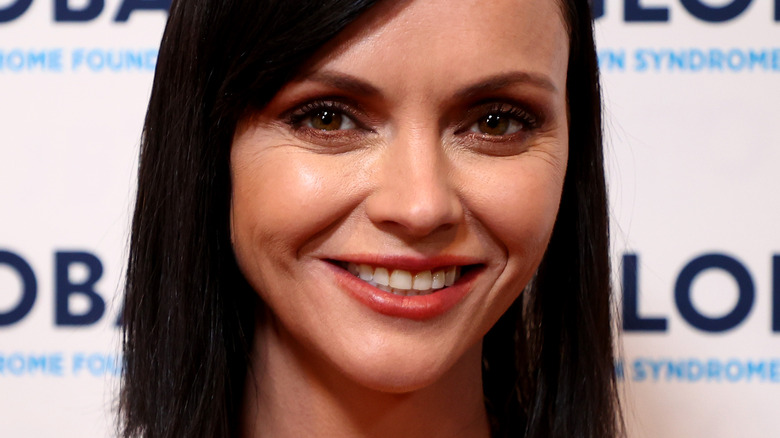 Jamie Schwaberow/Getty Images
Of course the nation's two favorite iconic Gen X actors — that would be Winona Ryder and Christina Ricci — have worked together (on the movie "Mermaids" in 1990 alongside Cher, no less), but what we really want to know is are they friends? Okay, technically Ricci is a millennial because she was born in 1980, but that's not the point. From the outside looking in, at least, Ryder and Ricci have more than just the '90s in common. 
Both actors became mega stars after appearing in quirky-spooky movies that happened to become huge hits. For Ryder, this was "Beetlejuice" in 1988. For Ricci, it was "The Addams Family" in 1991. Ryder and Ricci also became known for starring in creepy cult classics like "Edward Scissorhands" and "Casper," respectively. Both were favored stars of King of Creepy himself Tim Burton, and both have been the face of designer Marc Jacobs campaigns. Ricci narrated a "Little Women" audiobook. Ryder starred as Jo March in the much beloved film version of "Little Women." 
So what we're wondering here is: Are they close?
Winona Ryder said Christina Ricci was very mature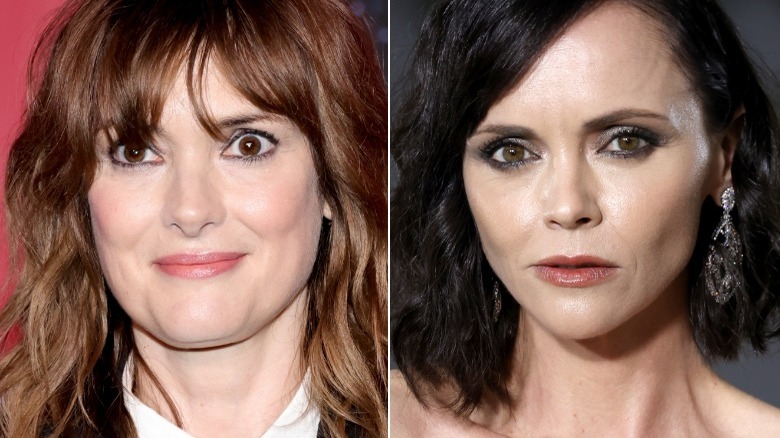 Theo Wargo & Frazer Harrison/Getty
While Christina Ricci and Winona Ryder did work together on "Mermaids" in 1990, which was Ricci's first big role, it doesn't look like they were ever particularly close friends. For one thing, when they met, Ryder was 18 and Ricci was only 10. That said, it's obvious there was at least a little bonding going on — in a big sister, little sister kind of way. 
In an old interview about Ryder's movie "Autumn In New York," she told the interviewer, "I'm worried about friends of mine who are in the business and young. I worked with Christina Ricci; her first movie was Mermaids (1990). Kirsten Dunst is doing great. But I worry about the roles. You can't go from being, like, a college freshman to being a lawyer. There's this couple of years where you have to kind of get by, and it's hard." She added, "But I have such total faith in people like Christina and Kirsten. They are so grown up. It's wonderful."
As time went on, Ryder's faith in the two stars paid off, as both Ricci and Dunst went on to become successful actors in their adult years. And who can forget Dunst's iconic kiss from "Spider-Man?!"
Winona Ryder taught Christina Ricci the word 'homophobic'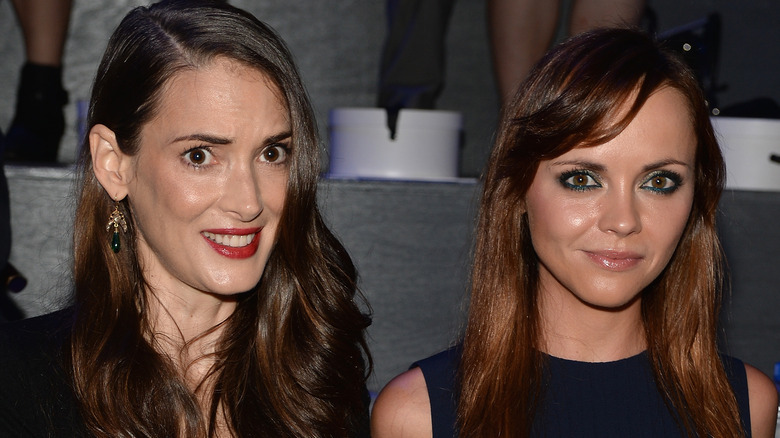 Dimitrios Kambouris/Getty Images
It does look like Winona Ryder had a pretty big impact on Christina Ricci's life — at least in one way. Speaking to Andy Cohen on his SiriusXM radio show (via Entertainment Tonight), Ricci recalled hearing the word "homophobic" at the age of 9 and asking Ryder what the word meant. "There was something going on on-set and someone was not being nice to someone else. And they were like, 'Oh, well, he might be homophobic.' And then I was like, 'Well, I don't understand what that is,'" said Ricci. "And I was in Winona's trailer and she was like, 'I don't know how ... ' so she put me on the phone with Johnny [Depp]. And Johnny explained it to me." Depp and Ryder were dating at the time, so it makes sense that Ryder would turn to her boyfriend for advice.
As of this writing, the most recent time Ryder and Ricci got together appears to be in 2013, when they reunited briefly to see a Marc Jacobs fashion show. According to E! News, the two actors hugged and said hello, but spent most of their attention on the main event.