The Royal Drama That Went Down At Prince Harry's Christening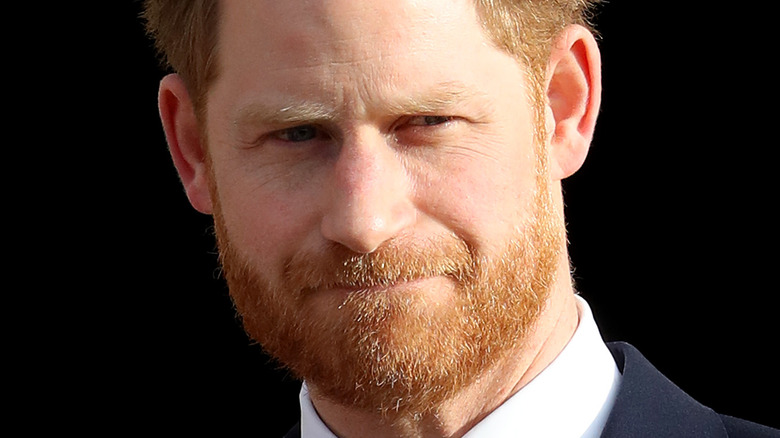 Chris Jackson/Getty Images
If there's one thing we've learned over the past few years, it's that no matter how much the royal family abides by their mantra, "Never complain, never explain," there's still a bit of drama that leaks out. Family feuds, pettiness, sibling rivalry? See, they're just like us! The only difference is that the British tabloids don't cover the rest of us as we squabble with relatives.
Prince Harry and Meghan Markle have been the subject of much media attention on this subject, especially since their Netflix docuseries "Harry & Meghan" dropped. An exclusive survey leads to the idea that Harry actually left the royal family largely because of family drama and secondly to protect his wife and children. In fact, a lot of information has since aired about Harry and Meghan's royal exit and it all points to a family feud, particularly between Harry and his brother, Prince William. Despite all of the drama that has emerged from the Netflix production, Harry and Meghan still allegedly want to meet with the royal family to see what can be done. But will the rest of the royals agree to it? Time will tell. 
But interpersonal drama with the royal family obviously predates Harry and William. Their mother, Princess Diana, had her fair share of well-documented drama with her in-laws and even her son's christening wasn't without some royal beef. In fact, both Princess Anne and Prince Philip were offended at Harry's baptism. 
Princess Anne was offended by the christening snub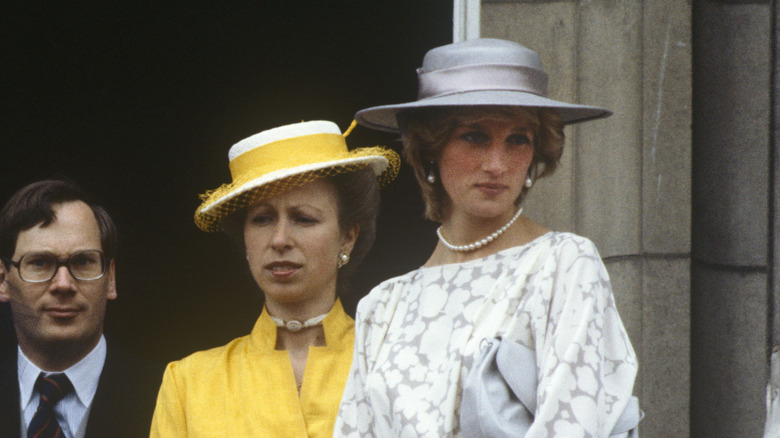 David Levenson/Getty Images
Prince Harry was christened in 1984 at Queen Elizabeth II's private chapel at Windsor Castle to great pomp and ceremony. Adding to the royal tradition, Harry wore a white gown that dated back to 1841 and was first used by Queen Victoria's children. But Harry was one of the last to wear the baptismal garment, as it was later retired due to fragility.
Part of royal tradition is to have a sizable grouping of godparents, typically about six, many of whom are powerful figures within the British aristocracy or close friends of the parents. Interestingly, it's less common to have aunts and uncles step up for the role of godparent precisely because they're already a relation and therefore need no more encouragement to remain close to the child. Harry's six godparents included: Lady Sarah Armstrong-Jones, Princess Margaret's daughter; Celia Vestey, a neighbor of Princess Diana and the then-Prince Charles; Gerald Ward, a friend of Charles; Carolyn Bartholomew, a former roommate and friend of Diana's; and Bryan Organ, a painter, according to People. However, Charles and Diana broke protocol by including a relative in the list; they asked Charles' younger brother, Prince Andrew, to be a godfather. Andrew's inclusion was a huge snub to Princess Anne, who was so offended by the slight that she and husband Capt. Mark Phillips didn't even attend Harry's baptism.
Prince Philip was also offended by the snub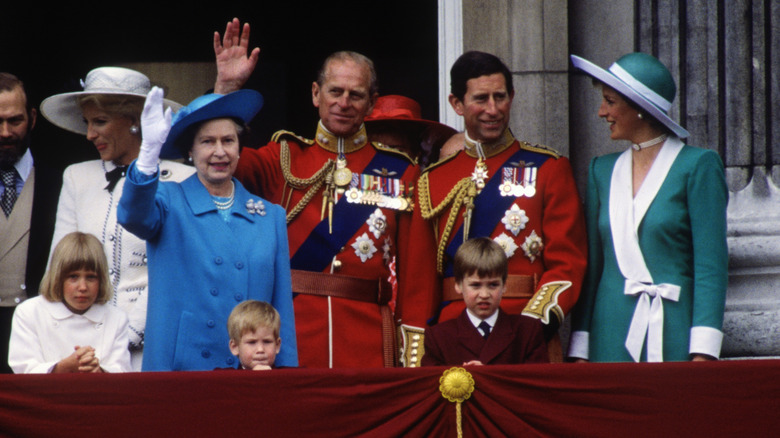 David Levenson/Getty Images
It wasn't just Princess Anne who was hurt by Princess Diana and the then-Prince Charles' decision to omit her from the list of Prince Harry's godparents. The late Prince Philip was also offended that his daughter didn't make the cut. "Prince Philip was very hopeful she would be chosen this time," a royal source told People. Not only that, but Anne's decision to skip the baptism entirely was fine by Philip, as they both had mixed feelings about Charles and Diana. "Father and daughter have long hidden their irritation with Charles and Diana, who, they feel, are not pulling their weight in the work of the royal family," a paper reported at the time (via People).
Harry's christening seemed rife with drama, and it wasn't just Anne who got hurt feelings around the event. Things weren't much better between Charles and Diana after the former spoke to Diana's mother about the gender of their baby. Diana told Andrew Morton, "Charles went to talk to my mother at Harry's christening and said: 'We were so disappointed — we thought it would be a girl'" (via Express). "Mummy snapped his head off, saying: 'You should realize how lucky you are to have a child that's normal,'" Diana went on. But she added that the interaction created a tension. "Ever since that day, the shutters have come down — and that's what he does when he gets somebody answering back at him," Diana added. Clearly, it was a very tense event!