Why Courtney Love Isn't A Fan Of Gwen Stefani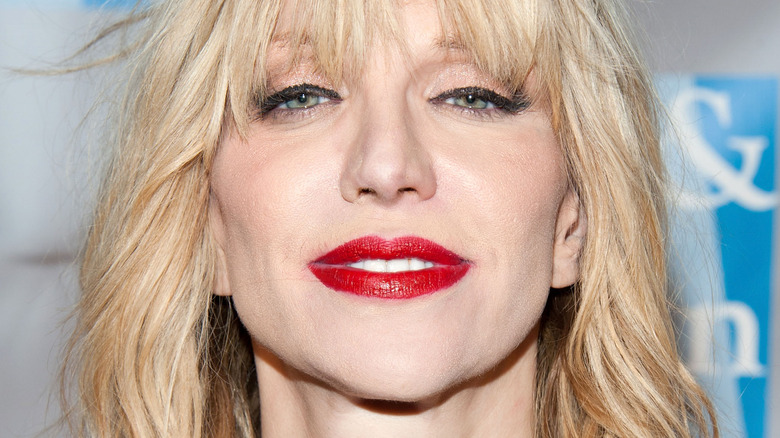 Amanda Edwards/Getty Images
Courtney Love isn't afraid of starting fires. The "Hole" singer often speaks her mind and has created a few rifts because of this. Love called Olivia Rodrigo "rude" for using cover art on her album "Sour" that was a little too close to Love's 1994 album cover, "Live Through This." Rodrigo's fans clapped back at Love, while Rodrigo herself was pretty mature and gracious through the dilemma.
Love has also had an ongoing feud with Dave Grohl, who was Nirvana's drummer, making him a bandmate of her late husband, Kurt Cobain. The two have had a tense relationship since Cobain's death, particularly about the rights to Nirvana's royalties. Love also slammed Lily James for her portrayal of Pamela Anderson in the Hulu series "Pam & Tommy." On Facebook, Love defended Anderson. "My heart goes out to Pammy further causing her complex trauma," Love wrote (via USA Today). "And shame on Lily James whoever the f**k she is." Love said that she was working on a "Hole" album when the original tape was leaked. "The staff engineers / producers / owners / were watching the sex tape with huge schadenfreude," Love continued. "It was disgusting. I banned anyone discussing it. It destroyed my friend Pamela's life." While Love is loyal to Anderson, she doesn't have fond feelings for another famous blonde: Gwen Stefani. In fact, the two rockers have a long-standing feud that takes some unpacking.
Inside the whole 'cheerleader' debacle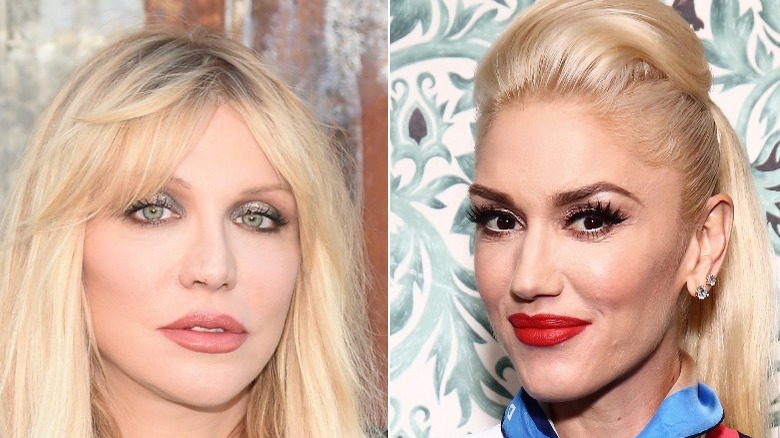 Michael Loccisano & Astrid Stawiarz/Getty
There was some natural rivalry between Courtney Love and Gwen Stefani. Both were leads of '90s bands, Hole and No Doubt, and both had been in relationships with famous musicians. So Love couldn't resist taking a jab at Stefani in an interview with Seventeen from August 2004. "Being famous is just like being in high school," Love said (via Grazia). "But I'm not interested in being the cheerleader. I'm not interested in being Gwen Stefani. She's the cheerleader, and I'm out in the smoker shed."
The comment ended up inspiring Stefani. "I was being bullied by someone and was being called a cheerleader, which was a bad thing!" she told Billboard. "Growing up, that was not cool. I thought I was the opposite of that. I told Pharrell [Williams] we should write a song about that." Sure enough, Stefani and Williams made "Hollaback Girl." There was the obvious cheerleader element, but the title was inspired by Naomi Campbell. Williams spoke to the supermodel on her "No Filter" podcast, saying, "That chorus came from a conversation where you were telling somebody you ain't no Holla Back girl because of a song we had at the time with Fabolous called 'Holla Back.'" He added. "Somebody was trying to speak to you or whatever, and you were like, 'I'm sorry, I have a name. I ain't no Holla Back girl,' and I thought that was so amazing and it ended up becoming the chorus to the song." It was certainly a dig at Love, too.
Courtney Love claimed Gavin Rossdale cheated with her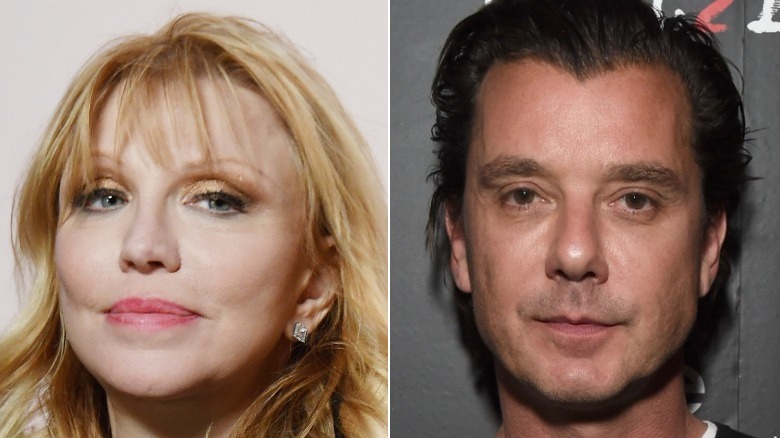 Nicholas Hunt & Michael Kovac/Getty
Some years later, when Courtney Love was on "The Howard Stern Show" in April 2010, she claimed that she and Gwen Stefani's then-husband, Gavin Rossdale, had an affair. She claimed that the two were together for eight months. "Everyone gave me so much s*** because Gavin sounded a lot like Kurt [Cobain]" Love told Stern (via Us Weekly). "But man, he was such an Adonis in his day! He got good in bed ... something happened. Maybe Gwen taught him, for all I know." Stern stopped her to ask, "You were [having sex] him while he was with Gwen Stefani?" Love confirmed this and claimed that Stefani knew about it, alleging that Rossdale was sleeping with several different people then.
Love wasn't done. In an interview with ABC News in 2013, she dissed Stefani's clothing line, L.A.M.B. "Funny thing, you know, I would've never really bet on Gwen," Love said. "Not back in the day." Love claimed that it was Rossdale who made Stefani successful. "His band never did that well but he is very, very smart," she said. "He runs the Gwen show, that's him. He runs the clothing line, he f**king built that up, he has nothing else to do." Love was not done reminiscing about their relationship, either. "He was so good looking, but I kind of envisioned that me and Gavin Rossdale would end up on the French Riviera, like, taking tennis lessons and f**king our respective polo teachers," she said.