Kim Kardashian Chokes Up Describing How Late Dad Inspired Her Co-Parenting With Kanye West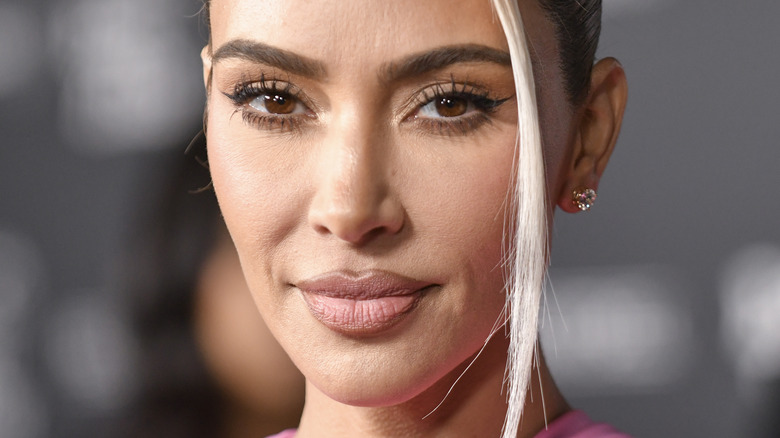 Rodin Eckenroth/Getty Images
Kim Kardashian has always been open about how close she was to her late father, Robert Kardashian Sr. The reality star often spoke about him on "Keeping Up With The Kardashians," and once shared a memory about her moments with him before he died from esophageal cancer in 2003. Kardashian would him cream of wheat toward the end of his life because that was the only meal he could eat (via Medium). 
Kardashian often posts touching tributes to her father on the anniversary of his death. In late September, she shared memories of him on her Instagram story, as reported by ET. One was a note written by her late father that read, "Kim — I'm at Lawry's for Uncle Larry's birthday. I have my pager. I'll be home around 10 or 11. I love you, Daddy." In another story, Kardashian shared a Father's Day card she had written him. "He saved every card I wrote him," she revealed in the story.
Now that the SKIMS founder is a mother of four, she undoubtedly feels the same love for her kids, and she shared how her dad gave her strength amid her divorce from Kanye "Ye" West.
Kim Kardashian's memories with her dad encourage her in co-parenting
Kim Kardashian is going through one of Hollywood's biggest divorces and is doing her best to shield her children. "The Kardashians" star made an appearance on Angie Martinez's "IRL" podcast and shared that she protects her children from everything negative going on between her and her estranged husband, Kanye "Ye" West. "In my home, my kids don't know anything that goes on [in] the outside world ... I'm holding on by a thread, I know I'm so close to that not happening, but while it's still that way, I will protect that to the end of the earth as long as I can," she adamantly stated.
When asked how she shields her kids from her feelings about Ye, Kardashian tearfully told Martinez that co-parenting is "really f***ing hard" but that her father was a great example of a role model. "I had the best dad. And I had the best memories and the greatest experience and that's all I want for my kids," she admitted. Kardashian said that she would do anything to hide negative press about Ye from her children while they're still young but stated that she knows there will be a day they will ask questions.
Kardashian had previously filed for divorce from Ye in 2021 and they just reached a settlement in late November 2022, per CNN. The two share joint custody of their children.