Astrologer Predicts Flames Of T.J. Holmes And Amy Robach's Affair Will Fade - Exclusive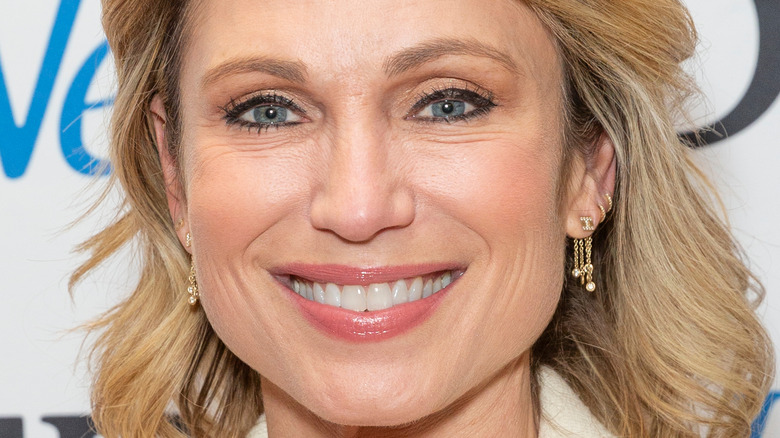 lev radin/Shutterstock
Not much has been confirmed about the true nature of "Good Morning America" hosts T.J. Holmes and Amy Robach's relationship, but perhaps looking into the astrology of the couple can point to their connection at large. One astrologer's analysis suggests the flame between these star-crossed lovers may fizzle out in accordance with their zodiac signs and upcoming planetary activity.
To recap, previous to their entanglement, Holmes married attorney Marilee Fiebig and Robach tied the knot with actor Andrew Shue in the same year, 2010. The anchors' secret relationship reportedly began when the two were training together for the New York City Half Marathon in March 2022, but others claim it started in August 2022 after both parties separated from their spouses, per Vulture. Once the alleged affair was revealed, ABC decided to temporarily remove the couple from the air until the conclusion of an internal investigation.
Since then, Holmes and Robach have seemingly been continuing their romance as the two were spotted together in Miami after Christmas, as reported by TMZ. So, what does the astrology of the lovebirds predict about the future of their relationship?
Astrologer forecasts T.J. and Amy lasting for about one year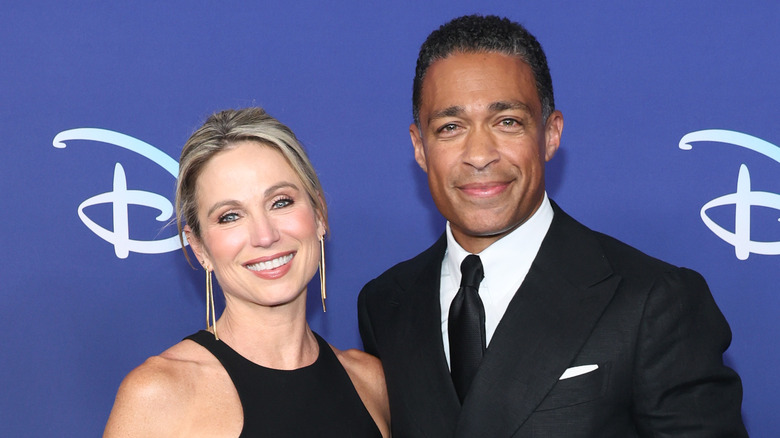 Dia Dipasupil/Getty Images
To start, T.J. Holmes is a fiery Leo, while Amy Robach is a breezy Aquarius. Astrologer Rachel Clare of Mysticsense explained that fire signs (Holmes) and air signs (Robach) have a "natural compatibility." On the zodiac wheel, Leo and Aquarius are directly on opposite sides, meaning — although they are "inherently oppositional" — the two complement each other's differences like "two jigsaw pieces." "With Leo being the social animal while Aquarius hones in on deep, intellectual discussions, this pairing makes for a well-balanced and enigmatic duo," astrologer Clare noted.
While the two certainly had an initial passionate connection, Clare predicts this honeymoon phase will soon come to an end. Currently, the planet Venus is in the sign of Aquarius, which signals that Aquarian Robach is "throwing caution to the wind" when it comes to her love life. "It's evident that the current cosmos means these two are burning hot and fast at the moment," she explained. "As Aquarius is still, ultimately, a flighty and unpredictable Air sign and Leos aren't particularly forward-thinking, I wouldn't be surprised if this relationship doesn't last longer than a year at most."
With the position of Venus in Aquarius, Clare believes Robach may not be considering the long-term effects of this relationship. "Combining this with the Sun's current position in bold and fiery Sagittarius (the Sun being Leo's ruling planet)," she added. "Holmes is likely matching Robach's carefree, borderline reckless energy at the moment."
T.J. and Amy's relationship persists amidst media prodding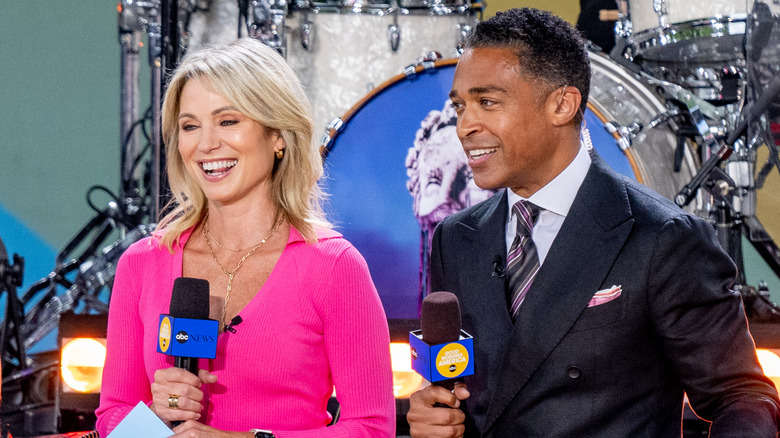 Roy Rochlin/Getty Images
The media's interest in anchors T.J. Holmes and Amy Robach's apparent affair has been shockingly high, and droves of articles have followed this couple's every move. Paparazzi even followed Robach onto the New York City subway after she was spotted leaving Holmes's apartment on January 4, as reported by Page Six. Regardless, the two have continued their relationship despite this negative public attention, and Astrologer Rachel Clare believes this may be due to their astrological profiles.
"Aquarians by nature — as free-thinking air signs — strive to buck trends and pioneer change," Clare explained of Robach's zodiac. "Unlike some of the other signs, Aquarians aren't typically tied down by anxieties and fear of judgment. They are trail-blazers and enjoy seeing things done differently." She also noted that Holmes's sign of Leo often thrives under the limelight.
On the other hand, Holmes's ex-wife, Marilee Fiebig, lowkey criticized the front-facing nature of the affair in her lawyer's statement to People. "We continue to be disappointed by T.J.'s lack of discretion, respect, and sensitivity toward Marilee and the parties' daughter," the statement read. Of course, Robach and Holmes never asked for this kind of public and media attention, but unfortunately, it seems to have affected those around them.