The Extremely Short Amount Of Time Dennis Rodman And Carmen Electra Were Actually Married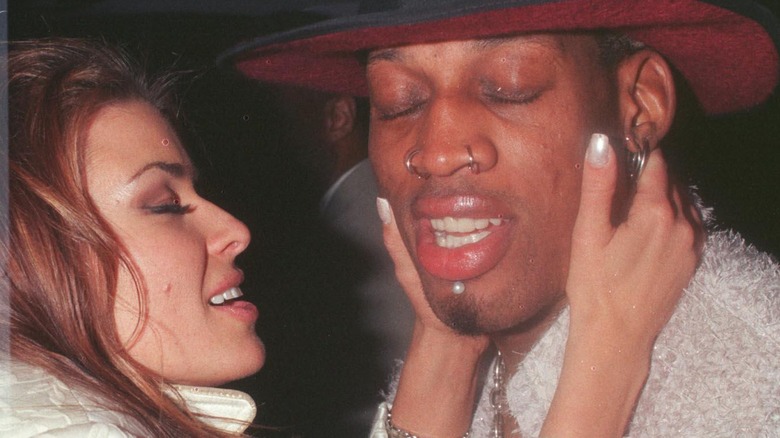 Denny Keeler/Getty Images
There are certain cultural moments that define a decade: Woodstock, disco, the Moonwalk — the dance and the space mission. And one of the defining moments of the 1990s was the no-holds-barred love affair and whirlwind marriage of Dennis Rodman and Carmen Electra.
In 1998, the were two of the beautiful people and on top of the world. Rodman was playing power forward on the legendary Chicago Bulls, alongside Michael Jordan. His aggressive defensive playing and still-unmatched rebounding skills made him a star, per ESPN, but his wild-child off-court antics made him infamous. Before Rodman and Electra wed, he had already grabbed headlines for briefly dating Madonna, arguing with refs on the court, and his elaborate facial piercings. He had nicknames in sports media: Dennis the Menace, the Worm, and more. Rodman was more than a basketball player — he was a celebrity. And so was the stunning Electra.
At the time, the beauty was posing for Playboy and starring on "Baywatch." She was discovered by Prince, whom produced her first album. After the musician's death in 2016, she told Us Weekly, "I was so shocked and heartbroken to hear about the loss of my mentor, Prince." They're both known for their high-profile affairs, but the brief marriage of Carmen Electra and Dennis Rodman continues to fascinate fans.
Dennis Rodman and Carmen Electra had a passionate, whirlwind affair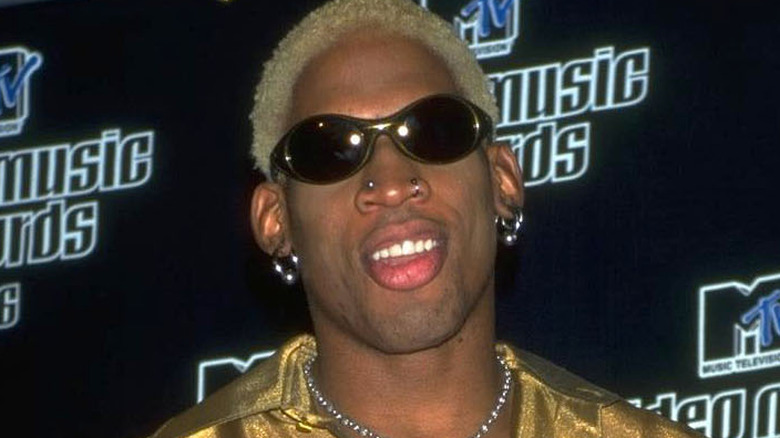 Diane Freed/Getty Images
In 1998, Dennis Rodman met the woman he described in his 2005 book, "I Should Be Dead Right Now," as "the love of my life." It wasn't love at first sight, but by the end of the evening Carmen Electra was "sitting in (his) lap." Rodman described getting to know her: "Carmen is a talking machine, and we were talking, talking, talking." From there, Rodman chased Electra. In the documentary "The Last Dance," (via NBC Sports), Electra spoke on the relationship: "We exchanged numbers and he would call and call and call ... Finally, one day I picked up the phone and he invited me to come hang out with him and I went for it."
She went on to say, "We fell for each other pretty fast." That's one way of putting it! Within weeks, People revealed their Las Vegas ceremony on November 30, 1998. Rodman's sister Debra was quoted by People saying, "I know he cares for her really deeply. When he's with her he's happy." Amid the media uproar and statements from his agent, Dwight Manley, suggesting that the marriage wasn't legally binding, Rodman made a statement, saying, "I love Carmen and am proud to be married to her."
But it wasn't meant to last. Rodman would file for an annulment nine days later. The annulment was allegedly mutual, per Electra's publicist (via People). They would get back together briefly and finally divorce in April 1999, per Essentially Sports.
Dennis Rodman and Carmen Electra both look back on those days fondly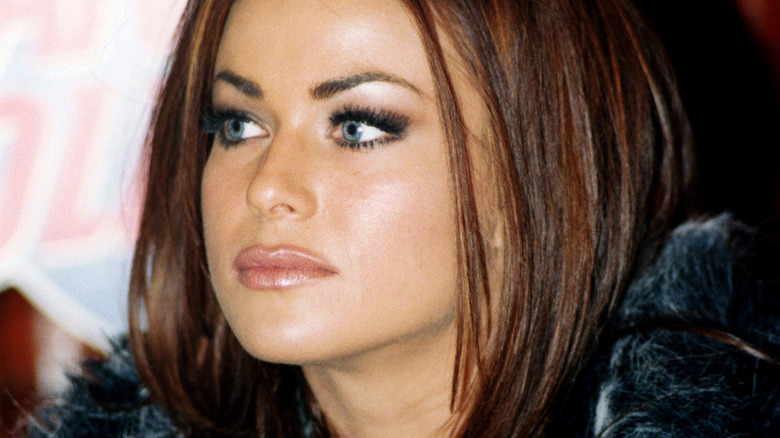 Raymond Boyd/Getty Images
Part of Dennis Rodman's legend has always included his internal battles with addiction and self-destructive behavior, per TMZ. Carmen Electra described his ups and downs (via the Los Angeles Times) during their marriage, saying, "There were times when all of us would go to a few bars and then we all would try to get Dennis to go back to the hotel. He would just run away and leave us." Over the years, Rodman would continue to struggle, including a 2003 arrest for domestic violence, as reported by the Los Angeles Times. These days, Dennis Rodman is more frequently linked to North Korean leader Kim Jong Un than any romantic prospects.
Carmen Electra would move on to marry rock star Dave Navarro in 2003. After their reality series, "Till Death Do Us Part," they'd divorce in 2006, per The U.S. Sun. Per NBC Sports, Electra spoke about the romance, saying, "Yes, we had a blast, and this wild love, but we had a lot of hard times, too. A lot of struggles." Looking back on the old days, the '98 Bulls, and her brief but unforgettable marriage, Electra said (via the Los Angeles Times), "There's just no words for that era. There will never be another one like it."