Why Lindsay Lohan Had An On-Set Conflict With Jane Fonda
Santiago Felipe/Getty Images
"Falling for Christmas" — Lindsay Lohan's first project from her three-film deal with Netflix — received a lackluster welcome from fans and critics alike. However, Lohan's return to acting hasn't been a total failure. With new projects come new opportunities for a celebrity to rebrand, and Lindsay is taking full advantage of her moment. Unlike the past decade, when she dealt with substance abuse and multiple arrests, the "Mean Girls" star is thriving these days. 
It appears that Lohan's progress can partly be attributed to her newfound wellness journey, per Health. Not only does Lohan eat a balanced diet and meditate, but she has also anchored herself to her career. "I'm enjoying working," shared Lohan during her interview with the outlet. "That feels refreshing because I started working when I was younger, and it had gotten to a point where I wasn't enjoying it anymore. So, it feels nice to have this momentum again. I'm appreciative of it and want to keep it up."
And while we're over the moon about Lohan's newfound growth, it's easy to remember her controversial past — which once included a run-in with legendary actor Jane Fonda.
Jane Fonda called Lindsay Lohan out for being late to set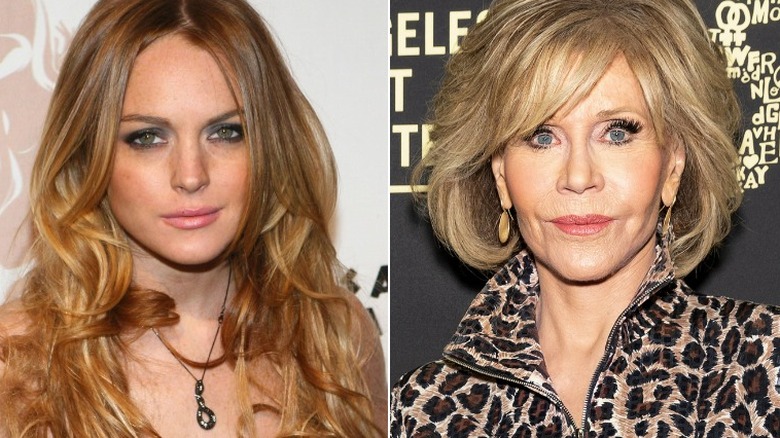 Everett Collection & Ovidiu Hrubaru/Shutterstock
By the late '00s, Lindsay Lohan had starred in a string of box office hits, proving herself to be a commercially successful actor. However, she hadn't reached the status of legendary actor Jane Fonda, whom she starred opposite in 2007's "Georgia Rule." And while most young actors would tiptoe around a veteran performer, Lohan didn't make the best first impression on Fonda. "I remember I was like three minutes late, and it was out that I was like three hours late. It was three minutes," shared Lohan with Vogue in 2022. "And [Fonda] was waiting for me tapping her feet being like, 'Lindsay, we're all waiting.' I was so embarrassed. It never happened again."
Years earlier, in 2007, Fonda recounted a time she called out Lohan for her tardiness. "[Lindsay] was late one day," shared Fonda with CBS. "And I got mad and went in and said, 'Get your (blank) out here!' I raised my voice, and she said to her makeup person, 'Barbarella, she just yelled at me!'" Despite the tense interaction, Fonda also had some sweet words for Lohan. "Hey, when she showed up on the set, she was always great. She breaks my heart in the movie. She is so brilliant in this movie. The girl is really talented. And she just – I loved working with her."
Jane Fonda reached out to Lindsay Lohan amid her struggles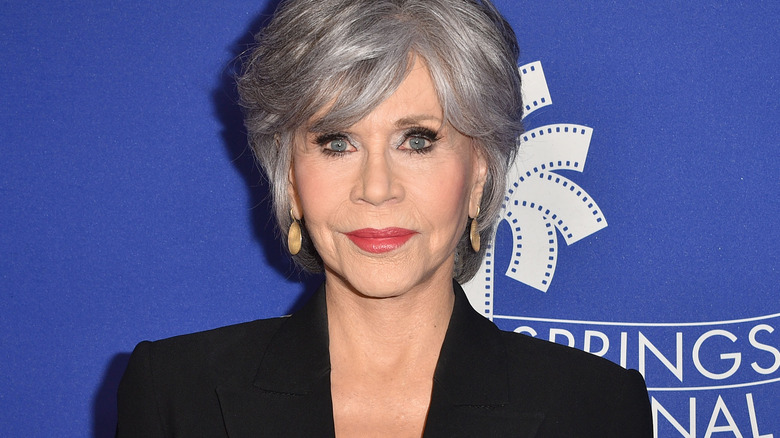 David Crotty/Getty Images
All in all, it appears that Jane Fonda served Lindsay Lohan with a dose of tough love while working together. In 2015, after years of Lohan's professional and personal pitfalls sparking headlines, Fonda offered Lohan a bit more advice. "Lindsay Lohan, one piece of advice? Come live with me for a while and get a sense of what normal is supposed to be like," remarked Fonda during an appearance on "Watch What Happens Live" (via Entertainment Weekly). 
While it doesn't appear that Lohan ever took Fonda up on her offer, she's obviously on a better path now. Recently, Jamie Lee Curtis — who also worked with Lohan as a young star on "Freaky Friday" — spoke about her progress. "I'm just happy that she's happy," Curtis told People about Lohan's 2022 Super Bowl commercial. "She is a great talent, and she's had a lot on her plate at a very young age. It seems like she is settling into a really happy domestic life — she's engaged." Curtis also praised Lohan for being able to make fun of herself. "Show business is very difficult, and being in front of the tabloid press is very difficult, it's really brutal. So God bless her."