Fans Aren't Buying Brad Pitt As The 2023 Golden Globes Darling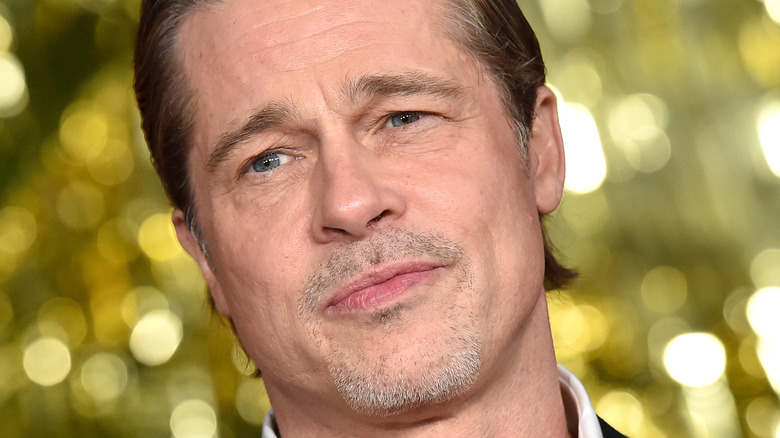 Axelle/bauer-griffin/Getty Images
The following article mentions allegations of domestic abuse.
Brad Pitt may have walked away from the 2023 Golden Globe award ceremony empty-handed, but that didn't stop him from being (unofficially) anointed with the honor of being Mr. Popular.
Throughout the night, the actor's friends and fans couldn't help but gush over his perpetually-striking looks because, well, he's Brad freakin' Pitt. It didn't help that he debuted a new haircut, making him look like the '90s heartthrob he once was — or still is, by the looks of it. "Brad Pitt just goes to award shows to see who wants to f*** him. It's like his Tinder. #GoldenGlobes," one fan quipped. "Every time the camera goes to Brad Pitt, I shake my head like 'he's still got it' like my mom and aunts in the 90s about Robert Redford," tweeted another.
Even the night's winners made mention of him during their respective acceptance speeches. "Comedy is so important to me. Comedy brings people together. Comedy gives us all the same laugh. Hey, Brad Pitt. He's right there," said "Abbott Elementary" creator Quinta Brunson, while actor Austin Butler told the world that Pitt is one of his role models. "I just I'm so grateful right now I'm in this room full of my heroes. Brad, I love you," he mused. There's no question that Pitt was indeed the award show darling, but the fact that he was commended by pretty much everyone in the room didn't sit well with some fans.
Fans expressed confusion over all the fuss about Brad Pitt
Quinta Brunson cutting off her own Golden Globes speech because she saw Brad Pitt in the audience…a MOOD

"Comedy brings people together. Comedy gives us all the same laugh-- hey, Brad Pitt!" pic.twitter.com/HWXqqazaye

— Spencer Althouse (@SpencerAlthouse) January 11, 2023
If some people couldn't contain their admiration for Brad Pitt, others couldn't hide their contempt for the star. After the "Babylon" star received countless compliments during the 2023 Golden Globes, some fans were confused as to why he was being recognized in the first place, considering the actor was accused of abusive behavior toward his children and ex-wife, Angelina Jolie.
"Do none of these folks know about the domestic abuse allegations against Brad Pitt? He put his hands on his children and these people keep giving him props," one user tweeted. "Brad Pitt is an abuser and none of his older children (the ones not legally obligated to) speak to him which should be very telling to all of you but Hollywood gonna Hollywood," another opined. "What is the obsession with brad pitt I don't get it. do these people not see what he's in the news for recently or do they just not care," another confused fan questioned.
In case you need reminding, in their legal fight over one of their marital properties, Jolie accused Pitt of displaying abusive behavior toward her and their children while aboard a private flight in 2016. "Pitt choked one of the children and struck another in the face" and "grabbed Jolie by the head and shook her," the filings read, per The New York Times. However, according to an insider, Pitt believes he's blameless and that Jolie is fabricating the claims. "Brad is sick to his stomach that he's been accused of this. He maintains [that] it's lies and that Angelina will stop at nothing to ruin his name," they told Us Weekly.
If you or someone you know is dealing with domestic abuse, you can call the National Domestic Violence Hotline at 1−800−799−7233. You can also find more information, resources, and support on their website.