What We Know About Lisa Marie Presley's Children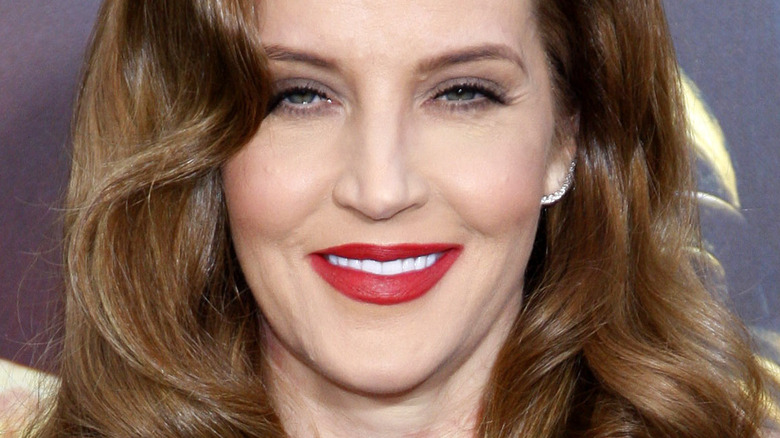 Tinseltown/Shutterstock
As Hollywood mourns the tragic death of Lisa Marie Presley, fans around the world continue to send their thoughts and prayers to her family and, more specifically, her kids. The famous singer first became a mother in May 1989 when she welcomed daughter Riley Keough with then-husband Danny Keough, whom she married in 1988, per People. Three years after becoming first-time parents, the couple welcomed their second child, son Benjamin Keough. However, Presley's marriage to Danny ended in 1994.
After her first divorce, Presley would go on to have two high-profile but short-lived marriages — one with pop star Michael Jackson and another with actor Nicholas Cage. Neither marriage resulted in children, though. Then in 2006, Presley got married to musician Michael Lockwood. In 2008, two years after tying the knot, the couple welcomed twin daughters Harper Vivienne Ann Lockwood and Finley Aaron Love Lockwood, as reported by Page Six. The couple ultimately split in 2016, but Presley remained dedicated to all four of her children.
A proud mother through and through, Presley was left devastated in 2020 following the death of her only son Benjamin by suicide. Despite the tragic loss, she stayed strong and was a doting mom to her daughters until the very end. From their careers in entertainment to the unbreakable bonds they shared with their mother, here's everything we know about Lisa Marie's children.
If you or anyone you know is having suicidal thoughts, please call the National Suicide Prevention Lifeline by dialing 988 or by calling 1-800-273-TALK (8255)​.
Riley and Benjamin followed in their famous family's footsteps
While her daughter Riley Keough might come from a long line of successful, famous family members, Lisa Marie Presley made sure to raise her to be her own person outside of the Presley name. "I didn't want her to have that shadow where she felt competition and intimidated by anything," Presley told Oprah Winfrey in 2007, per People. Still, Riley's journey led her to Hollywood.
Although she started off modeling, Riley eventually found her way to film, making her acting debut in 2010, according to Us Weekly. In the years that followed, she racked up more credits, appearing in "The Good Doctor" and "Zola," per IMDb. In May 2022, the 33-year-old made her directorial debut with "War Pony," a film for which she won the highly coveted Caméra d'Or award at the Cannes Film Festival.
Like his sister, Presley's son, Benjamin Keough, was also finding his place in Hollywood. Prior to his tragic death in 2020, the rising musician reportedly signed a $5 million record deal with Universal Music. Not only was Benjamin interested in music, but he also strongly resembled his grandfather Elvis Presley –- so much so that it sometimes caused a fuss in public. "He was at the Opry and was the quiet storm behind the stage!" Lisa Marie said in a 2012 interview with CMT. "Everybody was grabbing him for a photo because it is just uncanny. Sometimes I am overwhelmed when I look at him."
Lisa Marie Presley shared a close bond with her kids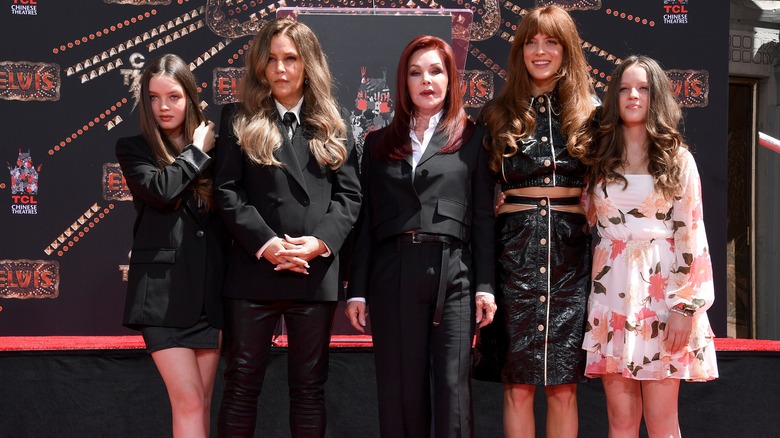 Jon Kopaloff/Getty Images
Lisa Marie Presley may have come from a famous lineage and racked up many successes during her lifetime. Yet, her biggest achievement was being a mother to her four children which she never failed to tell the world. "I just smother them in love," Lisa Marie gushed to Healthy Living in 2014. "They are my priority ... I keep them close to me and make sure they are happy and healthy." And even as the years passed, Lisa Marie's bond with her kids remained — even in death.
In July 2022, the singer/songwriter took to Instagram, showing the matching tattoo she got with her son Benjamin before his death. "Several years ago, on Mother's Day, my son and I got these matching tattoos on our feet," she captioned. "It's a Celtic eternity knot. We carefully picked it to represent our eternal love and our eternal bond."
But when she was not with Benjamin, Lisa Marie turned heads with her daughters. In 2017, the "Dirty Laundry" singer made headlines after attending the Elle Women in Hollywood event with Riley and twins Finley and Harper Lockwood by her side, per People. Off the red carpet though, the doting mom enjoyed her kids' company just as much. Amid the coronavirus pandemic, Lisa Marie revealed that she, alongside the twins, kept busy with a new hobby. "We've been fostering pups from a shelter," she wrote in an Instagram post. "Exhausting but so rewarding."