Inside Donald Trump's Unexpected Friendship With Michael Jackson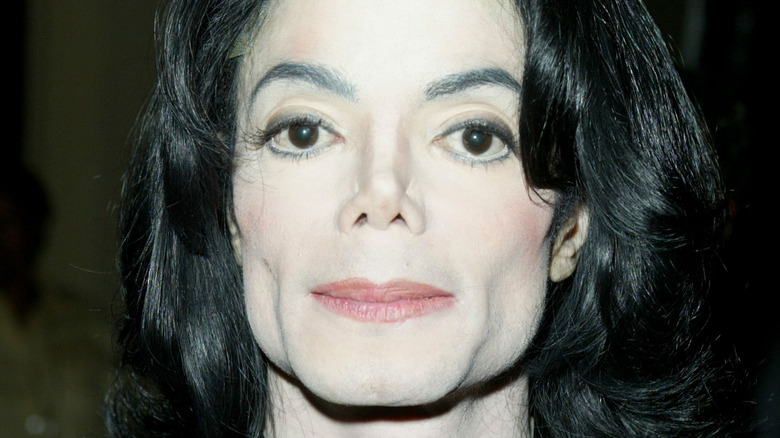 Carlo Allegri/Getty Images
As far as friendships go, you can definitely file Donald Trump and Michael Jackson under "U" for unexpected (or "T" for totally strange). It's hard to imagine what on earth Trump and Jackson had in common. One thing's for certain — the odd couple may have shared a close relationship, but they didn't share a talent for dancing. While Jackson was renowned for his slick moves and moonwalking, Trump's better known for his dad-dancing and grooving, as evidenced by his cringeworthy campaign trail jig-along to The Village People's "YMCA" back in 2020.
That said, their love of dancing has landed them both in hot water. Yahoo! reminds the world that Jackson came under fire for repeatedly groin-grabbing and "pointedly pulling up his pants zipper in a tight close-up" during his "Black and White" video in 1991. Meanwhile, Trump was slammed for busting out the moves to "Hold On, I'm Comin'" by Sam and Dave after reading the names of people killed during the Uvalde school shooting. 
"The bodies of the children shot dead in Uvalde aren't even buried yet, and Trump is dancing at an NRA gun celebration," European media director of Human Rights Watch Andrew Stroehlein tweeted (via the Independent). Although, as the Billy Bush leaked Trump tape revealed, like Jackson, the former-POTUS also shared a love of groin-grabbing, albeit not his own. Still, they make for decidedly bizarre buddies. But, what was Donald Trump's unexpected friendship with Michael Jackson really like?
Donald Trump was Michael Jackson's biggest cheerleader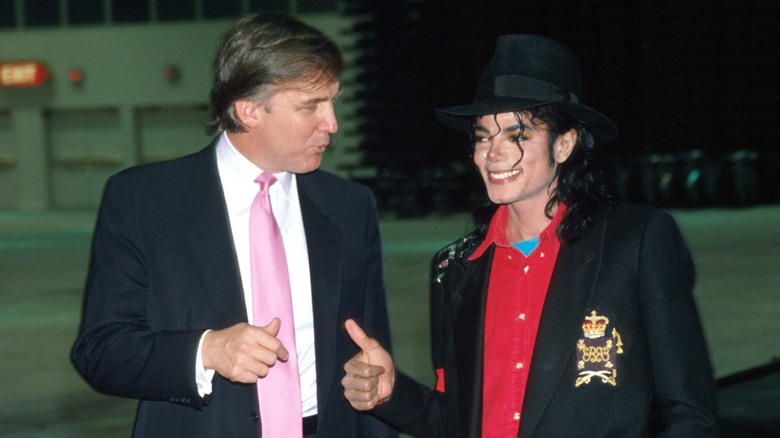 Steve Allen/Getty Images
Michael Jackson's relationships with other celebrities seem to make sense. Like ​​Jackson's friendship with Princess Diana, which was long-lasting despite them only meeting once. According to Biography, they bonded over their shared passion for charity work and her love of his music (although the jury's out on whether she was a big fan of "Dirty Diana"). And, Aaron Carter's friendship with Jackson began after the then-14-year-old collaborated on the charity hit, "What More Can I Give?" (via Us Weekly). Trump and Jackson's decades-long relationship is a tad more puzzling, though.
Vulture reports that the Kings of Pop and New York forged a close friendship after regularly bumping into each other at fundraisers and high-profile events during the 1980s. In addition to shared social circles, the two also enjoyed a mutual appreciation for the finer things in life, such as Trump's penchant for solid gold toilets and Jackson's famed multi-million dollar shopping sprees.
Over the years, the two took very different paths in life, but they still remained close. In fact, Trump was one of Jackson's biggest defenders right up until the musician's death in 2009 — and beyond. "'Michael was very misunderstood — a great talent," Trump tweeted in 2015, along with a photo of them together. "Trump is misunderstood," Joe Jackson, Michael's father, claimed in a 2016 tweet, complete with an old black and white image of the future POTUS with members of the Jackson family.
Michael Jackson often played with Donald Trump's kids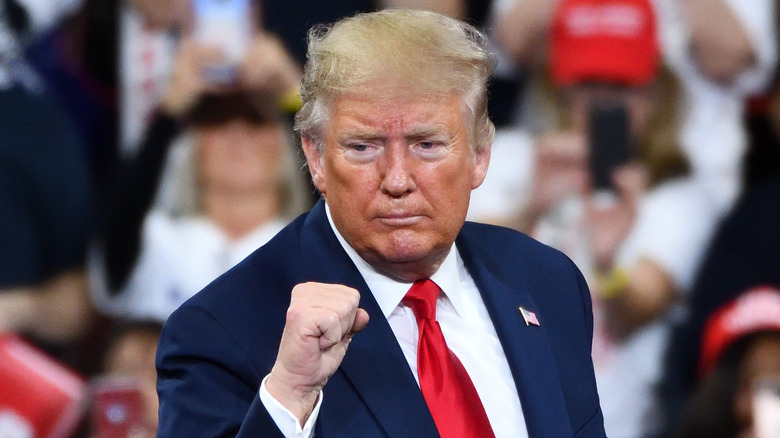 Evan El-Amin/Shutterstock
Donald Trump first built up the courage to speak to Michael Jackson at a Madison Square Gardens charity benefit. "I spoke to him for a little while. He was low-key, and I'd think, 'There's no way this guy is going out to that stage to perform,'" he told Larry King in 2009 (via Vulture). Donald also insisted Jackson "wasn't a child molester! I am certain of that!" Donald was so certain, that he regularly invited Jackson over to play with his kids.
Donald Trump Jr. touched on his times with Jackson while defending his father from claims of racism. "It sure sounds odd that he'd let his son vacation with a black man or hang out with Michael Jackson doesn't it?" Donald Jr. wrote in his book, "Triggered" (via People). He explained that Jackson often played video games with him and his brother. "One day in Eric's room, my father saw how much Michael enjoyed playing Teenage Mutant Ninja Turtles with us on Nintendo and told him he could take the game home. My game!" Donald Jr. grumbled.
Following Jackson's death, Donald remembered his "very good friend" in a piece he wrote for Time. "He was an amazing guy, but beyond all else, he was the greatest entertainer I've ever known. He had magic. He was a genius," Donald gushed. "He was also a really good person, and when you got to know him, you realized how smart he was. He was brilliant."