Lisa Marie Presley Followed In Her Dad's Footsteps With Her Own Music Career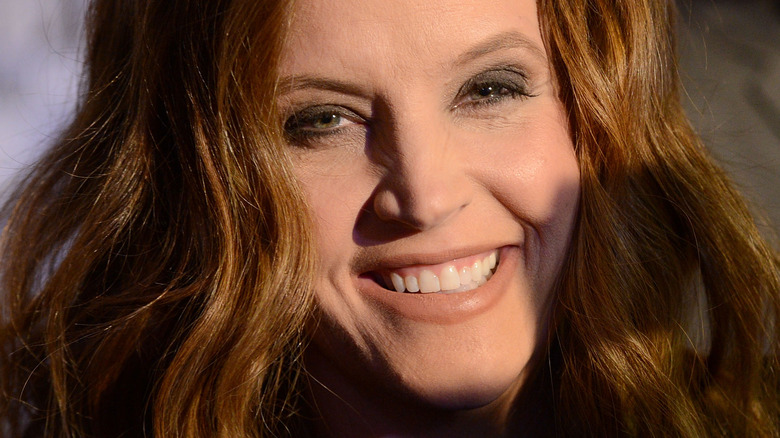 Jason Kempin/Getty Images
People who never knew Lisa Marie Presley only saw her through her associations with famous people — most notably her father, Elvis Presley, the King of Rock and Roll. Presley, who died on January 12, 2022, due to a cardiac arrest, also forged romantic relationships with larger-than-life people, including Michael Jackson and Nicolas Cage.
In an interview with Larry King, she explained her reasoning behind associating with equally famous people. "In my mind at the time, I'm thinking I'll marry somebody who's even bigger or as big or whatever than I am," she shared (via The Washington Post). "Then I can actually feel like a wife. I can be next to the man and I can feel more comfortable that way ... I was looking to feel like I could support somebody else that I admired."
When it came to her path in life, unsurprisingly, Presley decided to become a musician like Elvis. But her music career went quite differently than her father's.
Lisa Marie Presley pursued music later in life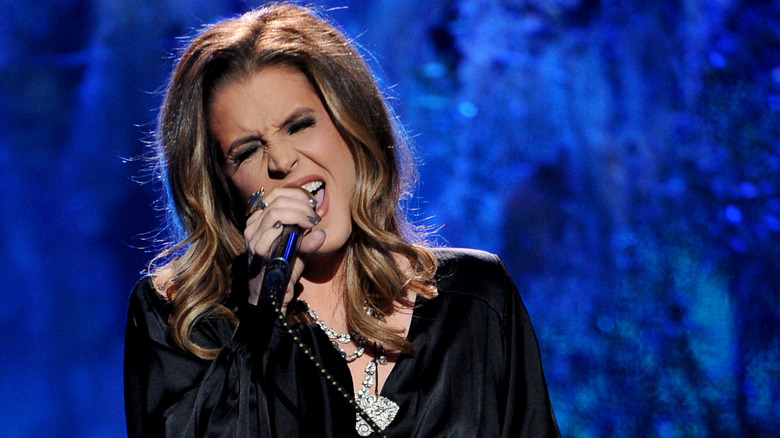 American Idol 2012/Getty Images
Lisa Marie Presley had every chance to capitalize on her famous surname and break into the music industry early on, like what her peers had done. But instead, she first focused on her raising a family before realizing that she wanted to carve her own path in music. "My main focus was I'm gonna try to break through this regardless and try to get my own fans and hopefully allow my music to affect others like it's done for me in my life," she told Goldmine. The singer went on to release three albums in her later years: "To Whom It May Concern," in 2003, "Now What" in 2005, and "Storm & Grace" in 2012 (per AllMusic). 
In her journey to making a name for herself, Presley was adamant about deviating from her father's legacy. Sure, she had his name, but she never wanted to be defined by it. "It [her famous lineage] is not something I want to fight because I'm not proud of it. I want to fight it to prove I'm completely different than him," she explained to The Baltimore Sun in 2012. She later learned that it was harder than she thought it would be, given the weight attached to the name. People couldn't help but make comparisons. "I'm not him, I could never be like him, ever, and I don't want to try. I just want to be a singer-songwriter," Presley shared at the time.
Lisa Marie Presley's music was touted for being raw and honest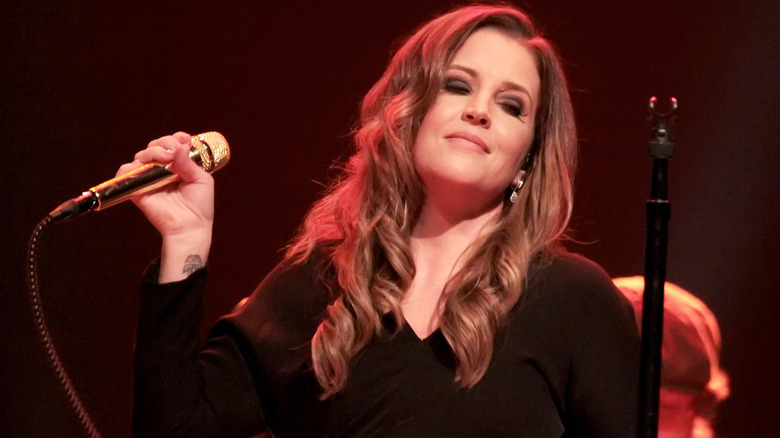 Donald Kravitz/Getty Images
When Lisa Marie Presley released her debut LP, "To Whom It May Concern," she noted that it was all about communicating who she really was beyond what the media shared. "This is me. This record is me," she revealed to People in 2003. "Every song is me. You're going to see who I really am and not what the tabloids say or whatever anyone has to say about me."
Just like everyone else, Presley had her fair share of critics, but the industry soon realized that she was fearless with the way she strung words together. "The daring thing about her music, the daring thing about her recording career, the daring thing about her was her willingness to speak her truth," Joe Levy, editor at large at Billboard, told The Washington Post. "The songs on those first two records are more challenging, more daring, and more exciting for their lyrics than for their music."
Ultimately, it was because she grew tired of being misconstrued as someone far different from who she was. "When I put the record out, I realized how much was there prior to me introducing myself and coming out in public and talking," she dished to Oprah Winfrey. "I was like, 'You have no idea who I am.' I'm introducing myself to you for the first time and you have all of these pre-conceived [ideas] of me."