Todd And Julie Chrisley Remain Hopeful For Justice Before Surrendering To Prison
Kathy Hutchins/Shutterstock
Todd and Julie Chrisley have been vocally hopeful about their innocence throughout their tax evasion and bank fraud case. After being sentenced to a combined 19 years behind bars last November, the couple shared on a November 2022 episode of "Chrisley Confessions" how their faith was keeping them Zen. "Since we don't know our death date, we have to live every day as if it's our last," Julie quoted Christian author Priscilla Shirer. The "Chrisley Knows Best" star added that her children have helped ground her emotions as she readied to face her seven-year sentence, hoping that they see her "come out the other side" stronger. 
Days before surrendering to prison in January 2023, Julie also opened up to daughter Savannah Chrisley on the latter's podcast, "Unlocked with Savannah Chrisley." With Savannah declaring that she is "not giving up on my family and what I know is right," Julie agreed that, as a family, the Chrisleys are "not giving up." 
Finally, the day came — on January 17, Todd and Julie both reported to their respective prisons. Todd will serve his 12-year sentence at the Federal Correctional Institution in Pensacola, Florida, while Julie went to Federal Medical Center in Lexington, Kentucky — a change of location from the prison previously reported. Before they turned themselves in, the couple left one final declaration of hope for their fans. 
Todd and Julie Chrisley remain resolute about their innocence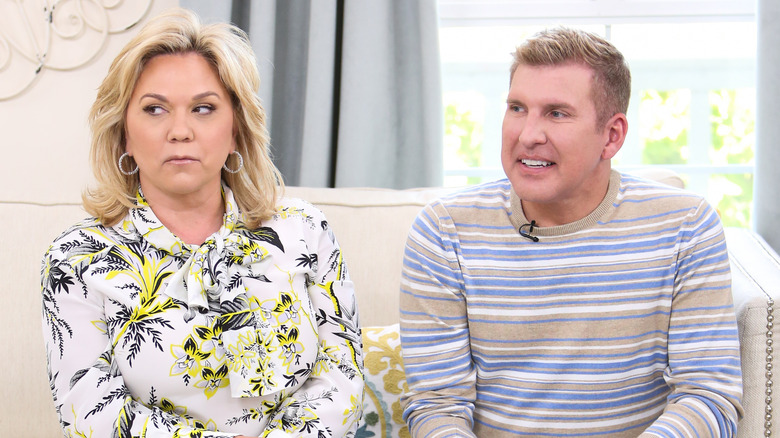 Paul Archuleta/Getty Images
In a pre-recorded January 18 episode of the "Chrisley Confessions" podcast, Todd and Julie Chrisley reassured fans of their faith in the judicial system to prove their innocence. Filing an appeal of their tax fraud conviction in 2022, per Fox News, Todd stated his hopes that "when one division of the judicial system fails, that the next level, which is the appellate court, sees the mistakes and tries to correct those mistakes." Admitting that "the legal system doesn't always get it right," Todd added that, ultimately, his hope "is in the Lord, not in the judicial system." 
Julie elaborated on the role the family's faith played during this time. Stating that they believe there was "purpose in this pain," the Chrisley matriarch said, "We are just beginning to scratch the surface of God's will for our lives." Todd ended the episode by promising fans that they will hear from the incarcerated couple soon. 
The Chrisleys' attorney, Alex Little, spoke to Entertainment Tonight recently about mistakes made by federal prosecutors that can help appeal the couple's convictions. Citing "an unconstitutional search by the Georgia Department of Revenue," Little claimed that the court already deemed it unconstitutional and should have tossed the case out. There was also basis for a new trial, Little continued, because of an IRS officer's testimony "about whether the Chrisleys had paid certain taxes." Little believed this greatly impacted the jury's decision during the case.