Why Miley Cyrus And Patrick Schwarzenegger Didn't Work Out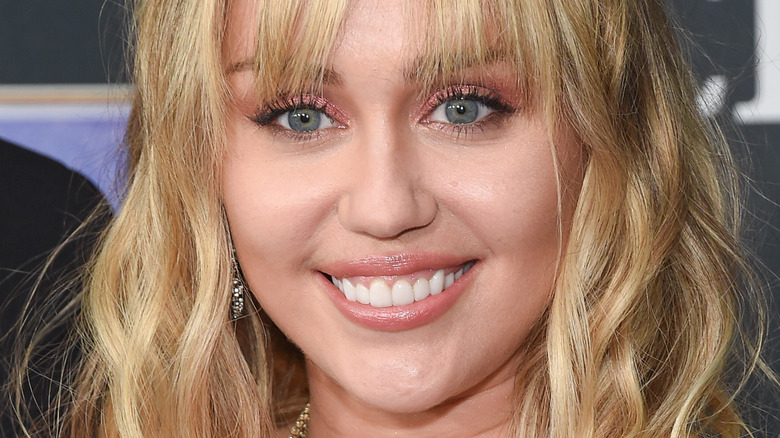 DFree/Shutterstock
The year was 2014, and Miley Cyrus was deep into her "Bangerz" era. Fresh off a breakup from Aussie actor Liam Hemsworth, the songbird debuted a drastically shorter 'do, dared to bare in a series of revealing bodysuits, and couldn't stop posing with her tongue out. She also proved she was over Hemsworth by stepping out with Patrick Schwarzenegger. As a source told Us Weekly, the two had "been friends for a long time" and Patrick had harbored feelings for Cyrus for years. "My eye is set on Miley," he told Details (via E! News) back in 2011. Fast forward another three years and the time was finally right for a relationship.
For a little while, Cyrus and Patrick seemed happy together. The two were caught kissing at a football game — with Cyrus all decked out in the colors of her BF's school — and the "Can't Stop" singer even earned the seal of approval from Patrick's famous dad, Arnold Schwarzenegger, per ET. But just five months after the romance began, Cyrus and Patrick had split. "It's not a break. It's done," an insider told People. They added, "[Miley and Patrick are] just in two different places in their lives — he's in college and she's focused on her music and career." It's routine reasoning for a breakup; often, distance and careers can drive a wedge between even the most loved-up couples. But did "being in different places" really end the pair, or was a "Wrecking Ball" involved in the breakup?
Did Patrick Schwarzenegger cheat on Miley Cyrus?
Larry Busacca/Getty Images
Girls weren't the only ones going wild during spring break 2015, as Patrick Schwarzenegger was spotted in Cabo San Lucas, doing body shots off a mystery lady. Among the incriminating photos that surfaced online, the girl in question was pictured strolling along the beach with Schwarzenegger and snuggling up to him at the Mango Deck Restaurant & Bar. Fans put him on blast for betraying then-girlfriend Miley Cyrus, and Schwarzenegger took to Twitter to do damage control. "Omg. It's one of my best friends girlfriend..." he tweeted. "Would NEVER do anything against my GF," he continued (via E! News). "Girls have guy friends and guys have friends that are girls." One insider claimed Schwarzenegger was "devastated" over how the media spun his spring break story.
Cyrus appeared unbothered by the scandal, posting pics of herself enjoying margaritas with her mother. However, it seemed that Schwarzenegger's indiscretion got to her more than she let on. "The Mexico scandal did serious damage," a source told Us Weekly. "At first, [Miley] was into [Patrick] because she thought he was a nice guy ... She doesn't put up with crap from guys."
Additionally, the Grammy-winner was looking for a grand gesture of an apology from Schwarzenegger. "Miley wasn't convinced Patrick was trying hard enough to win her heart back over the spring break scandal, so she got pissed. ... She decided a break would be best," another source told HollywoodLife.
Patrick Schwarzenegger's mother didn't like Miley Cyrus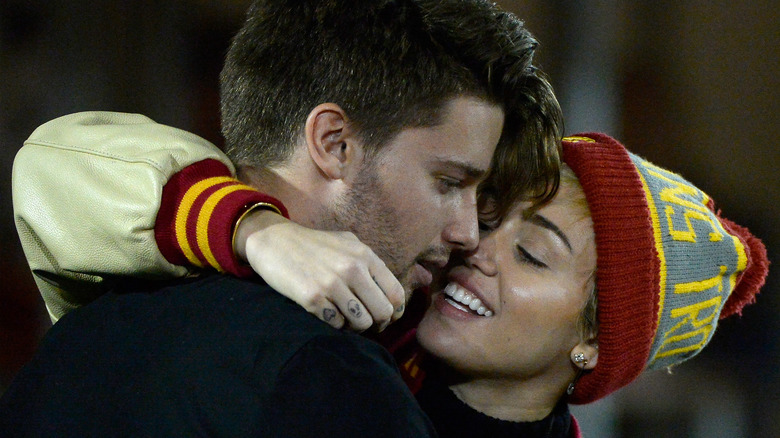 Harry How/Getty Images
Patrick Schwarzenegger's fun-filled spring break led to his split from Miley Cyrus, but there were other contributing factors. Though Arnold Schwarzenegger praised Cyrus as "one of the greatest [entertainers] in the world," Patrick's mother, Maria Shriver, wasn't a fan. In December 2014, she reportedly cancelled her plans to attend Art Basel once she learned that Cyrus and Patrick would be there, per Page Six. Shriver didn't approve of Cyrus' wild behavior — i.e. her drug use, racy outfits, and wild onstage behavior. When Cyrus stripped down for a shoot with V Magazine, Shriver was "disgusted." "She just doesn't get it: why Miley would do this and what the appeal is for Patrick," a source said (via Yahoo! News). However, her disapproval of her son's GF put Shriver in a difficult position. "She's in a very hard place, she's getting pushed into a corner by Arnold, she doesn't want to be the bad cop," the source added.
Beyond familial tension, Cyrus and Patrick had different lifestyle habits. During her "Bangerz" era, Cyrus was candid about her drug use, telling Rolling Stone that "weed is the best drug on earth." In contrast, Patrick was much more straight-edge. "Patrick is anti-drugs, but Miley doesn't give a f**k. She smoked marijuana onstage, and God knows what else she was on for the rest of the weekend. She and Patrick were heard fighting about it," a source told Page Six. Maybe all's well that ends well for these two exes.