Blue Ivy Steals The Spotlight During Beyoncé's Dubai Concert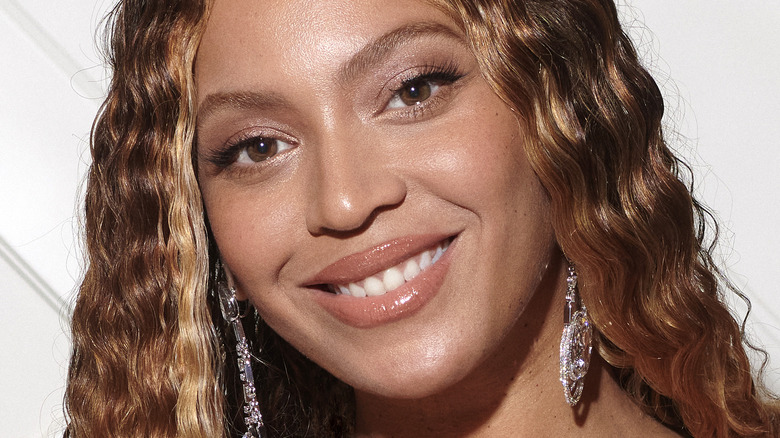 Mason Poole/parkwood Media/Getty Images
Listen up, everyone: Beyoncé is back! Yes, really! Four years after she reunited with Destiny's Child during her legendary Coachella performance, Beyoncé has returned to the stage. According to Pitchfork, Queen Bey performed an hour-long set to commemorate the opening of Atlantis The Royal Resort, an upscale resort in Dubai. The gig allegedly earned her $24 million, per TMZ. As Pitchfork reported, the event was mostly populated by journalists and social media celebrities, although there were many bonafide celebs such as Kendall Jenner, Ellen Pompeo, and Liam Payne, in the building (via The Daily Mail).
And while the exclusive event was out of reach for most of Beyoncé's fans, everyone pretty much followed along with the event on social media, despite a prior no-phones policy, per Insider. And what an experience it was! In addition to delivering rich, smooth vocals Beyoncé treated fans to a visually appealing presentation, including multi-level tiers, artsy backgrounds, and a stunning fireworks display. Unfortunately, the performance contained minimal dancing, likely a result of her rumored recent foot surgery. Beyoncé also didn't perform any of the songs from "Renaissance,"  her most recent album, which she has yet to promote in virtually any way.
With that said, Beyoncé's fans were still thoroughly entertained. However, they were particularly pleased when Beyoncé's oldest, Blue Ivy Carter hit the stage.
Blue Ivy Carter helps perform 'Brown Skin Girl'
Let's face it: Beyoncé's fans love Beyoncé, but they adore her oldest daughter, Blue Ivy Carter. So when Beyoncé brought out Carter for a special rendition of "Brown Skin Girl," a song meant to celebrate Black and Brown complexions, her fans couldn't contain themselves. During a variety of videos circulating around Twitter, Carter can be seen swaying to the melody of the song in red, contrasting Beyoncé's bright yellow evening gown. At one point, Carter even did a little dance solo, much to the crowd's delight.
"Oh Blue chewed her up in 8 seconds. A star in the making," tweeted one user. Writer and publicist Tenille Clarke tweeted, "Watch The Throne. Blue is COMING." Some fans have also pointed out that Beyoncé' may not have approved. "Beyoncé putting her hand out like "girl be calm" is taking me out," tweeted another fan. "I'm just glad that she's still being a protective mama whilst delivering vocals. She knows how the internet can use a small moment to do too much," wrote another.
If Carter seems pretty natural on stage, it's because she's already had a ton of experience. Not only did Carter perform with Beyoncé at the 2022 Oscars, but she also sang on "Brown Skin Girl" as well, per Entertainment Tonight. And while no one can obviously ever replace Beyoncé, it already appears that Carter inherited a strong dose of star power.