Why Floyd Mayweather And Justin Bieber's Friendship Went Downhill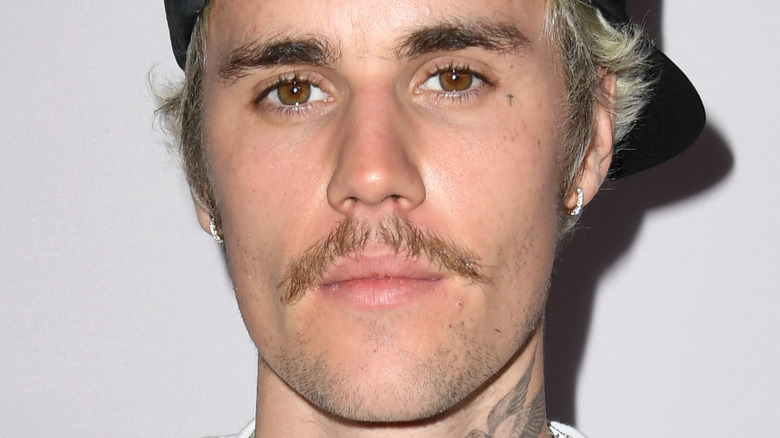 Jon Kopaloff/Getty Images
It was billed as the "Fight of the Century." Former-lightweight world champion Manny Pacquiao squared up with undefeated welterweight world champion Floyd Mayweather. The much-anticipated match had been five years in the making, so when they jumped into the ring in 2015, the 16,507-strong audience at the Las Vegas MGM Grand went wild, per ESPN. Meanwhile, around the world, incredulous music fans asked, "Is that Justin Bieber? It can't be. Why on earth is Justin Bieber with Floyd Mayweather?" 
It was indeed the Biebs, with slicked-back hair and a fancy gray suit, lurking in the background along with the Burger King, who were both members of Money Mayweather's adoring posse. In his corner, Pacquiao had Jimmy Kimmel decked out in Run DMC-style sweats and a black fedora. With a crew like that, it's little wonder the Filipino unanimously lost the match, per Bleacher Report.
Bieber bringing up the rear may have shocked many, but the singer has a bunch of bizarre celeb connections, like Diane Keaton who has a very unexpected friendship with Bieber. "He is the greatest guy, honest to God," the actor gushed to Ellen DeGeneres. And Will Smith, who calls him weekly, per The Guardian. So, it's not that surprising  Bieber and Mayweather became firm friends in 2012 after the boxer fangirled over "Never Say Never." TMZ reported they immediately hit it off, with Bieber boasting about Mayweather being his new "mentor." So, why did Floyd Mayweather and Justin Bieber's friendship eventually go downhill?
Justin Bieber broke up with Floyd Mayweather on Instagram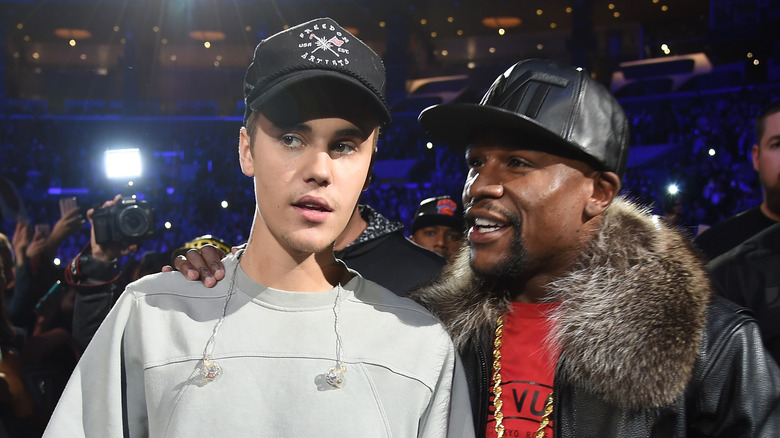 Jason Merritt/Getty Images
Plenty of celebs can't stand Justin Bieber. "He's a good example of someone who you meet, and you think you're gonna hate him, and then you get to hate him as much as you thought," Seth Rogan told Howard Stern in 2014. At the time, Floyd Mayweather would have heartily disagreed, he was an evangelical Belieber — until he wasn't. 
Bieber was by Mayweather's side in 2012, along with Lil' Wayne, as he headed to punch out Miguel Cotto. The Biebs was flanking his mentor with Lil' Wayne, jugglers, and a bunch of clowns as Money made his grand entrance for the Canelo Alvarez fight in 2013. The couple went for super cute mani-pedis together and made it rain, hard, in a Texan strip club, per UPROXX. Mayweather leaped to Bieber's defense during his racism scandal, gave him boxing lessons, and whisked Bieber away to Bora Bora where TMZ filmed the happy couple singing karaoke.
Then, just like that, it was all over. TMZ reports the bromance ended in fury and tears when they became embroiled in a vicious feud after Bieber broke up with Mayweather on Instagram. The singer was allegedly advised by his church to drop any bad influences in his life. Bieber deemed Mayweather as one of them, so he unfollowed his social and Money was spitting mad. Sources claim he went "insane, nuclear" screaming that Bieber was "a traitor" for dumping him.
Justin Bieber is a lover not a fighter these days
Even NPR couldn't resist joking about Floyd Mayweather and Justin Bieber's bromance ending. "Mayweather is the huge favorite [against Conor McGregor], although could he be in emotional distress over his breakup with Justin Bieber?" David Greene announced. "No telling if the boxer is open to an apology," he concluded.
Mayweather wasn't. TMZ reported he vowed J-Beebs was "dead to me." Meanwhile, Bieber had moved on to pastures anew. In 2018, he announced his engagement to Hailey Baldwin, and millions of Belieber hearts shattered worldwide. The bride wore a white mini-dress, and the groom, a baggy shirt and pants when they said "I do" in a New York City courthouse, per Us Weekly. However, although their whirlwind romance had been all rose and heart emojis, the newlyweds had their share of struggles as they adjusted to life together.
Beiber got candid about his marriage in 2022, confessing it'd been a bumpy ride, due to his unfair expectations. "I hit a little bit of an emotional breakdown because I thought marriage was going to fix all my problems, and it didn't," he told The Ebro Show (via People). Thankfully the good Lord was there to guide Bieber in his time of need. "My relationship with Jesus has helped me to just not be so hard on myself," he shared, saying God "just wants us to be the best versions of ourselves." Presumably, that doesn't involve Floyd Mayweather and Lil' Wayne.