Alec Baldwin's First Post After Rust Shooting Charge Speaks Volumes About His Priorities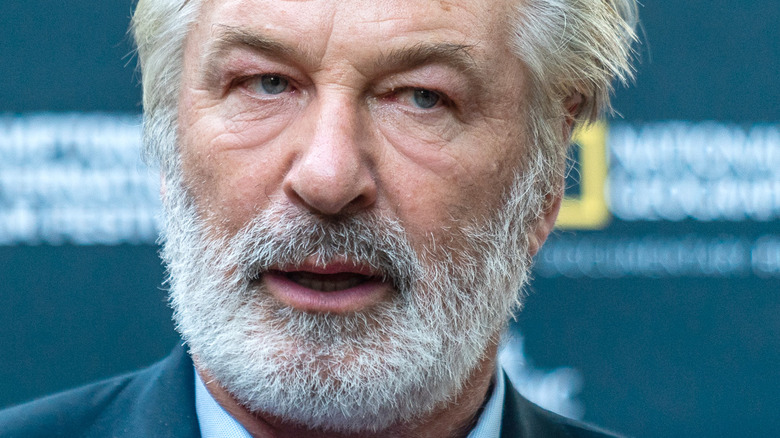 Mark Sagliocco/Getty Images
Alec Baldwin is facing serious charges for his role in the "Rust" shooting, but that hasn't stopped the actor from being a family man.
One year after the tragic "Rust" incident, in which the actor's prop gun fired a live round that injured director Joel Souza and killed cinematographer Halyna Hutchins, Baldwin has now been charged with involuntary manslaughter, along with armorer Hannah Gutierrez-Reed. David Halls, the film's first assistant director — who gave Baldwin the gun and declared it safe to use — accepted a plea deal on a charge of negligent use of a deadly weapon, according to The New York Times.
"After a thorough review of the evidence and the laws of the state of New Mexico, I have determined that there is sufficient evidence to file criminal charges against Alec Baldwin and other members of the 'Rust' film crew," New Mexico First Judicial District Attorney Mary Carmack-Altwies said in a statement (via Rolling Stone). "On my watch, no one is above the law, and everyone deserves justice." Special prosecutor Andrea Reeb also underscored the fact that if only Baldwin, Gutierrez-Reed, and Halls had been diligent with their duties, no one would have been hurt. From the get-go, Baldwin has maintained his innocence, and now, days after the announcement of the charges, he has broken his silence through an Instagram post about his family.
Alec Baldwin is focusing on his family
While Alec Baldwin hasn't yet publicly responded to the charges leveled against him, his lawyer, Luke Nikas, told People they intended to fight the charges and ultimately emerge victorious. In a statement, Nikas described the decision as a "terrible miscarriage of justice" and that the actor "relied on the professionals with whom he worked, who assured him the gun did not have live rounds."
Baldwin's priorities appear to be with his family. The actor took to Instagram to share a photo of his son, Leo, giving his mother, Hilaria Baldwin, a massage. "The old 'let me give you a back rub' ploy," he captioned the moment. "Potato chips to follow." Fans and well-wishers were quick to offer their thoughts on the charges against the actor in the comments. "I'm not a fan if you. But your not guilty and you shouldn't be charged," one fan wrote. "You will be cleared. Ask for a jury. No way 12 would agree you should be convicted," penned another.
Baldwin's nonchalance on the issue shouldn't come as a surprise, as the actor previously expressed confidence in his innocence. Speaking with George Stephanopoulos in his first interview after the shooting, Baldwin displayed a veil of self-assurance, noting that his hands are indeed clean. "Someone put a live bullet in a gun. A live bullet that wasn't even supposed to be on the property," he said at the time, per ABC News. "Someone is ​responsible for what happened, and I can't say who that is, but I know it's not me."