Beyonce Once Had An Extremely Awkward Moment With Princess Eugenie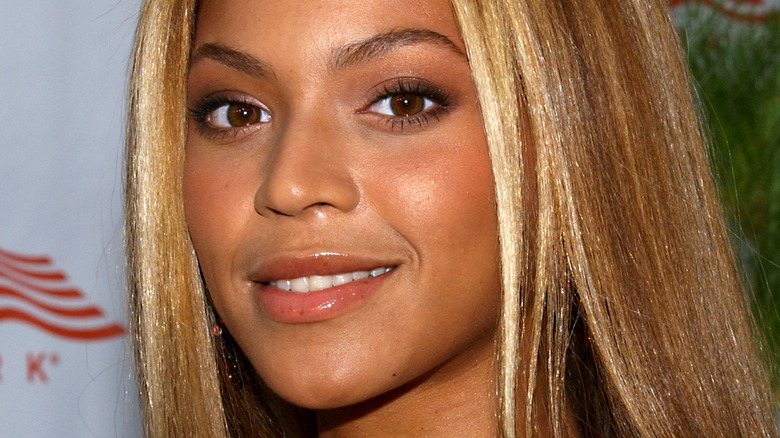 DFree/Shutterstock
Music royalty meets real-life princess: It sounds like a dream come true for pop culture lovers and royal watchers alike. However, back in 2013, that just wasn't the case. In fact, many have described Princess Eugenie and Beyoncé's mid-concert interaction as straight-up awkward. 
A brief note before getting into the nitty-not-so-gritty. Princess Eugenie is no stranger to hanging with A-listers. Far from it, the Princess of York has been known to run in some pretty star-studded circles. Case in point: As noted by W, Eugenie's 2018 wedding to Jack Brooksbank actually saw more celebrities on the guest list than the nuptials of her cousin — Prince Harry and Meghan Markle. Vanity Fair has also reported on her celebrity squad in the past. As for Beyoncé, she's had no shortage of interactions with the royal family, either. As seen in a 2014 video released by Associated Press, Prince William and Kate Middleton — then the Duke and Duchess of Cambridge — met Queen Bey and Jay-Z at an NBA game. And, who can forget when Beyoncé and Jay-Z met the Sussexes at the London premiere of "The Lion King" and the "Crazy in Love" singer told the royal couple, "We love you guys" (via People)?
Given the proximity, then, any awkwardness between Beyoncé and Princess Eugenie is intriguing, to say the least. So, what went down?
Beyoncé sang right at Eugenie -- and cameras picked it up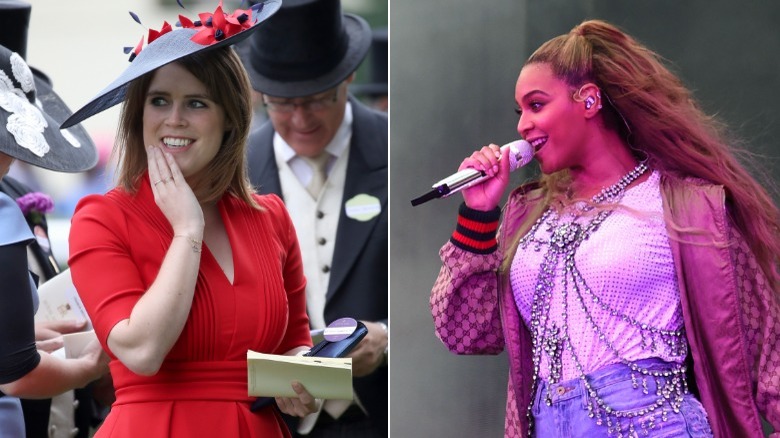 Kevin Mazur & Chris Jackson/Getty
Back in 2013, Beyoncé took her tour, The Mrs. Carter Show, to the United Kingdom — and among the thousands in attendance was non-other then Princess Eugenie. More specifically, the princess had a place right next to the stage. An incredible position for any beyhive member — but there is a catch. As Mirror pointed out shortly after the concert, Queen Bey has a habit of getting the audience to sing along through portions of her shows, and for those close enough, there's a decent chance of being handed a microphone to sing along. Enter, awkward moment. 
In the video shared to YouTube, at one point during "Irreplaceable," Beyoncé stands right in front of Princess Eugenie, singing directly to her. However, unlike the majority of the audience — and likely due to the possibility of being handed the mic — the princess is decidedly not vying for her attention. Far from it, she visibly clams up. Granted, she is still singing along, but it's pretty clear that she is not ready to have her karaoke moment, and Beyoncé swiftly moves on.
Per Mirror, a source claimed that the princess' posse had a field day, poking fun at her after the uncomfortable exchange. "All Eugenie's friends were teasing her about her stage fright for hours afterwards," they told the outlet. 
... but Princess Eugenie remains a diehard Beyoncé fan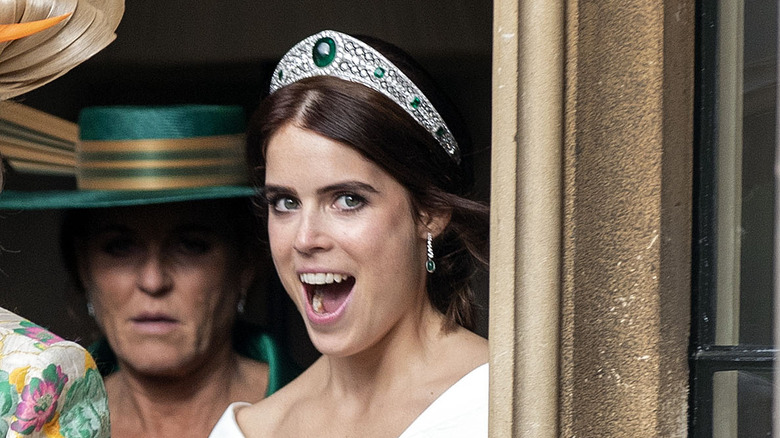 Wpa Pool/Getty Images
Sure, Princess Eugenie and Beyoncé may have had an awkward moment, but there's no need to delve deeper into why. That's because, mere seconds after Beyoncé walked away from the late Queen Elizabeth's second-youngest granddaughter, the video picked up something else — the princess fangirling. Royals, they're just like us.
And, just to prove the awkward moment didn't scare her off, Eugenie went to see Beyoncé live in concert again. In 2018, Daily Mail shared footage of her at London Stadium — though this time, while she still seems relatively close to the stage, she's standing slightly further back in the crowd. Lessons learned, we guess!
Funnily enough, Eugenie referenced the second Beyoncé concert in a joint British Vogue interview with her older sister, Princess Beatrice. But, in the same interview, she also revealed something that might point to why she was so hesitant to share the stage the first time. Speaking of their sisterly bond, Princess Eugenie shared, "When we were younger, I always used to make [Beatrice] go into parties first. I'd hide behind her and she'd make the first move, then I'd get louder and louder as she made me more confident." As it turns out, the only other semi-family member Mirror reported as being at the 2013 concert was cousin-in-law James Middleton, the now-Princess of Wales' younger brother. Perhaps, if Beatrice had been there, we'd have heard Eugenie belt out "Irreplaceable," after all.