The Touching Matching Tattoo Lisa Marie Presley Shared With Her Late Son Benjamin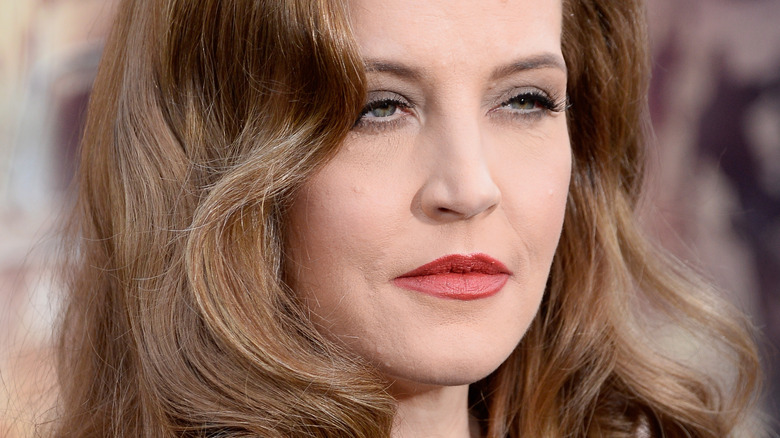 Frazer Harrison/Getty Images
In the years before Lisa Marie Presley died, she was notably absent from the spotlight. With the exception of displaying her public support for Baz Luhrmann's "Elvis" biopic, Presley mostly kept to herself and it's largely because she was grief-stricken after the death of her son Benjamin Keough.
Keough died by suicide in July 2020. At the time, Presley's manager, Roger Widynowski, told USA Today that she was "completely heartbroken, inconsolable and beyond devastated but trying to stay strong for her (twins) and her oldest daughter Riley." Widynowski added that Presley "adored that boy" and that "he was the love of her life."
Presley remained on the down-low following Keough's passing, but would occasionally post on Instagram to share how she was dealing with grief. "I am and will forever be mourning the loss of my son," she once wrote. "Navigating through this hideous grief that absolutely destroyed and shattered my heart and my soul into almost nothing has swallowed me whole. Not much else aside from my other 3 children gets my time and attention anymore." In one of Presley's posts, she also shared that, a few years back, she and Keough got matching tattoos to further solidify their bond.
Lisa Marie Presley and Benjamin Keough tattoos celebrated their 'eternal bond'
On the second anniversary of Benjamin Keough's death, Lisa Marie Presley revealed how they decided to get matching tattoos on Mother's Day a few years prior. She took to Instagram to share a photo of the inks and what it meant, detailing that the symbol served as their perpetual connection.
"Several years ago, on Mother's Day, my son and I got these matching tattoos on our feet. It's a Celtic eternity knot," she wrote. "Symbolizing that we will be connected eternally. We carefully picked it to represent our eternal love and our eternal bond."
Presley rarely shared tidbits about her son, but according to his friend, musician Brandon Howard, Keough was the type to be "always there for everybody." Speaking to People, he shared, "In any kind of situation, he would be the one who would come crash with you on the couch for weeks until you're actually feeling better." He also added that Keough struggled with depression and the Presley name played a part in it. "It's a tough thing when you have a lot of pressure with your family and living up to a name and an image," Howard continued. "It's a lot of pressure. It's almost like you're pressured into having to be a musician, having to be an actor. It was good for him to go around the world and discover himself and have his own friends."
Inside Lisa Marie Presley's relationship with Benjamin Keough
Before her death, Lisa Marie Presley penned a heart-wrenching essay about what it's like to lose a son. In her final Instagram post shared in August 2022, she put the essay on blast in hopes of helping people who are going through the same thing.
"I already battle with and beat myself up tirelessly and chronically, blaming myself every single day and that's hard enough to now live with," Presley admitted in her piece (via People). She added that, "grief is something you will have to carry with you for the rest of your life," and that her motivation to keep going was her children. "I keep going for my girls. I keep going because my son made it very clear in his final moments that taking care of his little sisters and looking out for them were on the forefront of his concerns and his mind," she wrote. "He absolutely adored them and they him."
On what would have been Benjamin Keough's 28th birthday, Presley also took to Instagram to share how much she longed for him. "My beautiful beautiful angel, I worshipped the ground you walked on, on this earth and now in Heaven. My heart and soul went with you," she wrote. "I will never be the same... Please wait for me my love, and hold my hand while I stay to continue to protect and raise your little sisters and to be here for Riley. I know you would want that."
If you or someone you know is having suicidal thoughts, please call the National Suicide Prevention Lifeline at 1-800-273-TALK (8255) or text HOME to the Crisis Text Line at 741741.