Inside Miranda Lambert's Relationship With Maren Morris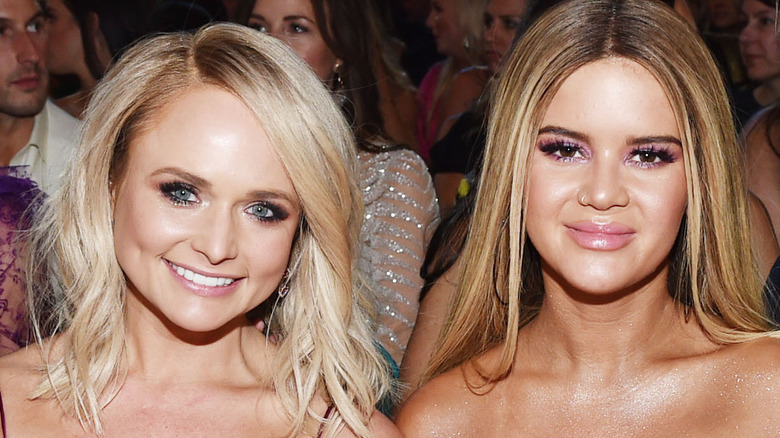 John Shearer/acma2019/Getty Images
Miranda Lambert and Maren Morris are two of country music's best female artists. And they also share a ton of similarities, too! For starters, Lambert first rose to fame as a contestant on "Nashville Star," the country music alternative to "American Idol," per Biography. And while she only made it to third place overall, the now-defunct talent reality series served as a launchpad for her future success, which includes a slew of rowdy, female empowerment anthems and three Grammy wins.
Morris also looked to reality television to get her foot in the door, auditioning for "American Idol" in 2007." Unfortunately, Morris failed to progress past the audition stage, per CNN. However, what followed was a successful near-decade songwriting career — including hits written for Tim McGraw and Kelly Clarkson (via American Songwriter) — that preceded her singing debut in 2016. But, of course, we can't forget all of the beautiful music Lambert and Morris created with their former and current partners, Blake Shelton and Ryan Hurd, respectively! However, there's much more to Lambert and Morris' relationship than their backgrounds.
Miranda Lambert and Maren Morris are friends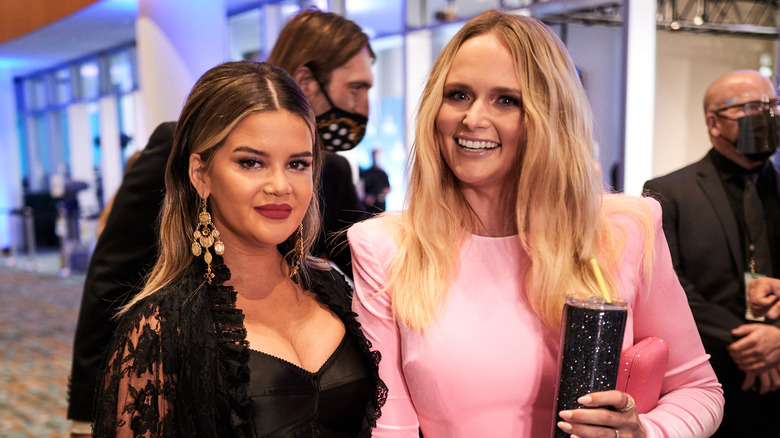 John Shearer/Getty Images
Miranda Lambert and Maren Morris crossed paths in Texas prior to getting their careers off the ground. "She's from Texas, too, probably about 45 minutes from where I'm from," Morris shared during a 2019 interview with Zane Lowe. "I've known about her for a long time," Lambert added. "I've met her at little fairs, and festivals, along the way when she was a lot younger, and so was I. Both trying to come up on the scene, or whatever the scene was. I just always knew she was special ... Then I saw her a few times at a few clubs, but I got her EP, and I knew ... 'She's the next one.'"
Later on, the duo would cultivate an enviable friendship that has publicly played out in the sweetest way. For example, after Morris won one of three awards at the 2020 Country Music Awards, Lambert, along with fellow singer Ashley McBryde shouted: "Yes, b***h! Yes, b***h!" according to Entertainment Tonight. That same year, Lambert also sent Morris matching jackets for her husband Ryan Hurd and their son Hayden Andrew Hurd (via Country Now). With that said, the duo's friendship was called into question at the end of 2022 when Morris seemingly shaded Lambert's decision to appear at Jason Aldean's concert. Jason had recently come under fire for his wife Brittany Aldean's alleged transphobic comments (via Showbiz CheatSheet). Time will tell where this possible feud goes.
Miranda Lambert and Maren Morris have collaborated on several projects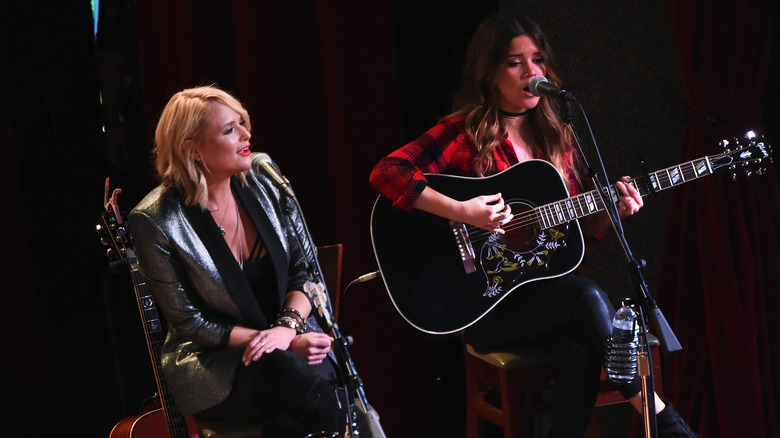 Rick Diamond/Getty Images
In recent years, Miranda Lambert and Maren Morris' friendship has blossomed into a professional relationship, as well. Over the years, both women have collaborated on several different projects. Their first team up occurred in 2019 for Lambert's "Way Too Pretty for Prison," an irreverent song where they weigh the pros and cons of getting revenge on a guy who wronged them, per Billboard. They also offer some pretty illegal scenarios for enacting said revenge. Thankfully, they realize that the time isn't worth the crime. As for how the collab came about? "[The song] kind of called for a duet," Lambert shared with Rolling Stone. "I remember saying when we were writing it, 'Maren would be awesome on this.' I sent it to her and she was in. It's just one of those girl anthems."
That same year, the country veterans also teamed up, along with a slew of other country big-timers, to perform a cover of Elvin Bishop's hit, "Fooled Around and Fell In Love." Additionally, Lambert and Morris have also performed together on a number of occasions, including at the Grammys and Morris' tour stop in Nashville.