Kylie Jenner's Bizarre Paris Fashion Week Look Has Tongues Wagging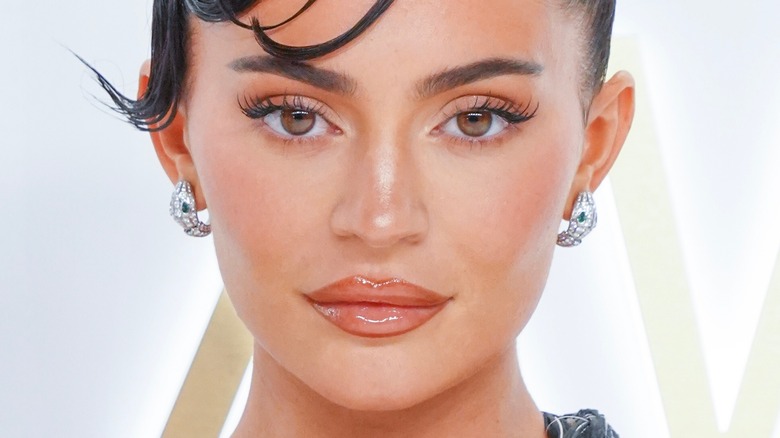 lev radin/Shutterstock
It's safe to say that fans follow pretty much every move that Kylie Jenner makes, and her fashion and style are one of the most talked about aspects of her life. From her casual and more athletic style to her designer pieces, "The Kardashians" star generates buzz over pretty much any outfit she wears — especially at gala events.
In 2022, Jenner walked the red carpet of the Met Gala while sporting an off-white gown that was fitted on the top and looser on the bottom, per Vogue. She went bold with her accessories, rocking a white baseball cap with lace draping over her face. Most people compared Jenner's look to that of a bride. On YouTube, the reality explained her reasoning for wearing that particular outfit, which was from the late designer, Virgil Abloh, who also happened to be a friend of Jenner's. "The only reason I came to the Met this year, to be honest, I decided really last minute I wasn't gonna go," the mother of two explained. "I was like, 'Unless I can go and honor Virgil' and [his wife] Shannon would want me to go and I would wear Off-White, then that's the only reason I would go today. To honor him." She also said things were pretty emotional and even shed a few tears because of what it meant to honor her friend.
At Paris Fashion Week, Jenner didn't wear a piece from Abloh, but it's still receiving much attention and not for great reasons. 
Kylie Jenner's lion look is generating a lot of negative buzz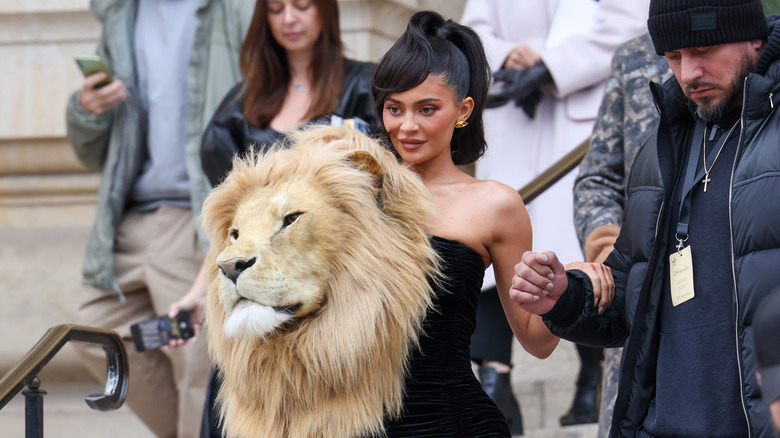 Pierre Suu/Getty Images
Leave it to Kylie Jenner to generate buzz over an outfit. Like her sisters, Jenner is known for rocking one designer piece after the next. However, it wasn't exactly a designer outfit that captured the attention of critics. According to TMZ, the star wore quite a unique outfit to the Schiaparelli Haute Couture show in Paris as part of fashion week. Jenner also shared a photo of the ensemble on Instagram, which featured a curve-hugging black gown that draped to the floor. She accessorized the look with a lion's head, which spanned from her chest to her waist.
"BEAUTY AND THE BEAST. thank you @danielroseberry and @schiaparelli for such a special morning," she wrote. "Wow i loved wearing this faux art creation constructed by hand using manmade materials. beautiful beautiful." Even though the lip kit mogul pointed out that the lion's head was "manmade" and not an actual lion head, she still received a lot of negative attention from fans, especially animal lovers. "Kylie I love your style but this is wrong, this promotes animal cruelty. It is a terrible fashion mistake! Please stop!" one person commented. "It's a NO for me...when these beautiful creatures are actually being hunted we probably shouldn't glamorize it," another chimed in.
This is not the first time Jenner has come under fire for an animal-related incident. In 2015, PETA released a statement criticizing Jenner after she painted her dog's nails.