Tom Brady Gives Explosive Response To Burning Question About His NFL Future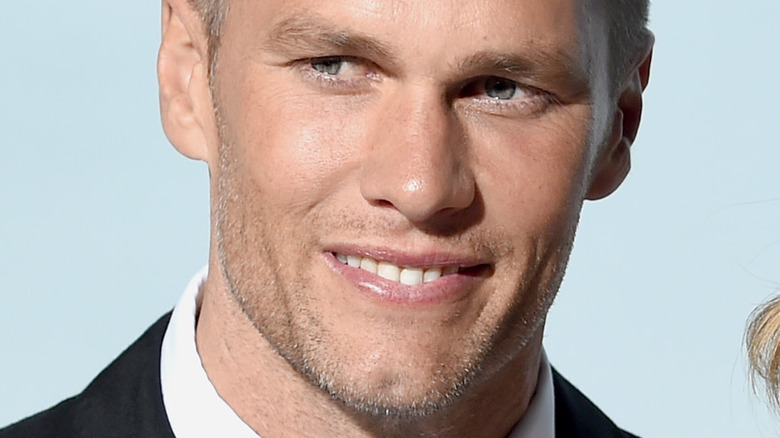 Kevin Winter/Getty Images
Tom Brady sent the world of professional football into a meltdown when he announced his retirement on February 1, 2022. "I have loved my NFL career, and now it is time to focus my time and energy on other things that require my attention," posted Brady to Instagram. "I've done a lot of reflecting the past week and have asked myself difficult questions. And I am so proud of what we have achieved. My teammates, coaches, fellow competitors, and fans deserve 100% of me, but right now, it's best I leave the field of play to the next generation of dedicated and committed athletes." However, the accomplished quarterback would soon "unretire" after 41 days, marking one of the shortest NFL retirements of all time.
Social media took no time making fun of the quarterback's decision to return to football, after his previous proclamation about spending more time with the family he created with model Gisele Bündchen (via Yahoo!). "Tom's kids must be bad as hell!!" tweeted Ryan Clark, garnering over 52,000 likes. Unfortunately, Brady's return to sports would prove fatal for his marriage to Bündchen, which had been going strong since their February 2009 wedding (via Vogue France). Roughly five months later, the couple announced that they would be getting a divorce, per CNN, which was finalized at lightning speed. 
Recently, Brady fielded questions about his future with the NFL, but it appears he wasn't a fan of the line of questioning. 
Tom Brady lashes out about his future plans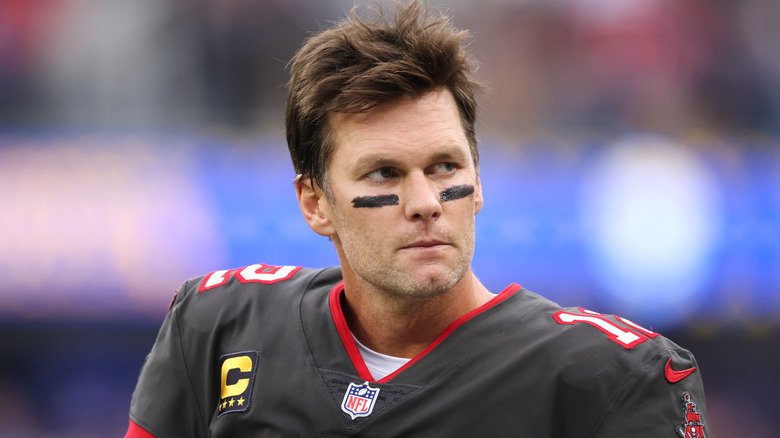 Harry How/Getty Images
On the January 23 episode of his "Let's Go!" podcast, Tom Brady addressed his football future and got quite defensive. It all started when his co-host Jim Gray asked, "Tom, you're leaving everybody guessing, you've said you'll take your time. Do you have any type of time table for what you might want to do regarding your football career?" Brady responded harshly: "Jim, if I knew what I was going to f***ing do, I would have already f***ing done it. Okay, I'm taking it a day at a time." After Gray acknowledged that Brady seemed "antagonized by the question," Brady replied, "You're scratching, you're scratchy. I appreciate you asking, thank you." 
According to the New York Post, Brady just completed his 23rd season in the NFL, and second with the Tampa Bay Buccaneers. But even amid his return, his future is uncertain, given that he has a variety of teams interested in acquiring his talents. And while it's anyone's guess (including his own) just what Brady will decide, his team's former coach, Bruce Arians, believes he'll stick with them. "He loves it here," said Arians in November 2022, per Joe Bucs Fan. "He loves his teammates, his coaches and the organization. If he decides to play next season, I think it will be with the Buccaneers."