What Todd And Julie Chrisley's Life Will Be Like In Federal Prison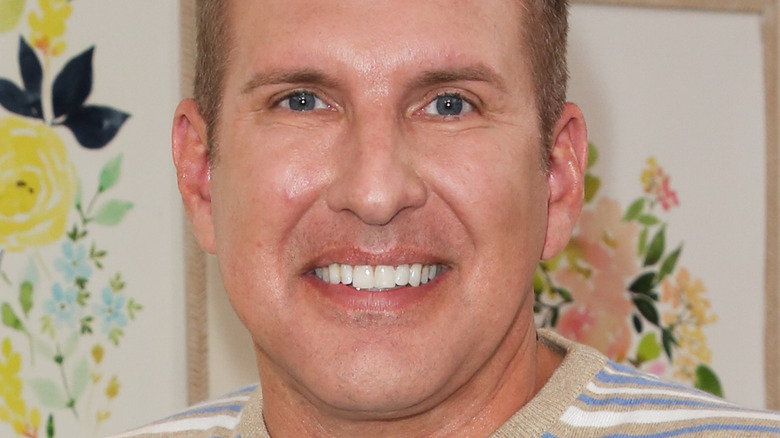 Paul Archuleta/Getty Images
In 2019, reality TV stars Todd and Julie Chrisley were indicted on 12 counts of tax evasion, bank and wire fraud, and conspiracy. What followed was a long, convoluted, and sometimes juicy court battle (who could forget the testimony of the employee who claimed he was only involved in their scams because he and Todd were having an affair?) that ultimately resulted in both Chrisleys being convicted. While the Chrisleys initially plead not guilty to all charges, the courts determined that they had, in fact, conspired to defraud banks in the Atlanta area of over $30 million via fraudulent loans, hid money from the IRS, attempted to evade paying taxes, and committed wire fraud. In November 2022, CNN reported that the couple had been sentenced to a combined 19 years in jail for their crimes.
Todd Chrisley, in accordance with his position as the mastermind of the scheme, was given a longer sentence of 12 years in federal prison and three years of supervised release. His wife, Julie Chrisley, who was viewed as having a more passive role in the scandal, was given seven years in prison and three years of supervised release. Following their sentencing, it was revealed that the couple was set to serve their time in two separate facilities located two hours' drive from one another in Florida's panhandle. On January 17, 2023, they turned themselves into their respective prisons, which led us to wonder what, exactly, their time behind bars will be like. What follows is our best estimation as to what's in store for them over the next several years.
Getting ready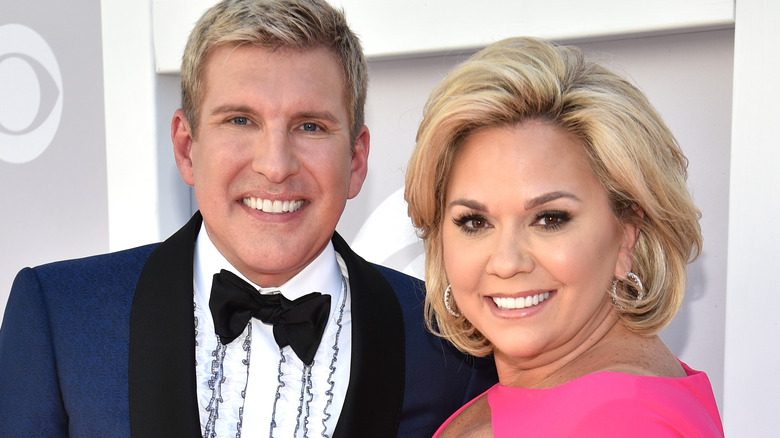 Kevin Mazur/acma2017/Getty Images
Following their sentencing in late 2022, the "Chrisley Knows Best" stars immediately filed an appeal and asked to remain free on bail until their second trial was over. At the time, their lawyer told People, "[The Chrisleys] trial was marred by serious and repeated errors, including the government lying to jurors about what taxes the couple paid. Based on these issues, we are optimistic about the road ahead." While the couple's legal team may still be holding out hope that the conviction will be overturned, their optimism about the pair remaining free until their appeal was settled was short-lived. A judge denied the Chrisleys' bail (as well as their request to extend their report date), holding fast to the original turn-in date of January 17, 2022.
According to the pair's oldest daughter, Lindsey Chrisley, the couple wasn't too discouraged by the decision. In an exclusive interview with People, she revealed that her parents had taken to "living every day like it [was their] last," preparing for their time behind bars by spending time with their kids, attending therapy, going to bible studies, and keeping fans up to date on their lives via their podcast "Chrisley Confessions." She noted that it hadn't all been smooth sailing— the entire family was having a bit of a hard time adjusting to their new normal — but for the most part, it seemed that Todd and Julie were feeling calm and cool about the transition.
Federal prison or summer camp?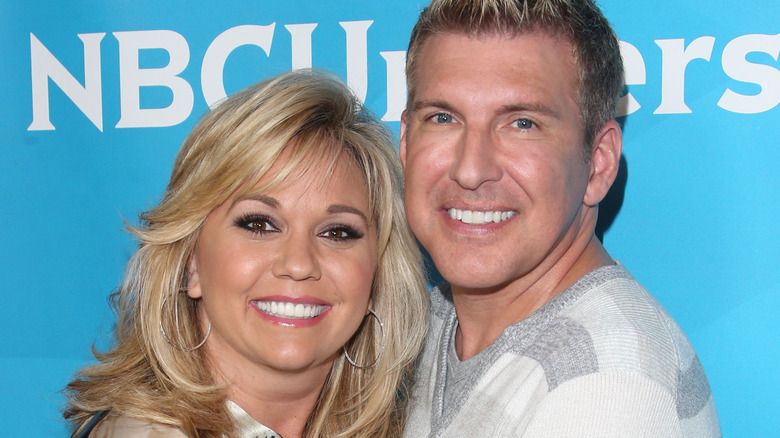 Mark Davis/Getty Images
While the Chrisleys' crimes are serious ones, they're still considered white-collar offenses, meaning there was no possibility they'd have been sent to a maximum-security prison alongside more violent criminals. Instead, both Todd and Julie Chrisley will be serving time at prison camps, which are minimum-security institutions with dormitory housing, low staff-to-inmate ratios, and limited perimeter fencing.
For his part, Todd Chrisley is being jailed at the Federal Prison Camp in Pensacola, Florida. FPC Pensacola is considered by many to be one of the cushiest prisons in the country. Images of the institution show low-slung red brick buildings surrounded by a simple chain-link fence, giving off more of a summer camp or small college vibe than the windowless, barbed wire-covered towers many prisoners are assigned to. With only 350 total inmates, all of whom live in open dorms rather than barred cells, the overall experience is also likely to be much more relaxed than what you'd find at an overcrowded facility.
Julie Chrisley will spend her time in a similar location, a satellite camp attached to the Federal Correctional Institute at Marianna, Florida. There are just over 200 female inmates housed here, meaning her experience is also sure to be much more laid-back than it would have been in a larger, or higher-security institution.
Getting dressed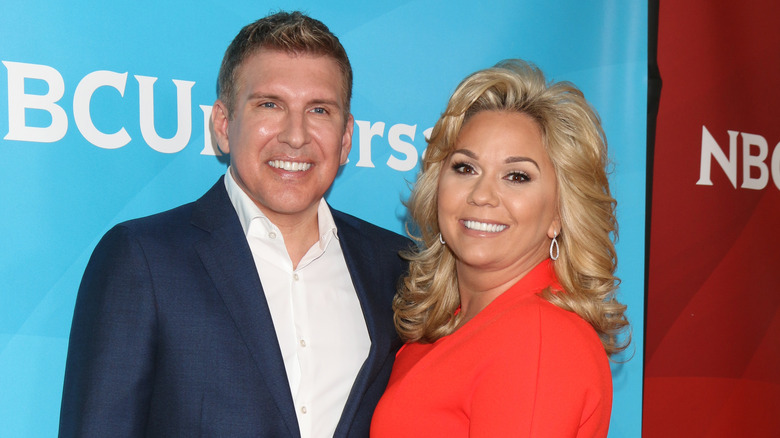 Kathy Hutchins/Shutterstock
While the prison camps the Chrisleys are headed to are far from the worst institutions in the country, they still fall far short of providing the luxury the duo has become accustomed to. Daily Mail recently went inside the couple's two Tennessee mansions, worth $2.9 and $6 million, respectively, and found that they had everything from top-of-the-line chef's kitchens to indoor sports courts to impeccably landscaped pools and eight-car garages. This affinity for the finer things in life didn't end with their living arrangements, either. Anyone who's ever watched a single episode of "Chrisley Knows Best" will have seen the pair decked out in designer duds and sparkly jewelry.
Unfortunately, the days of Dior and Louboutin are over (at least for now). Handbooks for Todd and Julie's respective institutions reveal that they'll be wearing plain uniforms— dark green for him, khaki for her— alongside their fellow inmates. The only options they'll have outside of that standard daywear will be recreational clothing purchased for the commissary, which, we have to assume, will be equally brandless. But who knows, maybe this time behind bars, uninfluenced by the major fashion trends of the outside world, will give Todd the push he needs to finally open his once-dreamed-about store, Chrisley and Company.
Working 9-to-5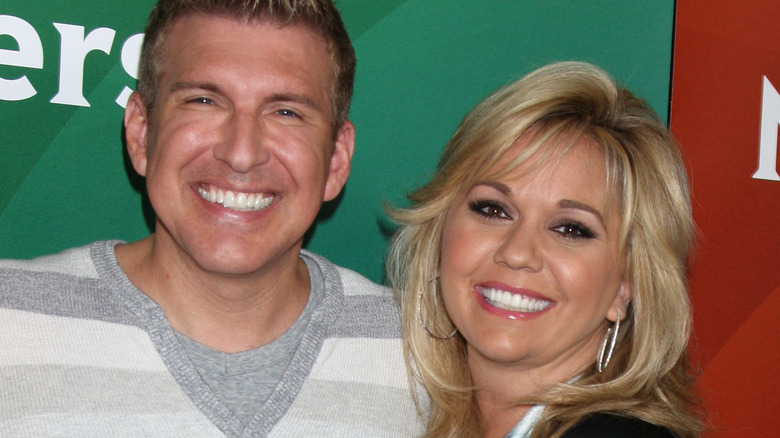 Kathy Hutchins/Shutterstock
Todd and Julie Chrisley won't be donning their monochromatic uniforms just to lounge around and bide their time. Both of their facilities maintain fairly strict schedules for their inmates, and a good portion of their time inside will be spent working. At FPC Pensacola, as laid out in the inmate handbook, Todd will be waking up at 4:30 am, eating breakfast at 5:00, then heading to work sometime between 5:30 and 7:30. He'll spend eight hours at work, breaking only for lunch, and then return to the facility in the evening for some downtime before lights out at 10:30.
As to what he'll do for work, it's hard to say. Because FPC Pensacola is on a naval base, some inmates will actually be assigned jobs on the base itself, like administrative or groundskeeping work. Outside of those duties, which have been described to Forbes as being highly desirable positions, there are more traditional options like kitchen and laundry, trades like welding and carpentry, and specialized roles like librarians and teacher's aids. Given his well-known disdain for dirt, germs, and animals, we're sure Todd's hopeful he'll wind up with one of the institution's many desk jobs.
Staying busy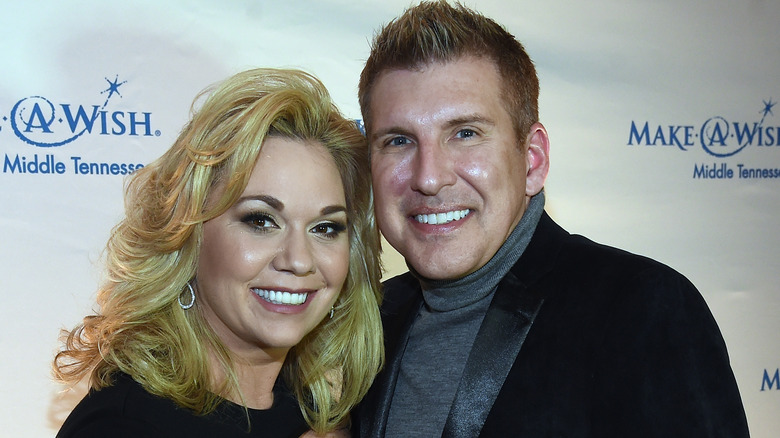 Rick Diamond/Getty Images
Outside of working hours, Todd Chrisley will have plenty of activities and opportunities to keep him busy and entertained. According to the FPC Pensacola handbook, the institution offers a number of educational programs that train inmates in everything from vocational work to arts and crafts. If none of those options catch Todd's fancy, there's also a rotating selection of general interest courses available, as well as a parenting class that aims to help inmates foster their relationships with their children while they're behind bars.
And when he needs to give his brain a total break from work and school, the prison camp has a huge variety of recreational options. There's a billiards room in the compound, as well as volleyball, basketball, and racquetball courts. There are organized intramural teams and competitions in nearly every sport you could think of, from flag football to soccer. Then you have group fitness classes, music rooms with shared instruments, a hobby craft studio, and a sunbathing yard. Finally, each week the facility sponsors movie nights, showing favorites in the naval air station's base theater.
FCI Marianna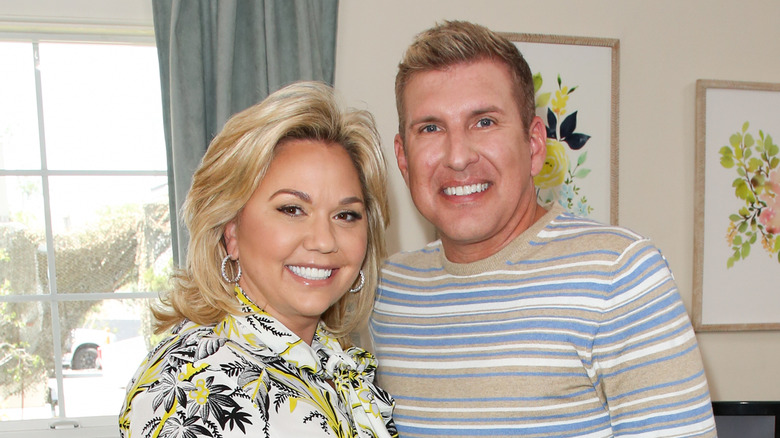 Paul Archuleta/Getty Images
While we have a fairly good idea of what Todd Chrisley's prison stay will look like, we're more uncertain of how Julie Chrisley's will shake out. In part, this is because there are fewer notable inmates who have spent time at FCI Marianna than at FPC Pensacola (well-known fraudsters like Mark Whitacre of "The Informant!" fame and Robert Powell of the Cash for Kids scandal were both sent here and have spoken out about their time inside). But also because the institution's handbook is less detailed than Pensacola's.
Here's what we have been able to gather from the FCI Marianna handbook. Like Todd, Julie will have access to a number of educational programs, from correspondence college courses to vocational training programs to things like conversational Spanish and parenting classes. She'll also be able to participate in a number of recreational activities, like intramural sports, hobby crafts, aerobics, and music if she so chooses, though, from what we can tell, the facilities for these programs aren't quite as nice or new as the ones at FPC Pensacola. Additionally, Julie will be expected to hold down a job for the duration of her sentence, though, once again, her choices as to what that may be appear to be fewer than what her husband will have to choose from. Who knows, given her love for cooking as demonstrated through her "What's Cooking with Julie Chrisley" series, maybe she'll wind up doing something she enjoys, like kitchen work.
Seeing family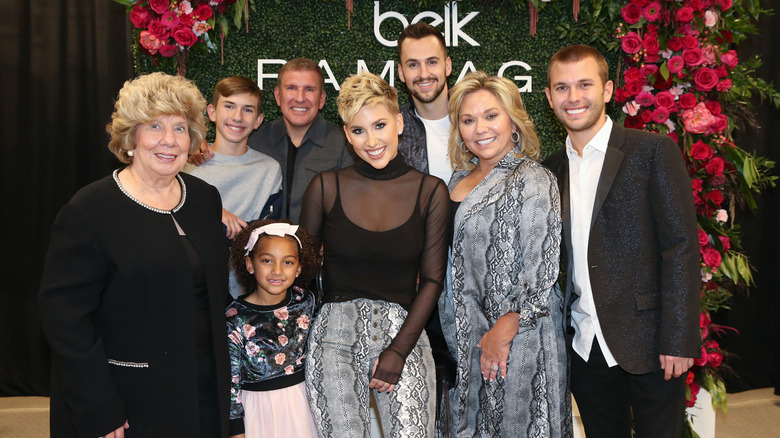 Terry Wyatt/Getty Images
Spending the better part of the next decade behind bars will be challenging, regardless of how cushy and comfortable the facility. Undoubtedly one of the hardest things for the Chrisleys will be the splitting up of their family. While the Chrisley clan may not always see eye to eye, watching "Chrisley Knows Best" and "Growing Up Chrisley" proves that at the end of the day, the gang shares a close bond.
While they may not be able to flit in and out of one another's orbits as they do now, there will be plenty of opportunity for them to see one another. The Los Angeles Times reported that when Judge Eleanor Ross sentenced Todd and Julie Chrisley to prison, she stipulated that they must be placed in facilities close enough to one another that their children could feasibly visit them both in one day. Weekends, it seems, will be the time to do that. FCP Pensacola allows inmates to receive visits on Fridays, Saturdays, and Sundays, and FCI Marianna is open to outsiders Saturdays, Sundays, and Mondays. Unfortunately, the entire clan won't be able to come at once, as each facility only allows five visitors at a time.
What about Todd and Julie, you may be asking? They obviously won't be able to physically see one another, but a Bureau of Prisons representative told Life & Style they'll certainly be able to communicate as they are "a member of the immediate family [and] a party or witness in a legal action in which both inmates are involved."
Getting out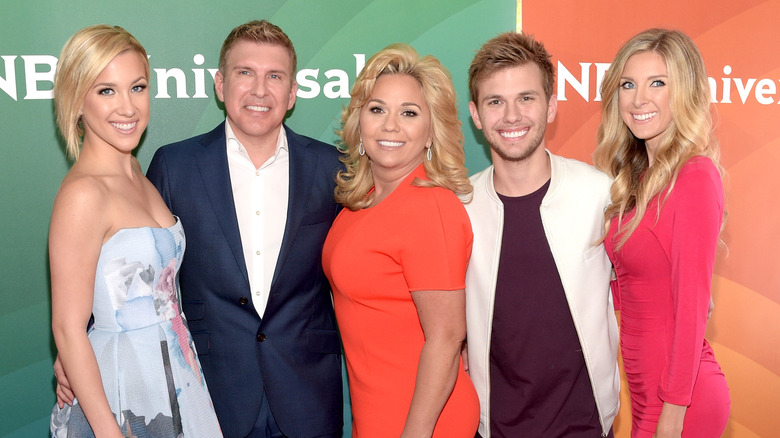 Jason Kempin/Getty Images
If both Chrisleys wind up serving their full sentences, Julie won't be released until 2030 and Todd until 2035. Following their departure from federal prison, Insider reports that both have also been sentenced to 16 months of probation. So what will life be like after they get out? Different from what it was beforehand, for sure.
For one thing, the couple likely won't have a reality show to come back to. Following their sentencing in November 2022, the USA Network canceled both "Chrisley Knows Best" and "Growing up Chrisley." Additionally, it was reported that a new E! dating show, "Love Limo," hosted by Todd was also scrapped. There is a chance however, that their iHeartRadio podcast "Chrisley Confessions" could make its way back to the airwaves, as we (so far) have heard no indication that the show is being permanently ended.
As for their family structure, that could look quite different as well. Their two minor children, Grayson and Chloe, are currently living with older sister Savannah Chrisley who took custody of them immediately following the couple's sentencing. At the time of his parents release, Grayson will be a legal adult and likely living on his own. Chloe, on the other hand, will only be 17 when Julie gets out, so where she (and the courts) decide she should live at that time remains to be seen.