What Really Happened Between Jeremy Renner And Lady Gaga?
Emma Mcintyre/Getty Images
Since making her debut in 2008, Lady Gaga has captivated pop culture enthusiasts with her vocals and addictive singles. With songs like "Bad Romance," "Born This Way," and "Rain On Me," Lady Gaga has had five No. 1 singles on the Billboard Hot 100. The beloved singer-songwriter has made an undeniable mark in the music sphere and the entertainment industry as a whole. But alongside her talent and expansive career, fans have also found an interest in the singer's colorful love life. Over the last decade, Gaga has reportedly been involved with six high-profile individuals. Back in the mid-2010s, the "A Star is Born" actor made waves with her very public romance with "Chicago Fire" actor Taylor Kinney. 
According to InStyle, the two met on the set of her "Yoü & I" music video. However, the pair ended their love affair and engagement in 2016, which the singer confirmed on Instagram. "Just like all couples, we have ups and downs, and we have been taking a break," she wrote. In the years since her breakup with Kinney, Gaga has played the field with an array of suitors, including Dan Horton and Christian Carino. However, one rumored flame that has stumped pop culture enthusiasts is her supposed connection with Marvel star Jeremy Renner. Join us as we take a deeper look into their mysterious relationship.
Lady Gaga and Jeremy Renner spent time with each other in 2019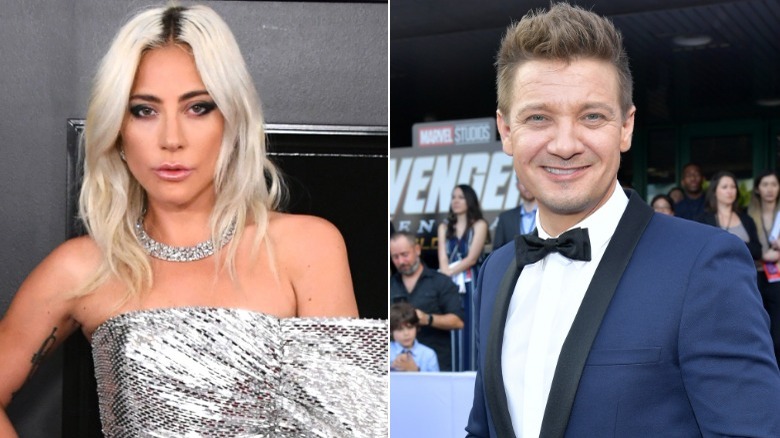 Amy Sussman & Jon Kopaloff/Getty
Back in 2019, Lady Gaga and Jeremy Renner were filling their time taking the entertainment industry by storm. With Gaga preparing for the release of her hit film "A Star is Born" and Renner staying busy by promoting "Avengers: Endgame," the two talents were mainstays within the news outlet circuit. However, in addition to their individual feats, the pair also made headlines that year for their rumored romance. In a report from Us Weekly, a source revealed that Gaga and Renner had "been spending a lot of time" with one another.
However, shortly after the rumor began to spread, another source shut down the claim to E! News. "She has been friends with Jeremy Renner for a while. They often hang out when they are both in town," the source explained. "She's been spending time with him recently, but it's not romantic." While the two never confirmed their romance, fans of Gaga and Renner were quick to share their thoughts about the pairing on social media. One person tweeted: "Can't people just be friends anymore?" Another person wrote: "Lady Gaga and Jeremy Renner? What an odd couple if true."
Lady Gaga and Jeremy Renner dated other partners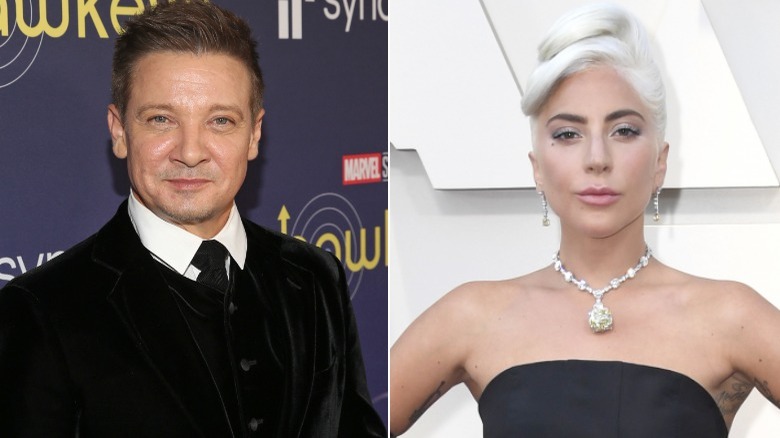 Jesse Grant & Frazer Harrison/Getty & undefined
While it's still unconfirmed whether Lady Gaga and Jeremy Renner have ever dated, the two have since been linked with other public figures in the industry. Shortly after the "Lady Renner" rumors fizzled out, the "Joanne" singer was spotted with The Parker Foundation CEO Michael Polansky. After months of speculation, Gaga confirmed their relationship in February 2020 on Instagram and admitted more about her private relationship with her boyfriend the following year. "We had so much fun in Miami. Love to all my little monsters and fans, you are the best," she wrote alongside a photo of them canoodling on a boat. But despite their whirlwind romance, the pair reportedly decided to take "some breathing space" in October 2022. "They still talk. Just right now, he's focusing on his booming tech career [and] she's heavily invested in music and her upcoming role in the Joker," a source told In Touch Weekly.
As for Renner, the "Avengers: Age of Ultron" star has been linked with fellow actor Eiza González. Back in 2020, the pair were seen cozying up with each other during a pre-Super Bowl party. In a report from US Weekly, Renner and González were said to be "pretty flirtatious" while ironically attending Gaga's AT&T Super Saturday Night party performance. However, despite the rumors, a source close to González revealed that "nothing romantic" happened between them during the aforementioned event. "They didn't have a fling at the Super Bowl," they told the news outlet.