Inside Madonna's Off-Screen Romance With Warren Beatty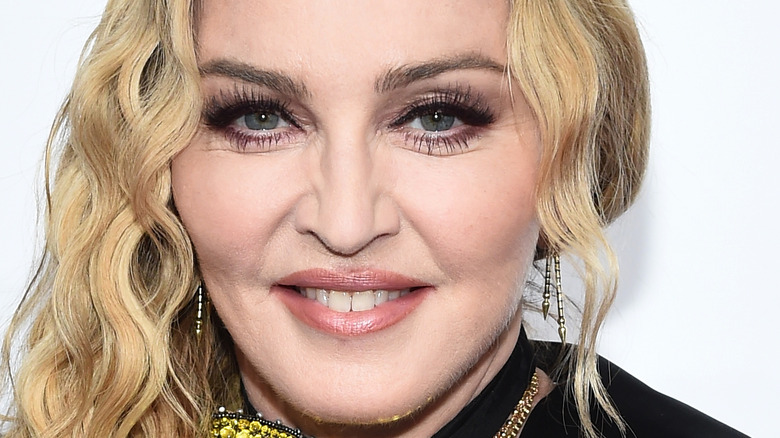 Ilya S. Savenok/Getty Images
Madonna and Warren Beatty were a power couple in the '90s.  As reported by the Daily Mail, in the past the music legend has been romantically linked to men such as Jean-Michel Basquiat, Tupac Shakur, Carlos Leon, Guy Ritchie, and Beatty. In a 2003 interview with Oprah Winfrey, Madonna discussed the connection between courage and loving without limits. "To be brave is to love someone unconditionally, without expecting anything in return. To just give," Madonna said, per Oprah. "That takes courage, because we don't want to fall on our faces or leave ourselves open to hurt." 
Aside from Madonna, Beatty dated other celebrities like Diane Keaton and Natalie Wood prior to his union with his wife, actor Annette Bening. When he was asked about his exes during a 2016 interview with People, Beatty spoke highly of the women from his past. "What happens is fame gives you access so you're lucky enough to be exposed to these very admirable women," Beatty said. "But these well-known women who were not just physically beautiful, but great people and talented and intelligent people." Beatty's love story with Madonna started as the two were collaborating on a professional project in the early '90s.
Madonna and Warren Beatty had a 15-month romance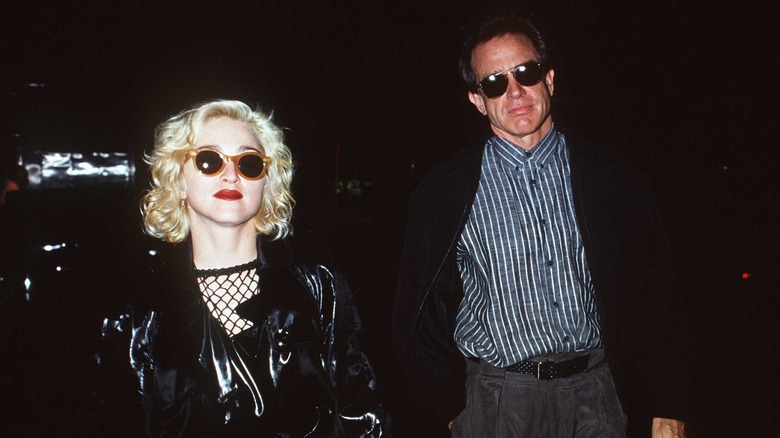 Brenda Chase/Getty Images
Madonna and Warren Beatty became romantically involved while shooting a film together. The pair began seeing each other in early 1990, following Madonna's separation from her ex-husband, Sean Penn, as BuzzFeed wrote in 2013. The celebs had been working together for the movie "Dick Tracy," which was released in the summer of 1990 and was also directed by Beatty. They dated for 15 months but called it quits around the premiere of "Dick Tracy," Vanity Fair stated in 1991. Leading up to this, Madonna was being filmed for her documentary "Truth or Dare," and Beatty briefly appeared in this movie. 
Upon the release of "Dick Tracy," Beatty praised Madonna's performance skills and called her "a big gift to the entertainment world." "Madonna is a person of an unlimited, it seems, amount of energy, of generosity of spirit, of talent as a comedienne, as a serious actress, as a singer, as a dancer," Beatty said, per Hollywood Outbreak. "As a collaborator, she's a person who brings energy and complete professionalism, dedication to what she does, she's always on time, she's enthusiastic about other people ... She doesn't take herself too seriously." In addition, the celebrity exes have shared their thoughts on one another during interviews in recent years.
Madonna and Warren Beatty are 'still friends'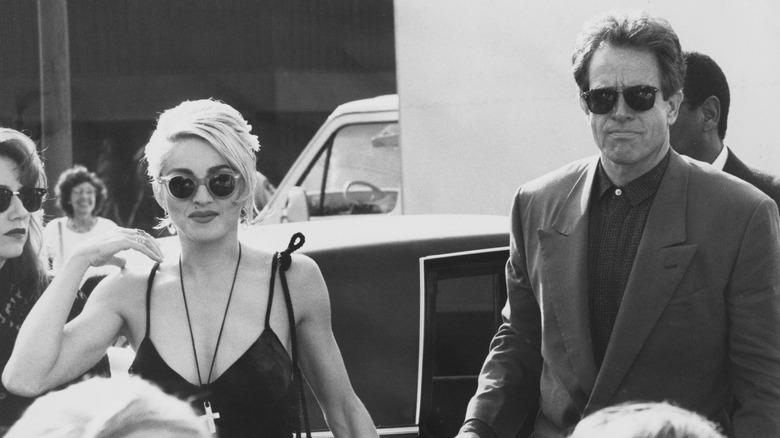 Michael Ochs Archives/Getty Images
Years after splitting up, Madonna and Warren Beatty have discussed their past union. When she visited "The Howard Stern Show" in March 2015, Madonna was asked by co-host Robin Quivers whether or not Beatty was "an incredible lover," to which the "Like a Prayer" vocalist responded in the affirmative. "Yes, he was. I'm not going to lie," Madonna said about Beatty, per Closer Weekly. She added, "I have confidence in my skills."
The music icon went on to tell the story of how working with Beatty on the film "Dick Tracy" led to her penning one of her biggest hits, "Vogue." "I had seen people voguing. Warren asked me to write a song for 'Dick Tracy,' and I was thinking about all of the movie stars," Madonna said. "Warren grew up in that era, and he dated all of Hollywood, basically." In 2016, Beatty chatted with People about having dated Madonna, and he praised his ex's talent as an artist. "She's a huge personality, diligent and disciplined, and a spectacular dancer and performer," Beatty said of Madonna. "She's a phenomenon." When Beatty spoke to the Los Angeles Times that same year, he also revealed that he is "still friends with [Madonna]."