The Lover Farrah Fawcett Kept A Secret Until Her Death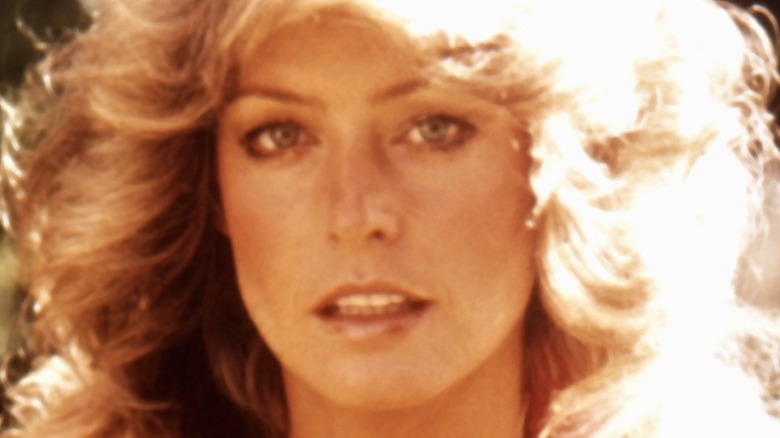 Michael Ochs Archives/Getty Images
Farrah Fawcett had three great loves in her life. Her husband, Lee Majors, her longtime boyfriend, Ryan O'Neal, and their son with Ryan, Redmond O'Neal. However, a fourth man has also come forward, alleging that he and Fawcett had a passionate secret love affair that spanned decades. 
According to Britannica, Fawcett and Majors were married from 1973 to 1982. He's credited with launching her acting career and being the man behind the iconic red swimsuit poster that adorned the bedroom wall of many a teenage boy in the 1970s. People reported that Majors made the error of asking his buddy Ryan to "check in" on his wife while he was away filming, resulting in Majors being kicked to the curb after the couple fell in love.
Fawcett never married Ryan but they were in a tumultuous relationship for 18 years. Following their split, they remained close as they co-parented their son, and Farrah reunited with Ryan to care for him after he was diagnosed with leukemia in 2001. He managed to come out the other side, but sadly she wasn't so lucky. Fawcett died from anal cancer in 2009. However, the tragic news was quickly overshadowed by Michael Jackson's unexpected death just hours later, per CNN. Still, Ryan was plunged into grief as he struggled to come to terms with his loss. He also became entangled in a messy lawsuit over Fawcett's possessions, specifically a priceless Warhol painting. In that lawsuit, Farrah Fawcett's alleged secret lover was revealed.
Farrah Fawcett's alleged secret lover tells quite the story
Given Redmond O'Neal's struggles with addiction and Farrah Fawcett's cancer battle, it's difficult to imagine how she found time for a secret romance. However, car wash owner Greg Lott begs to differ. He claims they had a tryst at the University of Texas, reignited the spark in 1998, and forged a romance that lasted until the actor's death. "Farrah Fawcett and I reunited ... in a relationship, a loving, consensual, one-on-one relationship," Lott told ABC News. "No other boyfriends. No other girlfriends," he insisted.
Ryan and Fawcett were photographed together regularly and he was right by Fawcett's side until her last breath, sleeping "in a cot" next to her hospital bed. "The night before she died, he was talking and talking, leading up to the story of when he first met Farrah," Fawcett's friend told People. "It was his way of telling her how much he loved her. She looked over at me and rolled her eyes, and then she smiled." 
So, where was Lott at the time? "O'Neal kept me from seeing the love of my life before she died," he told ABC. The former UT footballer showed off evidence backing up his relationship claims, including what he says are handwritten love letters and some old photos of them. "Photos [of Ryan and Fawcett] don't make a relationship," Lott charged, although, presumably, his do. "I know what I had with her. He didn't have that. He blew it."
Farrah Fawcett's will tells an equally interesting story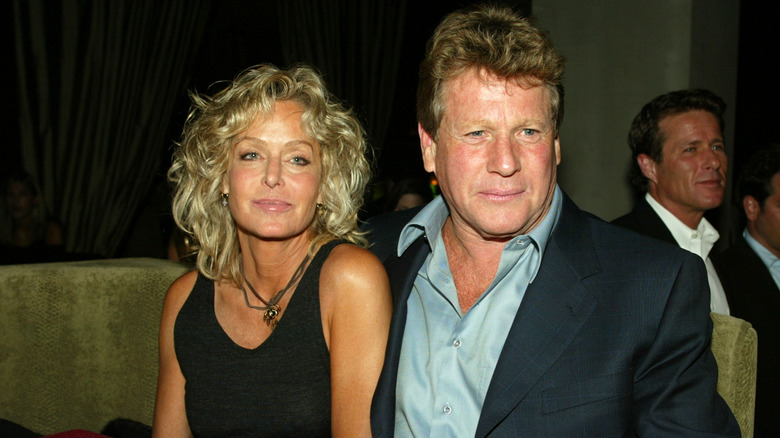 Kevin Winter/Getty Images
Greg Lott's alleged secret romance with Farrah Fawcett was revealed during a deposition he gave for the University of Texas' lawsuit against Ryan O'Neal. Forbes reports that before her death, the "Charlie's Angels" bestowed her art collection, which included two Andy Warhol prints of her, to her alma mater. However, they only received one, as Ryan O'Neal kept the other. The university sued the actor, demanding he hand over the silkscreen, worth around $12 million. According to Texas Monthly, Ryan insisted Warhol had gifted him the painting, so it was his and not Fawcett's.
Meanwhile, Ryan fired off a defamation lawsuit against Hollywood producer Craig Nevius for accusing him of "stealing" the pricey print. Following years of legal wrangling, the university eventually settled, and Ryan kept the painting. Per The Hollywood Reporter, he also won his suit against Nevius.
Radar Online obtained a copy of Fawcett's will. There was no mention of Ryan in it, but she did leave $4.5 million to their son, Redmond O'Neal. In addition, she left $500,000 to her nephew and $500,000 to her father, James Fawcett. Interestingly, she also left $100,000 to her "ex-lover" Greg Lott, begging the question, are his claims true? One thing's for certain, Lott faced off with Ryan on at least one occasion. Things became heated between the two when Lott confronted Ryan outside of his Brentwood home, accusing him of controlling Fawcett during her final days.