Lisa Marie Presley And Sarah Ferguson's Unexpected Friendship Explained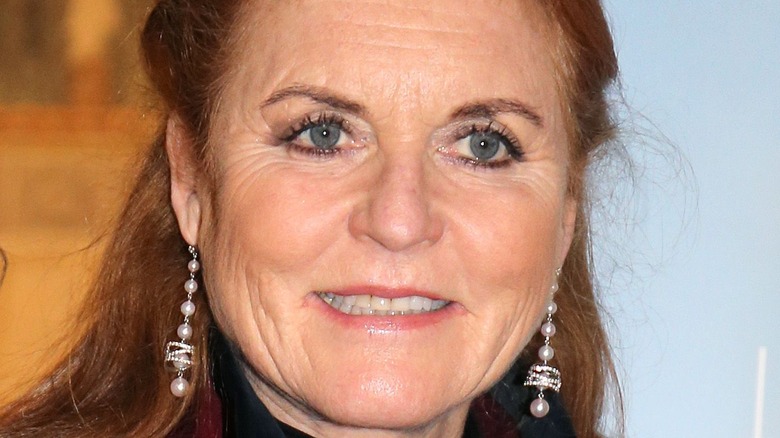 Elisabetta A. Villa/Getty Images
Sarah Ferguson, Duchess of York, gave a heartfelt speech during Lisa Marie Presley's memorial on January 22. As AP News reported, Elvis and Priscilla Presley's only daughter died on January 12 after being admitted to the hospital for a medical emergency. She was just 54. Sarah was clearly distraught over the tragic and unexpected death of Lisa Marie. She battled back tears as she stood onstage at Elvis' Graceland estate to eulogize her dear friend. Sarah started her speech by imploring attendees to "stoke our flames from within" to "celebrate the extraordinary life" of the singer.
Sarah referenced the pain and turmoil caused by the death of Lisa Marie's son, Benjamin Keough, who died by suicide in 2020, per TMZ, and offered condolences to Priscilla. "Mothers losing children, there are no words for it." she said. According to Us Weekly, Sarah evoked the UK's now-deceased Queen Elizabeth II during her speech. "My late mother-in-law used to say that, 'Nothing [that] can be said can begin to take away the anguish and the pain of these moments because grief is the price we pay for love.' And how right she was."
Sarah admitted it was a "great honor" to be afforded the chance to publicly remember Lisa Marie, and shared that they referred to each other as "sissy" because they were so close. Many were surprised to see the former royal pop up at the funeral. However, the pair's relationship spanned back decades.
Lisa Marie Presley and Sarah Ferguson fought very similar battles
You might not think it at first glance, but Lisa Marie Presley and Sarah Ferguson, Duchess of York actually had a lot in common. Both women were part of royalty: Sarah literally as the ex-wife of Prince Andrew, King Charles III's younger brother, and Lisa Marie figuratively, as the King of rock n' roll, Elvis Presley's daughter.
They were also subjected to endless tabloid headlines. Mirror reports Sarah was mercilessly ridiculed by the British press. "Fergie" was slammed for her dress sense, outrageous antics, and multiple royal faux-pas. Her struggle with binge-eating disorder and resulting weight issues led to her being dubbed "The Princess of Pork." The Daily Mail even attacked Sarah's daughter Princess Beatrice, branding her the "pampered Princess Piggy" (via The Guardian). Meanwhile, Lisa Marie became a tabloid staple, as she was scrutinized over her "turbulent four marriages," substance abuse, and battle with addiction (via The U.S. Sun).
The two women were also held to others' standards and often fell short. It was inevitable that Lisa Marie's musical talents would be compared to Elvis'. "It's a blessing and a curse," she told The San Diego Union-Tribune about being his daughter.​​ Meanwhile, Sarah admitted it was "tough" being compared to the rail-thin "English rose" Princess Diana. "I never stood a chance," she claimed in the documentary "Fergie and Meghan: Inconvenient Royals" (via Express). However, Sarah and Lisa Marie really bonded over their ex-husbands' infamous sex-scandals.
Lisa Marie Presley and Sarah Ferguson bonded over ex-husband's sex scandals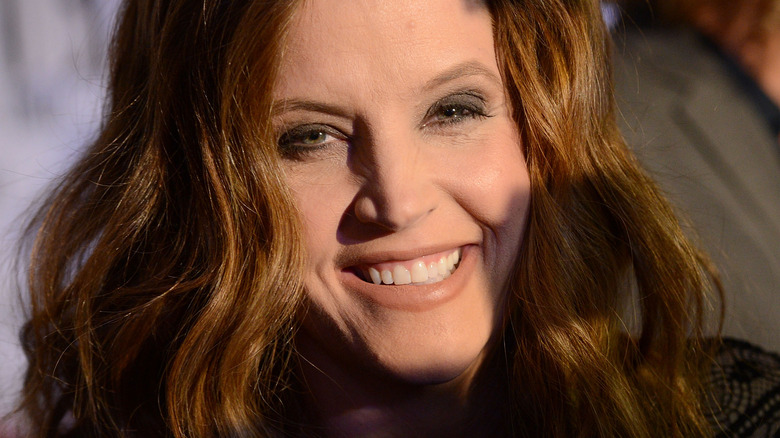 Jason Kempin/Getty Images
Sarah Ferguson, Duchess of York, and Lisa Marie Presley met in 2007. "[There was] an instant bond," a source told the Daily Mail. "She had been through so many scandals, as had Sarah." Andrew, Duke of York, and Sarah have certainly faced controversies. Tatler lists "a short history," including "Toe-gate," "Fake Sheik," "Airmiles Andy," "Lybian Gun-Smuggler," and of course, Jeffrey Epstein.
Andrew denied having sex with Victoria Guthrie at his buddy Ghislaine Maxwell's pad after Epstein allegedly trafficked the then-20-year old to London. He eventually settled Guthrie's sexual assault civil case, per BBC. Andrew attempted (and spectacularly failed) to excuse his friendship with the convicted pedophile in a trainwreck BBC interview. However, Sarah continues to stand by Andrew. "I believe in him, [he] is a good man," she told Madame Figaro (via the Daily Mail).
Despite her questionable beliefs, Sarah can be unequivocally relied on for her loyalty. She was totally there for Lisa Marie during Michael Jackson's pedophilia scandal and following his death. Lisa Marie went to her grave believing in his innocence. She explained on "Primetime Live" that kids constantly leapt into bed with Jackson. Lisa Marie said she would have no problems regarding her own kids sleeping with Jackson. "If I didn't know Michael, no way. But I happen to know who he is and what he is, and I know that he's not like that. I know that he has a thing for children," she explained.