Steph Curry's Game Outburst Follows A Little-Known Pattern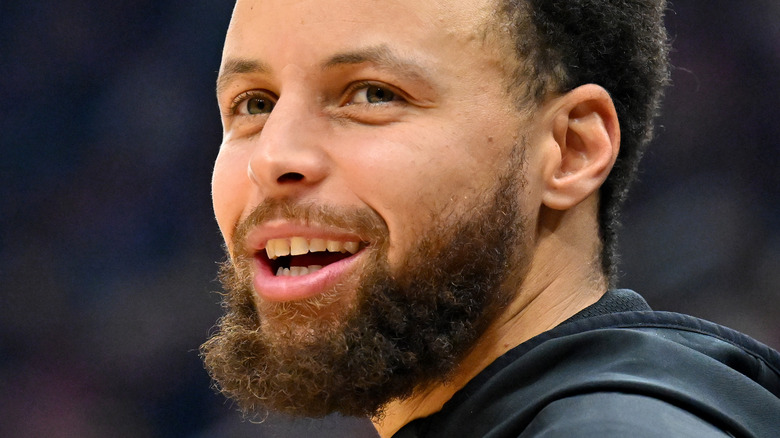 Jason Miller/Getty Images
Steph Curry has a habit on the basketball court that has been discussed for years. In addition to taking note of his impressive shooting skills, as he's played for the Golden State Warriors since 2009, fans have recognized how Curry always wears a mouthguard that he chews on while competing. During a 2015 "Jimmy Kimmel Live!" interview, the basketball pro explained that wearing and chewing a mouthguard resulted from an injury he sustained during a college game.
"I got elbowed in college my junior year and kind of busted my lip open. And so I wore a mouthpiece after that every single game," Curry said. "And then every year it's kind of gotten farther and farther away from my teeth." This pattern later led to a business deal for Curry, as he announced via Twitter in 2013 that he would be endorsing his own flavored mouthguard with MoGo Sport. Though this partnership was a positive outcome stemming from his habit, Curry also has a rare tendency related to his mouthguard, which has resulted in a few less-than-ideal scenarios during NBA games.
Steph Curry has been ejected for throwing his mouthguard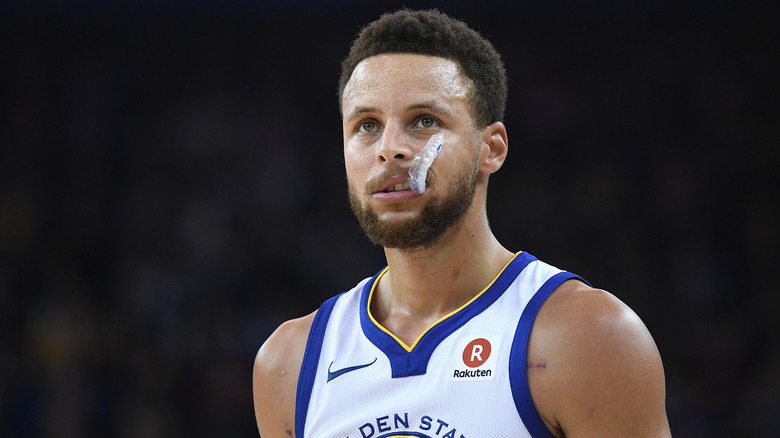 Thearon W. Henderson/Getty Images
Steph Curry has faced multiple NBA ejections on the infrequent occurrence that he's thrown his mouthguard. This most recently happened on January 25, per ESPN, while the Warriors battled the Memphis Grizzlies. After an unsuccessful 3-point attempt by Curry's teammate, Jordan Poole, that was deemed to be an untimely decision, Curry became frustrated and threw his mouthguard. It then landed by courtside seats, and Curry was automatically ejected for this action. After the game, Curry explained his reaction, saying that it stemmed from his desire for the team to execute during critical moments on the court.
"It was a crucial time in the game, and the way our season has gone ... there's questions about the heightened sense of urgency of, every detail matters," Curry said (via Chaz). He added, "... So I reacted in a way that obviously put myself out of the game, put the team in a tough place, but the intentions and the energy around what matters and the sense of winning — that's what it's about thankfully." He concluded by mentioning that his "teammates responded extremely well" as they secured the win following his ejection. Prior to this, Curry has been ejected twice for throwing his mouthguard: once while playing the Cavaliers in the 2016 NBA Finals, and another time while facing the Grizzlies back in 2017. As Warriors Nation shared, coach Steve Kerr said after Curry's latest ejection, "[Curry] knows he can't make that mistake again."