Tom Brady's Appearance Post-Gisele Bündchen Divorce Draws Concern From Fans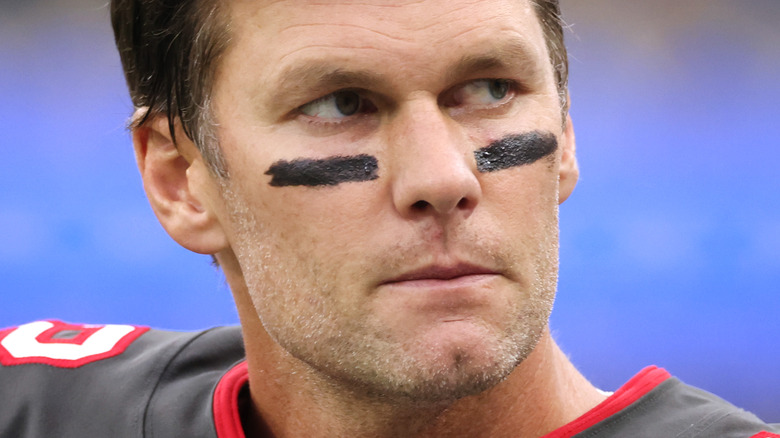 Harry How/Getty Images
Tom Brady's weight loss following his high-profile divorce to Gisele Bündchen has left fans seriously worried. Back in 2022, the former New England Patriots player made headlines after he famously un-retired to join the Tampa Bay Buccaneers for their 2022-2023 season. A month before his NFL comeback, the beloved athlete informed fans that he would be stepping away from the NFL to "focus" his time on "other things," per ESPN. While many fans were happy to have "The G.O.A.T." back on the field, the decision seemingly hurt his marriage to the former Victoria's Secret model. "Going back to Tampa after the retirement put a strain on the personal side of his life," a source told People. "Gisele is frustrated and sick of his career coming before their family, who has always supported him."
While Bündchen and Brady refrained from acknowledging the various divorce rumors for most of 2022, the pair ended up confirming the news in October. "We arrived at this decision amicably, and with gratitude, for the time we spent together," Brady wrote on his Instagram Story (via CNN)." "We are blessed with beautiful and wonderful children who will continue to be the center of our world in every way." In an additional statement, Bündchen revealed that the decision wasn't easy, but was reached because they "grew apart." 
While the two have taken steps to move on with their lives, eagle-eyed fans have noticed an alarming change in Brady.
Tom Brady has lost 15 pounds since his divorce from Gisele Bündchen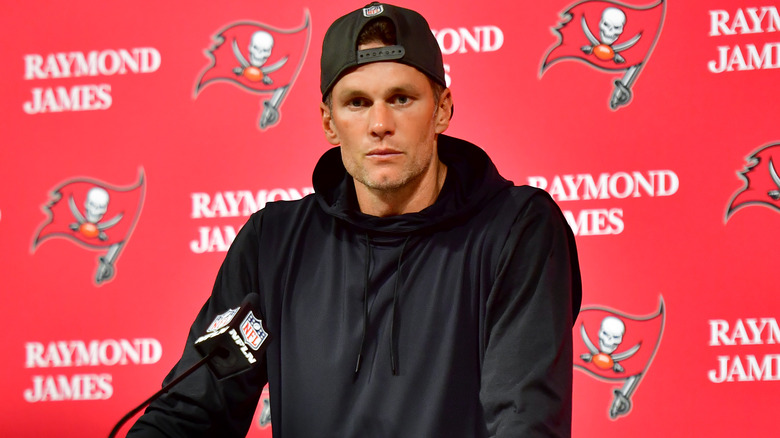 Julio Aguilar/Getty Images
Since his divorce from Gisele Bündchen, Tom Brady has kept busy with his role as quarterback for the Tampa Bay Buccaneers. While Brady has seemingly given his all during the 2022-2023 NFL season, ESPN reporter Jeff Darlington theorized that the divorce has taken a toll on Brady's mental and physical health. "Tampa Bay's team struggled this season. There is no doubt the offense never clicked... but Brady also knows his own mental focus was gone for a bulk of the season," he explained in a video on Twitter. "His physical stature, faced with 15 pounds of weight loss, was also in peril."
Darlington isn't the only one to comment on Brady's drastic changes this season. Back in September 2022, one fan on Twitter wrote, "I'm not sure what's going on, but I really hope Tom Brady is okay cause he doesn't look good at all." Another fan tweeted in August 2022, "Tom Brady doesn't look to be in good condition I think something's wrong with his health." As of this writing, Brady has not acknowledged the weight loss claims. Darlington's eye opening statement came a few days after Brady gave a pointed answer to his "Let's Go" podcast co-host Jim Gray about his NFL future and possible retirement. "If I knew what I was going to f***ing do, I would've already f***ing done it," he exclaimed. "I'm taking it a day at time."