What Really Happened Between Rosie O'Donnell And Tatum O'Neal?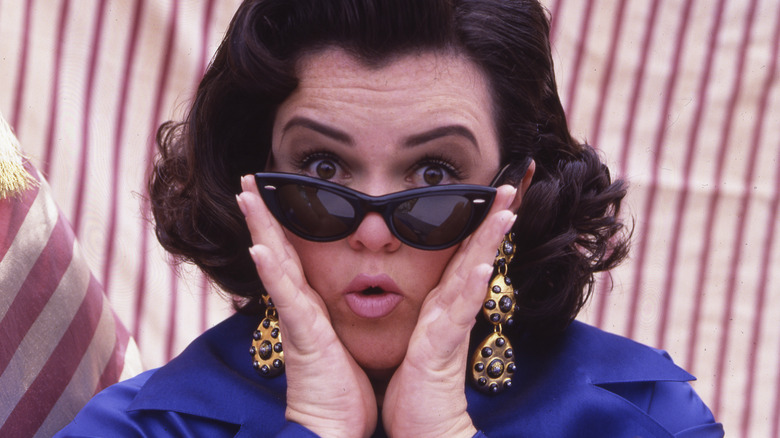 Michel Delsol/Getty Images
Rosie O'Donnell and Tatum O'Neal kept everybody guessing after they were romantically linked back in 2015. At the time, they were both single and ready to mingle — and for a hot minute, they appeared to be doing a lot of the latter together. Rosie was fresh off her marriage to her second wife, Michelle Rounds. According to Time, the couple wed in 2012 and adopted daughter Dakota O'Donnell together before breaking up three years later.
Meanwhile, O'Neal and her husband John McEnroe had divorced a year prior. Their marriage had been as tumultuous and heated as the tennis star's on-court behavior. The ensuing divorce and custody battle were equally bad. ABC reported that in his tell-all, "You Cannot be Serious," McEnroe described his ex-wife as a "temperamental fallen starlet unable to rekindle her early fame." She hit back by accusing McEnroe of being a "cruel, cruel man" and "a sexual and physical bully."
So, it wasn't all that surprising when O'Neal announced she was taking a testosterone break and dipping her toe in the estrogen pool. "I like women," she admitted to People. "I definitely have been dating mostly women recently." The actor declined to define her sexuality but said, "[Women are] gentle and also more intelligent than the men that I've met recently." (Take that, McEnroe.) In September 2015, E! News reported rumors were flying about O'Neal and Rosie were dating. So, were they or weren't they? What really happened between Rosie O'Donnell and Tatum O'Neal?
Rosie O'Donnell and Tatum O'Neal kept everybody guessing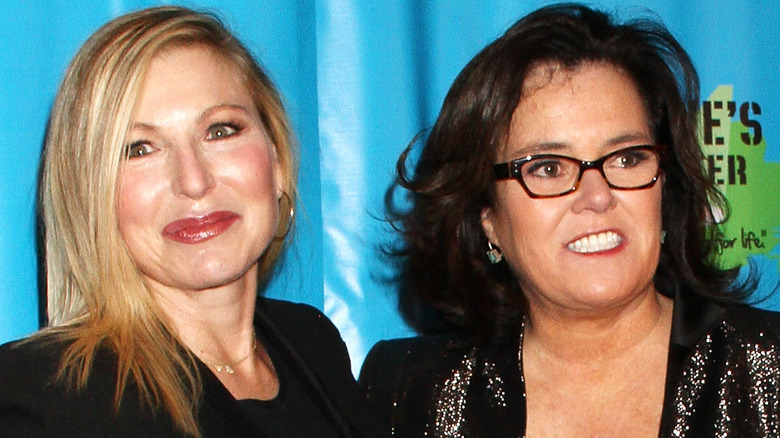 Laura Cavanaugh/Getty Images
In May 2015, Tatum O'Neal announced that she was over dating men, at least for the time being. She was seeing women, loving her new lease on life and sexual freedom, but taking it slow. "I don't have a steady right now, but I look forward to it," O'Neal told People. "I'm the most content I've ever been," she added. It was around the same time that O'Neal was repeatedly spotted out and about looking "cozy" with Rosie O'Donnell. Page Six reported the two women were snapped enjoying dinner and a bottle of plonk at the fancy Manhattan eatery Da Silvano that August. "Rosie looked great, happy and relaxed," a fellow diner dished. 
"They seem crazy about each other," a source told People in September. "It's mutual. They've been seeing each other for about three months. They have known each other for many years but this has turned into more than a friendship," they claimed, adding this was the first lesbian relationship O'Neal had embarked upon. 
O'Donnell added fuel to the rumor fire when she was overheard joking that O'Neal was her "new wife" (via Page Six). But, O'Donnell's rep insisted they were just friends. Friends or not, by October, it was all over. "In their four months together, they went through a lot: Rosie's father died, her daughter ran away, there was a lot of tumult. It was too much," a source told People.
Rosie O'Donnell moved on — briefly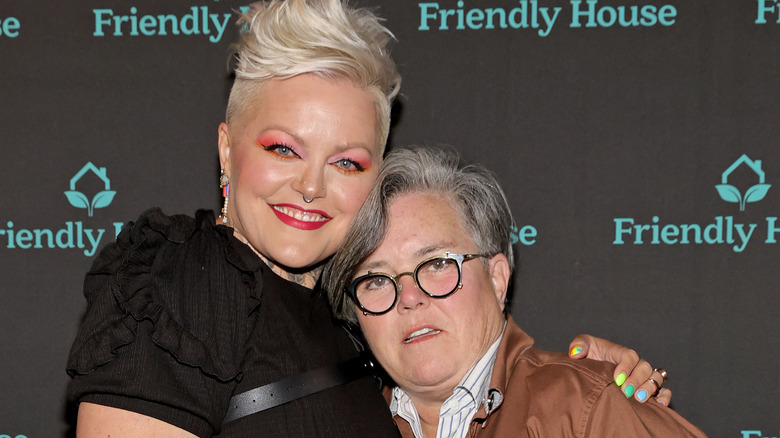 Amy Sussman/Getty Images
"Even though I've really dated only three women in my life, all of them have been important to me, and meaningful," Tatum O'Neal told Harper's Bazaar following her rumored dalliance with Rosie O'Donnell. The two continued with their friendship, posting photos of themselves together on social media (via People).
In 2017, O'Donnell's second wife Michelle Rounds was found dead at 46 after taking her own life. Not surprisingly, the comedian was heartbroken by the news. "I am saddened to hear about this terrible tragedy. Mental illness is a very serious issue affecting many families," O'Donnell told TMZ of her ex. "My thoughts and prayers go out to Michelle's family, her wife and their child."
O'Donnell's last reported squeeze was massage therapist and internet star Aimee Hauer. She admitted to fangirling over Hauer's TikTok creations. "I watched her little videos, and every time I saw her I would smile and (be) like, 'This woman is perfect. Look at her, she's so happy and enthusiastic and bright and she has a light coming from her,'" she admitted to Howard Stern (via Page Six). O'Donnell's relationship with Hauer seemed to be getting more serious after the couple went Insta official in June 2022. However, it wasn't meant to be as they split months later. Hauer announced the news in a tear-soaked TikTok video (via Page Six). "Yes, we broke up. I loved her BIG big," she wrote. "This one is gonna leave a mark."
If you or someone you know is having suicidal thoughts, please call the National Suicide Prevention Lifeline at 1-800-273-TALK (8255) or text HOME to the Crisis Text Line at 741741.