What We Know About Joe Burrow's Parents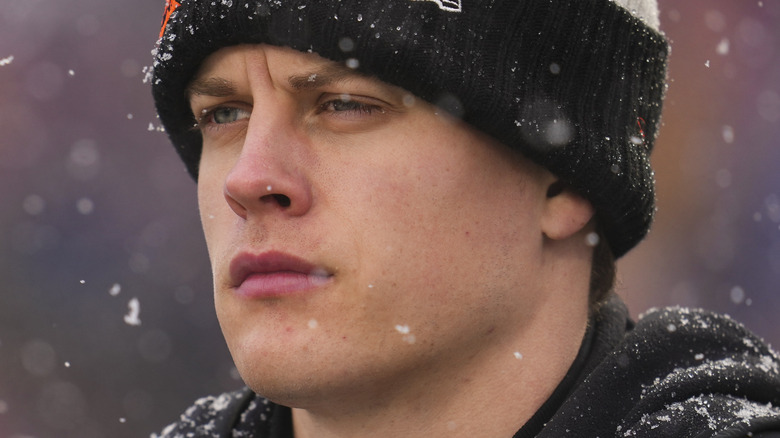 Cooper Neill/Getty Images
Not all college football superstars translate well to the NFL, but former LSU quarterback Joe Burrow has proven he's got what it takes to succeed in the big leagues. Since the Cincinnati Bengals drafted him as the first overall pick in 2020, the star athlete has led his team to the playoffs in two of his three starting seasons. In 2022, the Bengals made it all the way to the Super Bowl LVI — a feat they haven't accomplished since 1988. Joe Brrr is truly something special, and we're not even talking about those diamond necklaces or that floral suit he once wore heading into the locker room on game day.
"I wouldn't trade [Burrow] for anyone in the world," Bengals head coach Zac Taylor told reporters following the team's win over the Kansas City Chiefs in December (via CBS Sports). "He won the team over real quick — every leader has that moment," a former staffer informed ABC News on a separate occasion, referencing Burrow's character off the field. Compliments aside, Burrow doesn't talk about himself, acknowledging that it takes a full team to win. "I play the game for those guys in the locker room," the quarterback said (via CBS Sports). "I could hand the ball off 72 times and come out with a win, I'm going to be happy."
But before Burrow was a top quarterback in the NFL, he was just a kid growing up in southeastern Ohio — and he credits his parents for encouraging him to pursue his dreams.
Joe Burrow has a lot in common with his dad
It seems like Joe Burrow comes by his talent naturally; his father, Jimmy Burrow, also played football professionally, per Sports Illustrated. The New York Post reports that the elder Burrow was drafted by the Green Bay Packers as a defensive back in the 1970s. Even when Jimmy left the NFL behind, he never really left the game, going on to play for five years in the Canadian Football League, and later, serving as defensive coordinator at Ohio University. Jimmy's coaching résumé includes stints at Washington State, Iowa State, and Nebraska, though he eventually bowed out of coaching to watch Joe's senior games at LSU. "At 8:51 Tuesday 2/5 I told the team I was retiring. Emotional day I'll remember forever," he tweeted in 2019.
It should go without saying that Jimmy is proud of his son's success. "It's just incredible to be able to watch and see the growth of Joe as a player and [the Bengals] as a team. It's just a great experience for Robin and I," he told the New York Post. Likewise, the city of Athens, Ohio is full of pride for their homegrown QB. The Columbus Dispatch reports that murals have been painted in Joe's honor and that Athens-based restaurants donate a portion of profits to Athens County Food Pantry after Joe spoke out about food insecurity in the area. It's like Jimmy said (via the New York Post), "I believe in Joe, and I believe in the Bengals."
Joe Burrow's mom is one of his biggest supporters
Like Jimmy Burrow, Robin Burrow has supported Joe Burrow ever since he was playing quarterback in third grade. When Joe was at Ohio State University, nursing a broken bone in his hand, Robin regularly made the trip to see him. "I would drive up on Sundays and trade out his laundry with a new batch that was clean, so he didn't have to worry about that," Robin told Sports Illustrated. "Little things, so we could keep life as normal and stress-free as possible." When he tore his ACL and MCL with the Bengals, Robin was on hand with some of Joe's favorite childhood foods.
Per The Columbus Dispatch, Robin works as the principal of Eastern Elementary School, and often encounters star-struck students. "You know, it's so weird that you're Joe Burrow's mom, like, you're actually Joe Burrow's mom," a student once told her. At Eastern Elementary, they even hold "Joe Burrow Cool Cat Day," Robin explained in an interview with "Sunny This Morning." Additionally, the principal is a board member with the Appalachian Children's Coalition, which seeks "to improve the health and well-being of [the] region's children," and secretary/treasurer of the Joe Burrow Foundation. "[Joe] realized he had this platform and genuinely believes everyone should do good," Robin told The Columbus Dispatch in 2022. "As a mom, I'm just so proud of him for recognizing that responsibility to do good."