Tom Brady Doesn't Plan To Stray Too Far From Football Field After Retirement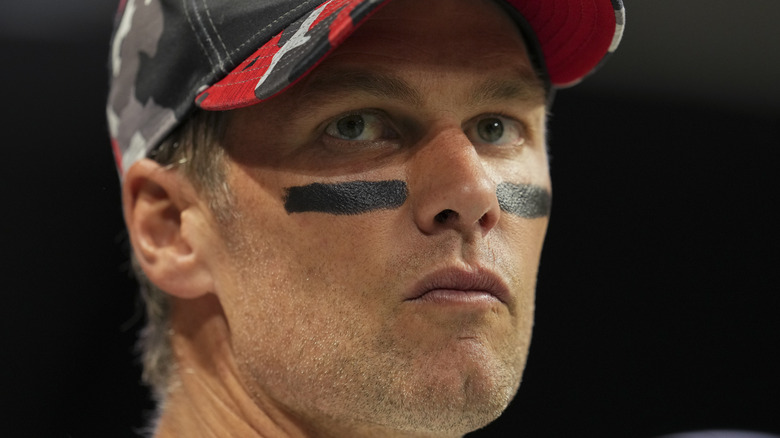 Cooper Neill/Getty Images
Once Tom Brady and the Tampa Bay Buccaneers were eliminated from the NFL playoffs, questions about his future loomed immediately. After losing on January 16, the seven-time Super Bowl champion tipped his hat to the crowd before leaving the field. "I'm gonna go home and get a good night's sleep, do as good as I can tonight," Brady told the press after the game when asked about his possible retirement, per NBC Sports.
The following week, Brady lost his composure when he was once again asked about whether or not he would return to the gridiron. "Jim, if I knew what I was going to f***ing do, I'd have already f***ing done it," he told Jim Gray on his "Let's Go" podcast on January 24, via People. "It's only the question everybody wants to hear," Gray responded. The longer Brady left the question unanswered, the more rumors swirled about his future.
Former New York Jets head coach Rex Ryan shared his theory on where he thought Brady would land next season. "This is gonna be a crazy one, but I'm telling ya, watch the Washington Commanders in this," Ryan said on ESPN's "NFL Countdown" on January 29 (via Bucs Gameday). Meanwhile, the quarterback's longtime friend and former teammate, Rob Gronkowski weighed-in. "Everyone wants to know about Tom Brady's future, I don't even think Tom knows what his future holds right now," Gronkowski said on "Fox NFL Sunday" on January 21. One thing Brady does know is that his next career move will be lucrative. 
Why Tom Brady is excited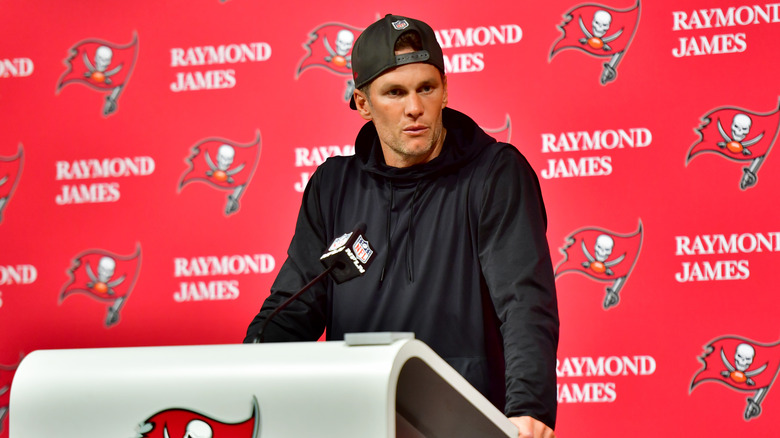 Julio Aguilar/Getty Images
After initially retiring from the NFL, Tom Brady agreed to become an NFL analyst, but that career path was put on hold when he returned to the league. While it was unknown when Brady would finally hang up his cleats for good, he was still going to be heavily involved in the sport once he did. "I get an opportunity to be in a job in the future where I get to travel around and learn from all the other people that I've looked up to and admired and different organizations and different people," the future Hall of Famer said on his "Let's Go" podcast on January 30, via People. On the prospect of being in the booth, Brady said "it's really exciting" to consider his potential as an analyst. However, he remained vague about when he planned to retire.
Brady's immediate future is unclear at the time, but his long-term plans are already cemented. In May 2022, the quarterback inked a 10-year deal with Fox Sports worth a whopping $375 million. As soon as Brady's playing days are over, he would become the network's number one NFL analyst and "also serve as an ambassador in respect to client and promotional initiatives," per the New York Post.
When the lucrative deal was announced, sporstswriter Dan Le Batard bashed Fox's decision. "They just gave $375 million to somebody who's never said anything interesting," he said on "The Dan Le Batard Show with Stugotz" in May 2022.