Justin Timberlake May Have A Romantic History With One Of The Spice Girls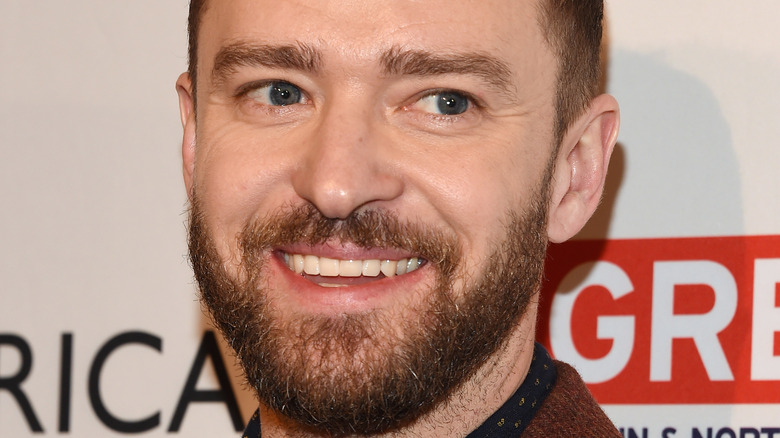 DFree/Shutterstock
Back in the day, before he married Jessica Biel, Justin Timberlake had quite a reputation. The lusty lothario's initial conquest was Fergie from the Black Eyed Peas. "He was 16, and I was 23," she told Courier Mail (via PopSugar), adding, "It was before he got real heavy with Britney."
Britney Spears was Timberlake's first real love. Pretty much anyone over 35 remembers their adorable matching double denim AMAs outfits. She was resplendent in a faded denim full-length strapless ballgown. He was sporting an all-denim suit with a matching cowboy hat perched on his golden curls. "I confess that there was maybe a period in the '90s where I could skip over some of the outfits that were public, but the Internet will never," Timberlake admitted to The Hollywood Reporter. Sadly, it was all over in 2002 after, according to Chris Applebaum, Timberlake dumped Spears via text.
However, Timberlake wasted no time bringing sexy back. Per The Sun, he was rocking Cameron Diaz's body months later. The unlikely duo lasted three years before splitting after a "Saturday Night Live" co-appearance in 2006. Meanwhile, Daily Mail lists Alyssa Milano, Tatyana Ali, Jenna Dewan, and Veronica Finn among the lucky ladies who were love-stoned by Timberlake before he finally settled down and married Jessica Biel in 2012. Still, it appears there's at least one name that's absent from the list. Justin Timberlake might even have a romantic history with one of the Spice Girls.
Justin Timberlake had a little zig-a-zig-ah with Baby Spice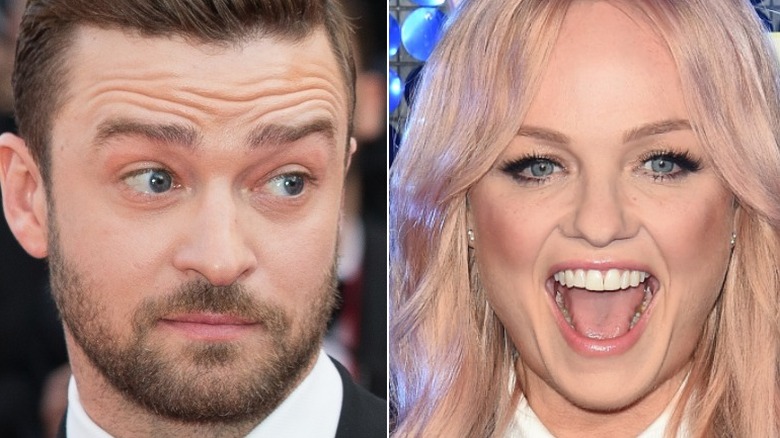 David M. Benett/Getty & magicinfoto/Shutterstock
The nineties produced a treasure trove of pop culture gems. There were Nirvana, MC Hammer, reality TV, Brit Pop, and the resurgence of boy and girl bands. Regarding the latter, two of the decade's biggest names were The Spice Girls and N'Sync. Given their popularity and touring schedules, it was just a matter of time until they collided. That happened at an airport in 1996; luckily, Lance Bass captured the moment on camera.
Per E!, the singer posted the flashback pic, admitting that even though they'd both just released their first singles ("Wannabe" and "I Want You Back"), none of their fellow passengers gave them a second glance. But Justin Timberlake couldn't keep his eyes off one of the girls, and the two became one during a steamy fling. So, who was the Brit bandmate that spiced up Timberlake's life? None other than Baby Spice, real name Emma Bunton.
According to Vulture, Timberlake fessed up to hooking up with one of the Spice Girls during a game of "Never Have I Ever" on "Ellen" in 2018. Still, Timberlake wouldn't spill the name tea no matter how hard DeGeneres pressed. Thankfully, Baby Spice wasn't so coy. She admitted to enjoying an encounter with him during an episode of "The Jonathon Ross Show." He asked a Bunton about her little zig-a-zig-ah with the boy bander. "We hung out and partied a bit," she admitted, giggling. "He was very sweet."
Justin Timberlake's said bye bye bye to his bachelor days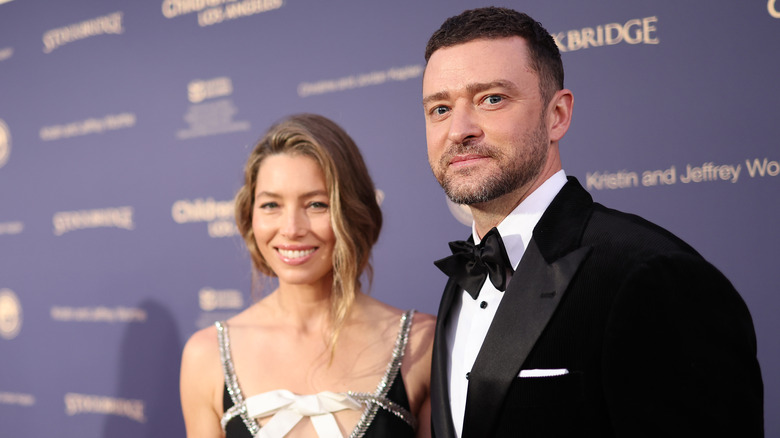 Matt Winkelmeyer/Getty Images
Justin Timberlake's crazy bachelor days are a distant memory now that he's a married father of two. People reports that he started dating his future wife-to-be, Jessica Biel, in 2007. Timberlake and Biel's relationship almost didn't last, as the pair split in 2011. Still, it was back on after the singer opened up to Vanity Fair. Timberlake insisted that he didn't want to talk about the break-up because it was too painful for him, but he did share that he still had deep feelings for Biel. "She is the single-handedly most significant person in my life," he admitted. "In my 30 years, she is the most special person, O.K.?"
Clearly, as they were back on and headed down the aisle in 2012. Their first son, Silas, arrived in 2015, and they welcomed their second, Phileas, five years later. The couple likes to keep their relationship private, but they occasionally talk about their life together. Beil revealed how she keeps her marriage to Timberlake "alive" during an interview with Entertainment Tonight in 2022.
Biel said date nights and alone time together were the keys to a happy marriage. "You just have to keep making time for each other, and you have to keep making each other a priority," the actor said. "And do the things that you love together." She admitted to it being challenging at times but said that, ultimately, it was worth putting in the work.