What Dana Perino's Husband Really Does For A Living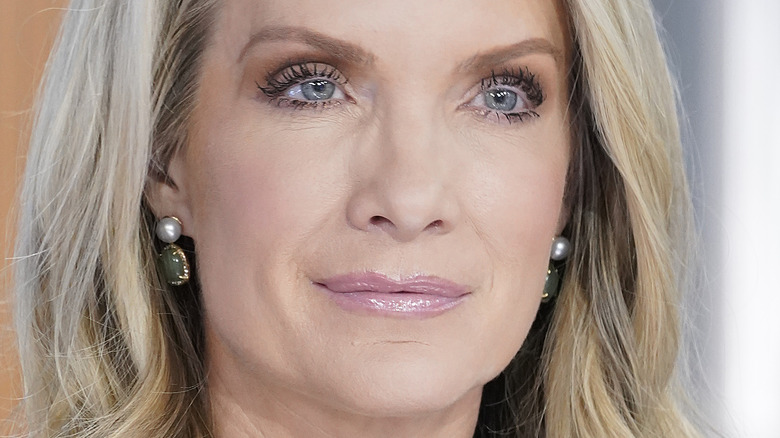 John Lamparski/Getty Images
Fox News anchor and press secretary under George W. Bush, Dana Perino has never made a secret of her love and admiration for husband Peter McMahon. But what more do we know about the man himself?
In her 2017 book, "And The Good News Is ..." Perino shared that she and McMahon had met on August 17, 1997. "I boarded a flight from Denver to Chicago and my life changed forever," she reminisced. As she recounted to Hudson Union Society as part of her book tour, she hadn't been paying too much attention to her neighbor, one Mr. McMahon, until she heard him ask if she needed him to place her handbag in the overhead compartment — in a British accent. "I did this quick scan that all women can do. I was like, 'Oh, accent, good-looking, no wedding ring,'" she joked. Soon enough, the two were chatting up a storm, and she found herself drawn to him. However, that's not to say she didn't have some reservations. "I remember looking out the window saying, 'Okay Lord, I know I asked you to help me find somebody, but he lives in England, he's 18 years older than me, he's been married twice before — did I mention he lives in England?" she reflected.
Hesitations aside, though, Perino and McMahon stuck it out and they've been together ever since. Our question remains, though. Just what do we know about Peter McMahon, and what does he do for a living? 
He's a businessman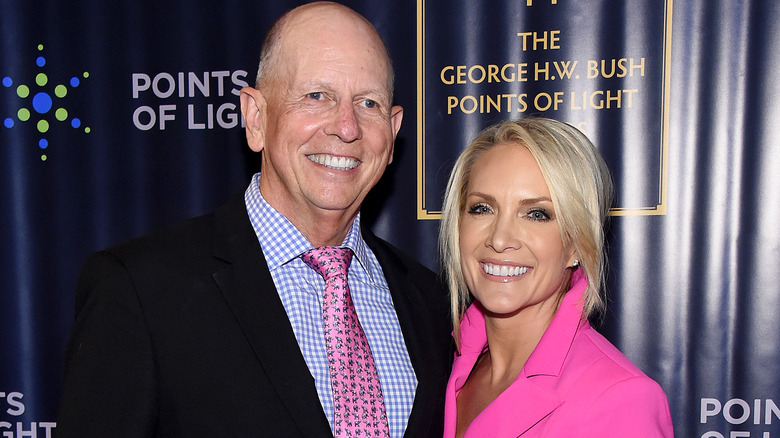 Jamie Mccarthy/Getty Images
Peter McMahon is a businessman — but if you ask his wife, Dana Perino, that title alone doesn't do him justice. Far from it: in an episode of her Fox News podcast, "Everything Will Be Okay," Perino interviewed her husband of more than two decades, and introduced him as, "A phenomenal businessman, mentor, and human being." But, don't worry about personal bias. As Perino herself joked after her particularly gushy intro, "I'm not just saying that because he's my husband." 
While Perino doesn't usually go into much detail other than her husband being involved in business, his area of specialty lies in medical supplies. According to his LinkedIn, at the time they met, he was involved in sales and marketing for an orthopedics supplies company — more specifically, the "UK's largest manufacturer of orthopedic soft goods, wrist braces, knee braces and supports." He's since gone on to high-profile positions at other medical supplies companies, including founding one of this own, and today, he's the president of GreenSleeve Medical Corp. 
It's safe to say that while high-profile in his own right, McMahon's career isn't quite as public as his wife's. As such, he's not known to share his work life with the world. However, that's not to say he's shy, by any means. He's made a number of appearances alongside Perino, and even been interviewed by her a number of times. For that reason, we're not shocked by a possible future venture ...
... but he'd happily pivot to do voice work
As she revealed to Hudson Union Society, Dana Perino was taken by Peter McMahon's accent from the moment they met — and in more recent years, she's been more than happy to share it with the world. 
Back in 2016, the Fox News anchor took to Instagram to reveal that McMahon would be featured in the audio version of the book dedicated to her dog, "Let Me Tell You About Jasper." Alongside a wink, she wrote, "The British accent alone makes it worth the purchase." It certainly seems like McMahon caught a bit of the voice work bug with the project, because in his more recent interview with Perino on the "Everything Will Be Okay" podcast, the couple hinted that he was holding out for a podcast of his own, centered on the different uses of the English language in the U.S. and U.K. A potential podcast isn't all, though. Later on in the episode, Perino's sister, Angie Perino Machock joked, "Peter, are you trying out for some sort of, like, voice over thing?" McMahon's response? "Yes I am, actually," he quipped, before laughing along with his sister-in-law. He then revealed that he would happily return to his previous gig as an audiobook narrator. "I'm ready, willing, and able," he laughed. 
So, what does McMahon do for a living? He's in the medical supplies business. But, if he has it his way, we may be hearing more of his voice, soon.