How Riley Keough Really Feels About Being Elvis Presley's Granddaughter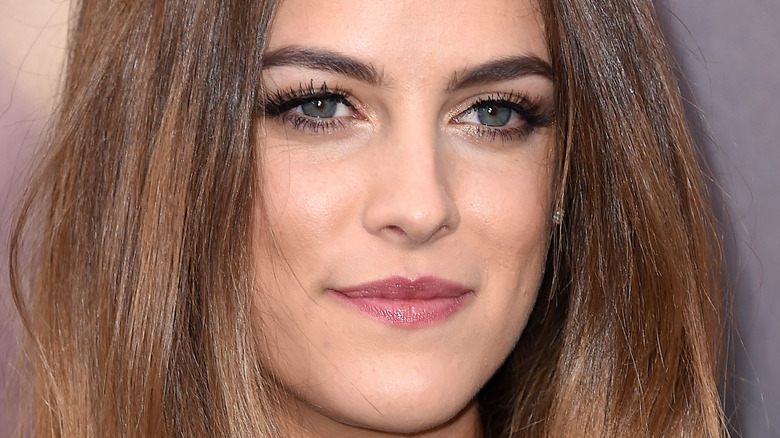 DFree/Shutterstock
As far as American culture goes, Riley Keough is true royalty. Riley is not only Elvis Presley's granddaughter, but she was once Michael Jackson's stepdaughter, connecting her to both the King of Rock 'n' Roll and the King of Pop. As such, she spent good chunks of her childhood running around Graceland and Neverland Ranch, the latter during her mother Lisa Marie Presley's relationship with Jackson in the '90s, as Vanity Fair noted. But Riley had a strong non-famous influence in her upbringing as well.
Riley's father, Lisa Marie's first husband Danny Keough, is a musician best known for his connection to the Presleys. As a struggling artist, Danny had a hard time finding gigs, exposing Riley to a whole different reality. "My father had mattresses on the floor of his apartments. He lived in cabins and trailer parks. He just didn't have much money," she told The Guardian in 2017. Those details mattered very little to her, though. "My memories of growing up with him were so colorful and eccentric and fun," she added. "It was a good vibe, you know."
Riley has offered glimpses of the normalcy she shared with her father on Instagram. In one post, they enjoy the beach together, while another shows them being goofy over the years. This doesn't mean she's oblivious to the other half of her upbringing. "I grew up very privileged with my mother," she acknowledged. For the most part, however, Riley lived a life far removed from the legacy of Elvis.
Riley Keough never gave much importance to her relation to Elvis Presley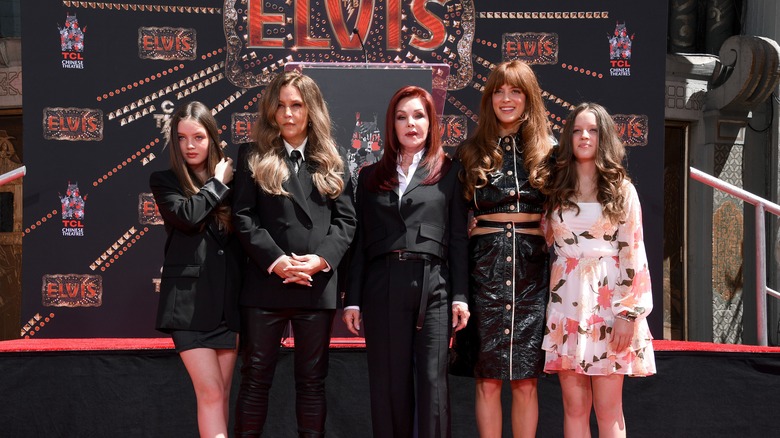 Jon Kopaloff/Getty Images
Growing up, Riley Keough knew she was Elvis Presley's granddaughter, but since he died in 1977 and Keough was born in 1989, she never met him and he wasn't a big part of her upbringing. "The reality is I know as much about my grandpa as you'd know about a grandpa you never met," she told Esquire in 2016. That was by design. "I didn't want her to have that shadow where she felt competition and intimidated by anything," Lisa Marie Presley said on "The Oprah Winfrey Show" in 2007. "I wanted [my children] to be able to do what they wanted to do."
Instead, Keough was shown photos of Elvis in the context of being her grandfather and nothing else. "[He wasn't made into] this huge thing," the "Daisy Jones & The Six" star told Winfrey. Lisa Marie wasn't trying to deceive them, though — Keough knew who Elvis was. "[I knew he was] very, very famous. I knew the situation. I just didn't really think about it that much," the "Terminal List" actor told The Guardian.
Despite the emotional disconnection, Keough doesn't mind being associated with Elvis. "Why should I? It's a fact. And I'm not ashamed of that in any way," she said. She did, however, want to carve out her own path. "I was always interested in having my own money — not my fam­ily's money," the 33-year-old told Esquire. "I don't think it had anything to do with me being Elvis's grand­daughter."
Riley Keough was close with Lisa Marie Presley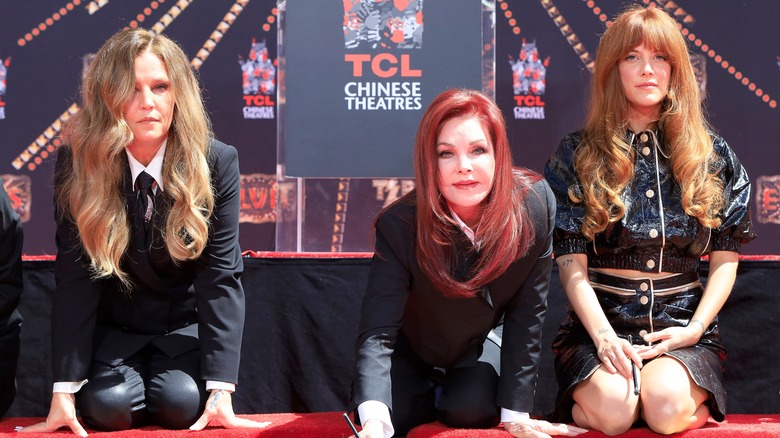 Joe Seer/Shutterstock
While she grew up removed from Elvis Presley's legacy and valued the down-to-earth perspective instilled by her father, Riley Keough is close with the Presley family. Before Lisa Marie Presley's tragic death, Riley and her mother shared a tight bond. Keough's tribute to Lisa Marie in her memorial was a testament to that. "Thank you for being my mother in this life," she said in "A Letter to My Mama" read by her husband, E! News reported. "I am eternally grateful to have spent 33 years with you. I'm certain I chose the best mother for me in this world and I knew that as far back as I remember you."
Lisa Marie was endlessly proud of her daughter's accomplishments as an actor. "Riley has a really good head on her shoulders, and she is really talented," she said (via Entertainment Tonight). In fact, Keough's pragmatism is the reason she allowed her oldest daughter to pursue acting at a young age. "I didn't put her in the limelight before that, she made that determination for herself."
Through her mother and the Presley side of the family, Keough came to understand her connection to Elvis was impossible to brush aside. That's why she felt so emotional watching "Elvis," Baz Luhrmann's 2022 biopic starring Austin Butler. "I started crying five minutes in and didn't stop. There's a lot of family trauma and generational trauma that started around then for our family," she told Variety.