Why Cara Delevingne Had A Problem With Justin Bieber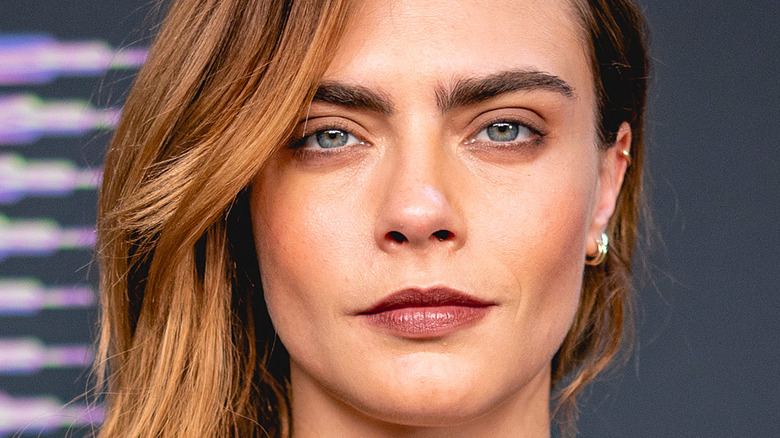 Matt Winkelmeyer/Getty Images
Justin Bieber, pop singer and millennial icon, is one of the most famous people in the world. With 275 million followers on Instagram (and counting), he's also one of the most-followed celebrities in the world. You don't get to be that famous without accumulating at least a little bit of controversy along the way — and The Biebs is no stranger to controversy. From his famously up-and-down relationship with Selena Gomez, to time he came to blows with Orlando Bloom, and then his DUI arrest. Not to mention assault allegations from a former bodyguard.
Bieber also has an infamously tumultuous relationship with his fans. During his "Purpose" Tour in 2016, he told Beliebers to tone it down in the middle of a set, asking them to "relax for about two seconds" because "screaming is just so obnoxious," per People. On a separate occasion, a fan threw a water bottle at Bieber when the singer admitted he didn't know the words to his hit song, "Despacito." Also around that time, the hitmaker deactivated his Instagram account in response to "Jelena" stans who disapproved of his romance with Sofia Richie. To their credit though, Bieber's fans were there for him when he wed Hailey Baldwin in 2019, so there's some good to go along with the bad.
Hate him or love him, The Biebs is a polarizing figure. Model Cara Delevingne, who is one of his wife's besties in the industry, has her own opinions about the "Peaches" singer.
Justin Bieber dissed Cara Delevingne on live TV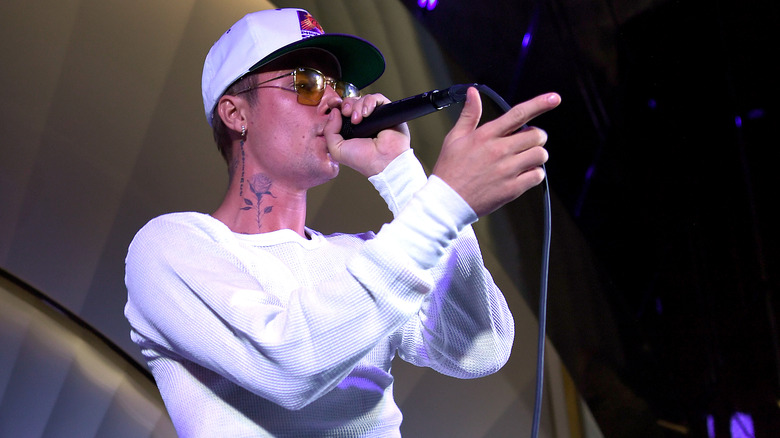 Denise Truscello/Getty Images
Cara Delevingne and Justin Bieber used to hang out, but their beef started when Bieber put his foot in his mouth during a 2020 episode of "The Late Late Show with James Corden." In the episode, Bieber played the game, "Spill Your Guts or Fill Your Guts," electing to "spill his guts" rather than eating a bull penis. The question he skipped out on: To rank his wife's best friends, which included Gigi Hadid, Kendall Jenner, and Cara Delevingne. "I know Kendall the best," Bieber began, explaining that he'd spent the most time with her. "I haven't spent a lot of time with Gigi and I haven't spent a lot of time with Cara so I have nothing against those people. It's just I have a better relationship [with Kendall]." He ended up ranking Delevingne last out of the three.
Unfortunately for Biebs, Delevingne took offense to his claim that they didn't really hang out. "Now vs. Then," she fired back on Instagram, posting a clip of his "Late Late Show" appearance, along with a still of them at the Victoria's Secret Fashion Show and a selfie of them goofing off together (via Stylecaster). "If you have nothing against me, then why don't you unblock me? Love you @haileybieber — he should have just eaten the bull penis." In the episode, Bieber claimed the ranking was nothing against Delevingne, but it seems to Delevingne, it sure felt personal.
Justin Bieber feuded with Cara Delevingne over Scooter Braun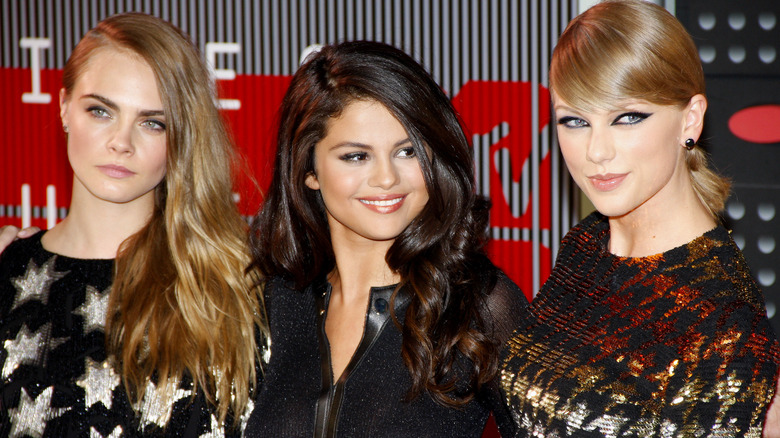 Tinseltown/Shutterstock
Justin Bieber's low ranking of Cara Delevingne may have had something to do with their prior feud over Bieber's manager, Scooter Braun. Braun also managed Taylor Swift, who is a good friend of Delevingne's. When Swift penned an open letter against Braun for acquiring her label in 2019, Delevingne was here for it. "[Taylor isn't] biting to draw blood, but biting when you need to bite," the model applauded her bestie, speaking to ET. "You need to stand up for yourself ... You're defending yourself and being who you are and that's what I love about [Taylor]."
However, Justin is close with Braun, and he responded by calling out Swift in a long Instagram rant. Apparently, the straw that broke the camel's back was Hailey Bieber's comment on the post, praising her husband as a "gentleman" (via Elle). "Gentleman?" Delevingne commented. "I wish you spent less time sticking up for men and more time trying to understand women and respecting their valid reactions. As a married man, you should be lifting women up instead of tearing them down because you are threatened."
So it kind of makes sense that Justin would give Delevingne the short end of the stick on the "Late Late Show." That said, the two may have put their feud behind them when they reunited at the "Friends" reunion the following year, per The Daily Mail. As of 2022, Delevingne has made headlines for her bizarre behavior, so maybe she'll lean on the shoulders of The Biebers.