Carrie Underwood Gives First Interviews Following Fall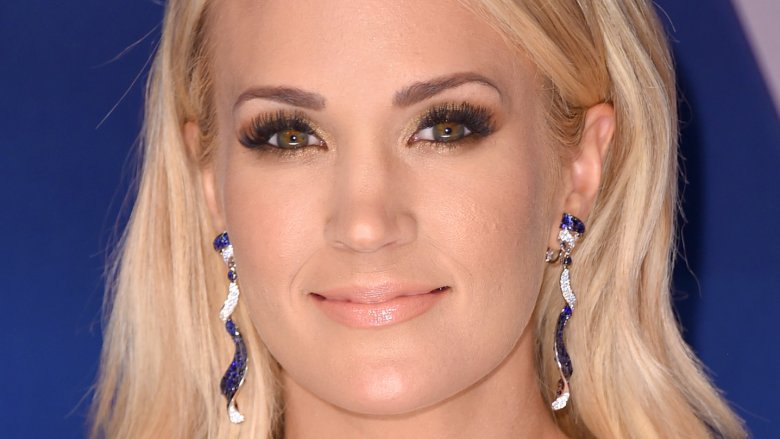 Getty Images
Carrie Underwood is revealing what happened during her accident.
On Thursday, April 19, 2018, the country music star gave her first interviews after seriously injuring her wrist and face in a nasty fall last November.
"I was clumsy and I tripped," Underwood, whose new album, Cry Pretty, will be released in September, told Storme Warren on Sirius XM's The Highway channel. Explaining that the incident occurred at night on the steps of her home while she was taking her dogs out, she continued, "I held onto the dog leashes in my left hand and went to catch myself with my right and just missed the step. There's one lone step. ... I said if I had fallen anywhere else, I would have been absolutely fine, but it's just because there was, I went to catch myself and I missed."
The 35-year-old singer added, "I thought I just busted my lip. Then I walked inside and took the dog leashes off and took my coat off and went to go survey the damage and was like, 'Oh, no!' ... It wasn't pretty."
As Nicki Swift previously reported, Underwood, who recently made her triumphant musical comeback at the 2018 ACM Awards, underwent surgery on her broken wrist and received 40 to 50 stitches in her face following her accident. During her recovery, she had taken to lying low.
During her SiriusXM interview, the American Idol alum revealed that breaking her wrist was the most difficult part of the experience. "I can't use my appendage and I'm trying to pick my kid up and make food and do mom stuff," she said. "I have a metal plate in my wrist. It's good now."
"I've been very fortunate in the healing process," the "Champion" singer, who recently dropped her new single, "Cry Pretty," said on The Bobby Bones Show podcast. "I was lucky that when it happened, everything was kind of shutting down in the music world and we had the holidays and stuff like that. I was at a point where I didn't know how things were going to end up. I didn't know what was going to go on. I didn't know what it was going to heal like."
While discussing her 3-year-old son, Isaiah, whom she shares with husband Mike Fisher, Underwood added, "For a while, I was worried he would be scared of me. But now if I put makeup on, he's like, 'Mommy, your boo-boo's all gone.'"