Chris Brown Goes Full Sore Loser On Instagram After 2023 Grammy Awards Defeat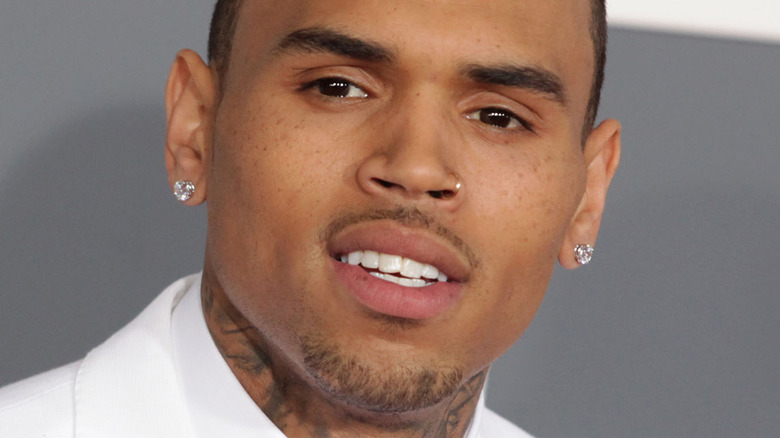 DFree/Shutterstock
Nearly a decade after he refused to join the standing ovation for Frank Ocean — who beat him to win the prize for best urban contemporary album at the 2013 Grammy Awards — Chris Brown is once again exhibiting sore loser behavior. And at the same award show, no less. 
To recap, Ocean bested Brown's "Fortune" with his critically acclaimed EP, "Channel Orange." Ocean not only drew cheers from the audience but received a standing ovation for his outstanding work. After all, it had been a long time coming for the star who once ghostwrote songs for the likes of Beyonce, John Legend, and Justin Bieber. The only person in the room not happy about his win? Brown, of course. The singer chose to stay seated while Ocean received his well-deserved award, per HuffPost. Granted, at the time, Ocean and Brown were far from besties. Per TMZ, weeks prior, they had been involved in a physical altercation during which Ocean was injured. In a since-deleted tweet, the "Lost" singer revealed, "cut my finger now I can't play w two hands at the grammys." That, coupled with Brown's sore loser antics at the award show, clearly didn't sit well with the other stars in attendance. In fact, Brown didn't receive any applause when he was announced as a nominee, so CBS decided to add a cheers track instead, per The Hollywood Reporter.
Years after the embarrassing incident, though, it looks like Brown still has not learned the virtue of being gracious in defeat.
Chris Brown can't accept that he lost against Robert Glasper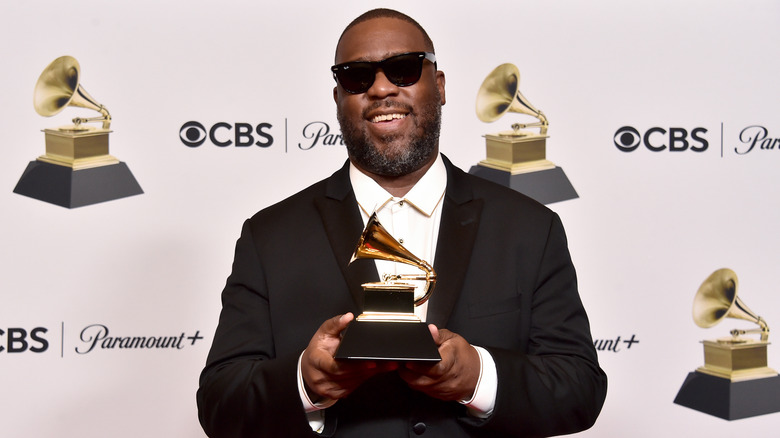 Alberto E. Rodriguez/Getty Images
Chris Brown had a tough time coming to grips with the fact that he lost another Grammy, and this time, to an artist whom he hasn't heard of — or at least pretends not to.
The singer was in the running to win the best R&B album category at the 2023 Grammys against other strong contenders, including Mary J. Blige, Lucky Daye, PJ Morton, and Robert Glasper. Glasper ended up taking the trophy home for "Black Radio III," which Brown is having trouble accepting. He took to Instagram to acknowledge his loss, posting on his Stories that he had no idea who Glasper is and that he might as well pick up a new instrument since he lost against a talented pianist. "I Gotta get my skills up... Ima start playing the harmonica," he wrote (via Pop Base).
Fans took no time to berate the disgraced artist on Twitter, shaming him for his childish behavior. "He shouldn't have even been nominated in the first place," one fan tweeted. "Love seeing him not succeed," another added. "He been making the same song since 2014. He needs to hang it up already," noted another. Perhaps public opinion mattered more to the "With You" singer than he initially let on. Despite seemingly standing by his rant at first by keeping it up on his Stories, the posts have since been taken down. However, the damage has been done ... and screenshots last forever.
But this backfired pretty epically on Breezy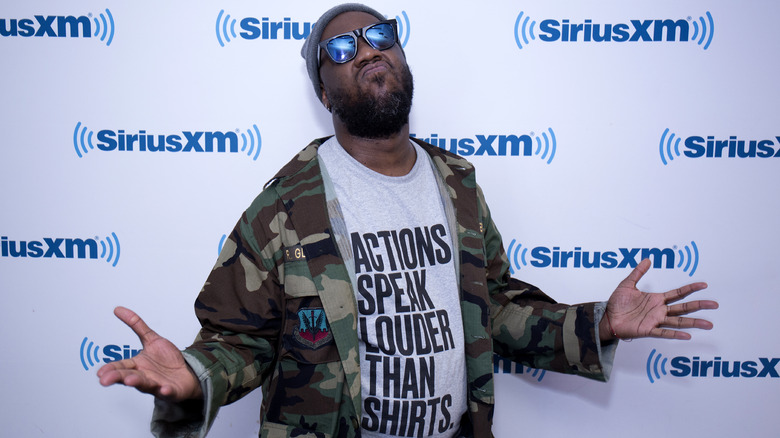 Santiago Felipe/Getty Images
Perhaps it's just the mark of a good sport, or maybe it has something to do with the fact that Robert Glasper already pre-empted Chris Brown's line of questioning, but the best R&B album winner does not appear all too phased by Brown's chirps.
Just days before the Grammys took place, Glasper took to Instagram to share a cheeky dig, seemingly pointed at anyone questioning why he'd been nominated for an award in the first place. Enter, a simple black tile with white and red font, bearing the words: "Who the f*** is Robert Glasper." In the accompanying caption, he quipped, "It's been brought to my attention that y'all have questions about Who TF is Robert Glasper!" Unsurprisingly, fans of the Grammy-winner have had a field day with the irony in wake of Brown's behavior. As one quipped, "This aged like fine wine." Another wrote, "If he don't know now he KNOW."
Perhaps even more ironic than Brown effectively parroting what Glasper had already put out there is the sheer number of Instagram users admitting that they only knew who he was because of the drama ... but that they were new fans. As one wrote, laughing emojis in tow, "A new fan because of Chris Brown and now am hooked up not leaving." In Glasper's newer post celebrating his win, another shared the sentiments, joking that the "clout" Brown sent his way had piqued his interest. Let's just say, karma works fast.