The Touching Reason Chrissy Teigen Bailed On The 2023 Grammys (And TBH, We Don't Blame Her)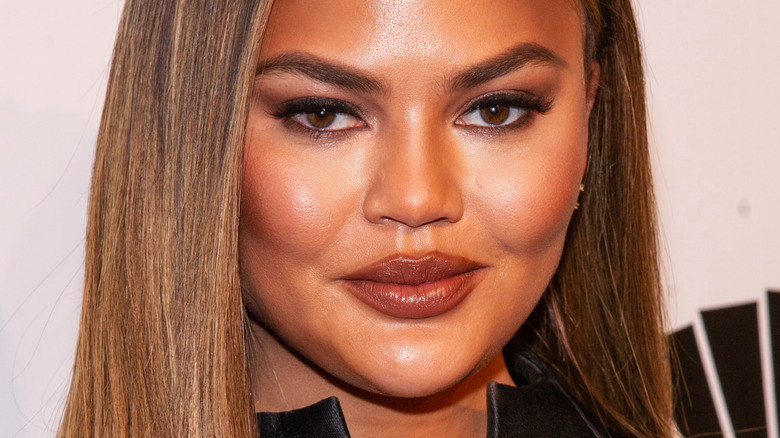 lev radin/Shutterstock
The 2023 Grammys gave us plenty of buzzworthy moments — from Beyoncé setting a new record for the most Grammys held by any artist (32!) and Shania Twain's wacky outfits, to Madonna's unrecognizable look, calls for Harry Styles to return his award, and Chris Brown going full sore loser. Despite all the action, some of the industry's biggest stars (we're looking at you, Adele and Bey) skipped the red carpet, per Life & Style, while others didn't show up at all. Drake and The Weeknd, for example, decided to boycott the awards, per Complex. Others simply had better things to do.
Among the celebs choosing to prioritize other (more important) gigs was Chrissy Teigen, who welcomed her rainbow baby with John Legend on January 13, per People. Previously, Teigen revealed in September 2020 that she had suffered a devastating pregnancy loss. "We are shocked and in the kind of deep pain you only hear about, the kind of pain we've never felt before," Teigen wrote on Instagram. Turning to IVF, she eventually announced she was expecting again on August 3, 2022, via Instagram, and little Esti joined older siblings Luna Simone and Miles Theodore five months later. 
"The last few years have been a blur of emotions to say the least, but joy has filled our home and hearts again," Teigen wrote. Is it any wonder then that she preferred to remain in her happy place — home — on Grammy night? We explain.
Chrissy Teigen picked her adorable baby over the Grammys because who wouldn't?!
Everyone expected to see Chrissy Teigen alongside hubby John Legend on the 2023 Grammys red carpet, but she was visibly missing. Now, we know the real reason why she bailed and, well, it's actually super sweet. Taking to Instagram ahead of the ceremony, the supermodel posted a photo of herself cuddling her baby girl, Esti Maxine Stephens, who was born just weeks ago. "[I] had a dress fitting, looked around and realized.... what the hell am I trying to prove here," she explained. "I cannot get up lol." Teigen is known for being a devoted mama and one of (few) totally honest voices on social media and we love her for it. Much has been written about the toxic myth of supermoms and, as Teigen shows, you don't have to say "yes" to everything and you can choose your adorable baby over a work commitment.
As for Legend, he was all for his wife's decision, and her gorgeous makeup-free snap. "Just sitting there fine AF," he commented. Even if that meant he was left flying solo to celebrate his three nominations for his work on DJ Khaled's "GOD DID." The EGOT winner also joined Khaled onstage to close out the show with a live performance of the track. Meanwhile, Teigen returned to Instagram Stories, per Page Six, to cheer on her partner from afar and post a snap of her and Legend on the 2022 Grammys red carpet, quipping, "Body lookin a liiiittle different today but worth it." Totally worth it.