Serena Williams Isn't The Only Star Athlete Channeling Caddyshack In Michelob's 2023 Super Bowl Ad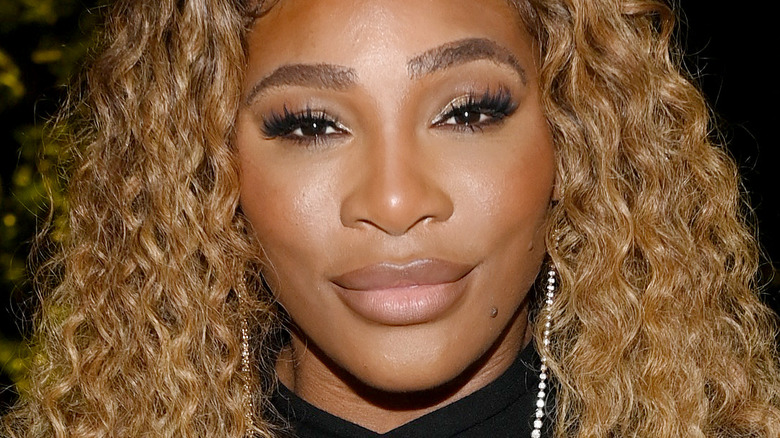 Dave Kotinsky/Getty Images
Serena Williams announced her retirement in August 2022. In an emotional reflection written in Vogue, the star tennis player started out by saying that she hates goodbyes and hates the thought of hanging up her racquet. She mentioned that she played through pregnancies and postpartum depression, and then wrote: "These days, if I have to choose between building my tennis résumé and building my family, I choose the latter."
Although Williams may be retired, she still finds ways to showcase her athleticism, most notably in Super Bowl commercials. Last year, she took part in a Michelob Ultra advertisement with Peyton Manning, Jimmy Butler, Nneka Ogwumike, and Alex Morgan. The foursome was having a bowling competition until Williams entered the building, indicating that the real competition was about to begin.
And this year, the former professional tennis player is expected to be in another Michelob commercial — this time, on the golf course. "What I love is they really believe in gender equality and gender equity," told Entertainment Tonight about partnering with the advertiser. "Michelob Ultra is really all about joy," she continued. But Williams is only one of many celebrities who will be in the commercial.
Female athletes are represented in Michelob's Super Bowl ad
According to Golf Digest, Michelob's anticipated Super Bowl commercial — entitled "New Members Day" — includes a handful of star athletes like Serena Williams, Alex Morgan, Tony Romo, Nneka Ogwumike, Jimmy Butler, and Canelo Álvarez.
The advertisement features an equal number of male and female athletes, something Ogwumike likes about being a part of the group. "I'm just really proud to be a part of this team," she said on the "Locked on Women's Basketball" podcast. This is the WNBA star's second commercial with Michelob, as she previously starred in the bowling advertisement. "Representing the W, representing women in sports, representing black women in sport, there's just so much that's important about it," she added.
Women's soccer star Alex Morgan also gushed about how much fun she had while filming for this year's commercial. This is her second time starring in a Michelob advertisement as well. "This commercial was really fun to do," she said on the "Attacking Third" podcast. "I actually have gotten into golf myself a little bit, so it was really fun to get on the course and show off my skills. It was a fun Super Bowl commercial to shoot." She also mentioned that she got flustered being around her famous co-stars, specifically Serena Williams and Brian Cox, so it seems that all of the athletes in the commercial are fans of each other.
The star athletes in Michelob's Super Bowl ad are fans of each other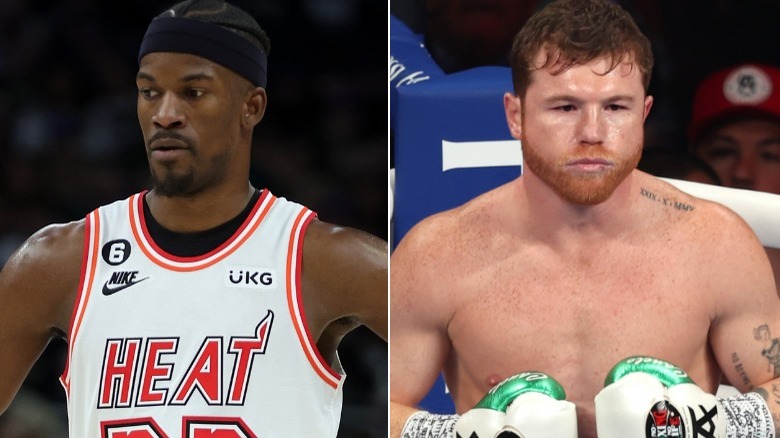 Stacy Revere & Jerritt Clark/Getty
Like Nneka Ogwumike and Alex Morgan, the "Caddyshack"-inspired Super Bowl advertisement marks Jimmy Butler's second commercial with Michelob. "It was a little different from last year but the theme was one and the same in that it is only worth it if you enjoy it," he told For The Win. "It's light-hearted but there are so many fierce competitors in it that are great." The Miami Heat star added that he is an avid fan of tennis and soccer aside from the sport he plays, so working with both Serena Williams and Morgan was fun for him.
Star boxer Canelo Álvarez was also a little starstruck by Williams. "For me, it's an honor," he told Golf Week about being in the lineup of sports stars in the advertisement. He then mentioned that he was excited to talk to Williams because he saw "King Richard," adding, "Her story is amazing. It's unbelievable."
And it seems that a number of the athletes in the commercial are fans of golf, including Morgan, Williams, and former Dallas Cowboys quarterback Tony Romo — who also makes a cameo in Michelob's advertisement — are all listed as investors in Tiger Woods and Rory McIlroy's company, TMRW Sports.