Serena Williams Stuns Fans With An Unexpected Retirement Announcement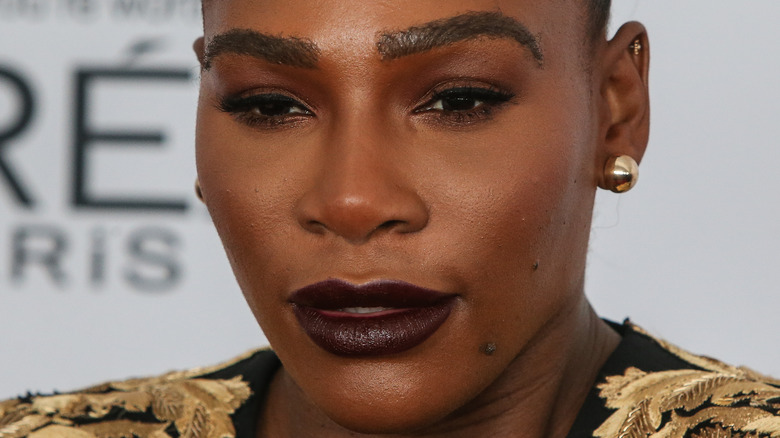 a katz/Shutterstock
Serena Williams has been on the top of her game for years. The tennis superstar is one of the most successful players in the game's history, earning herself four Olympic gold medals over the years plus an impressive 23 Grand Slam titles. Serena is so incredibly successful at the game that famous tennis coach Rick Macci even bestowed an impressive title upon her in December 2021. "To me it's easy with [the women], you already know what I'm going to say," he told Essentially Sports (via Tennis Head) when asked for his choice on the GOAT of the game. "I think if you just judge it on the accomplishments and with your eyes, I don't think anybody is even close to Serena," he continued. "I just don't even think it's close. Nothing against anybody else, but she's incredible."
Alongside her sister, Venus Williams, Serena has become one of the biggest icons of the game, so much so the two even had their own biopic, the 2021 movie "King Richard," with their dad, Richard Williams, being played by Will Smith (which even won him an Oscar). But while it seemed like Serena really had it all as the movie hit the big screen and she continued to make impressive hits on the court, she made a pretty surprising announcement to the world.
Why Serena Williams is retiring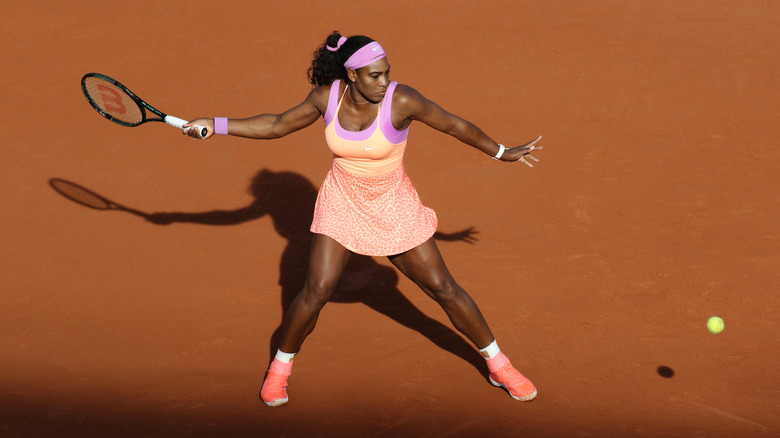 Leonard Zhukovsky/Shutterstock
Serena Williams confirmed she's leaving the tennis court behind in a surprise announcement via Vogue on August 9. The star explained that she'd be saying bye bye to the game after the U.S. Open, suggesting she wanted to spend more time with her family, including her 4-year-old daughter, Olympia. "If I have to choose between building my tennis résumé and building my family, I choose the latter," she explained, sharing that she and her husband, Alexis Ohanian, are looking to welcomed their second child, while noting that she wasn't happy about her decision to retire and was torn on what to do. "It's the hardest thing that I could ever imagine. I hate it. I hate that I have to be at this crossroads," she shared, explaining that she wasn't ready for her career to end but was still excited for whatever's coming next.
The star also uploaded her Vogue cover to Instagram, writing, "I have to focus on being a mom, my spiritual goals and finally discovering a different, but just exciting Serena."
The official announcement came mere hours after Williams hinted at calling time on her playing career after winning against Nuria Parrizas Diaz at the National Bank Open in Toronto. "There's just a light at the end of the tunnel... I'm getting closer to the light. Lately that's been it for me. I can't wait to get to that light," she said, per Sky News, noting she couldn't play forever.
What's next for Serena Williams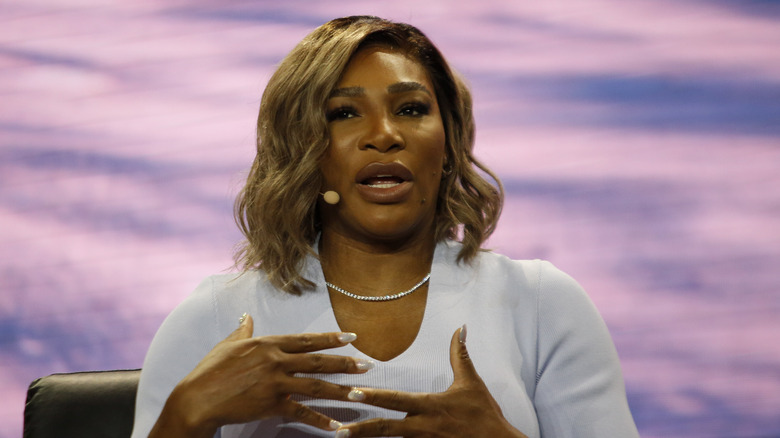 Marco Bello/Getty Images
As Serena Williams' bittersweet news shocked fans on August 9, she clarified her definition of retirement to Vogue. "I have never liked the word retirement. It doesn't feel like a modern word to me ... Maybe the best word to describe what I'm up to is evolution." The 23-time Grand Slam champion continued, "I'm here to tell you that I'm evolving away from tennis, toward other things that are important to me." Although Williams may be taking a step back from sports, it's likely we'll continue to hear a lot about her. Besides focusing on her family and spirituality, she also has big plans for business.
Years after founding Serena Ventures in 2014, Williams is ready to take on a larger role within the company. An all-woman venture capital firm until their recent first male hire, Serena Ventures invests in up-and-coming companies with promising ideas. So far, some of their recent successes include plant-based company Impossible Foods, smoothie delivery service Daily Harvest, weight loss app Noom, women's shaving brand Billie, and online education platform MasterClass, where Williams herself teaches a tennis course. Of Serena Ventures' recent success, Williams told Vogue, "This year we raised $111 million of outside financing, from banks, private individuals, and family offices. Seventy-​eight percent of our portfolio happens to be companies started by women and people of color, because that's who we are." A glance at the firm's website shows the slogans "Play to win" and "We plan, we play, we win," which fall right in line with Williams' longtime tennis philosophy. 
Although fans of Williams will surely miss her on the court, they can rest assured that she'll never stop making boss moves.