Quavo And Offset's Feud Reignites Backstage At 2023 Grammys Before Tear-Jerking Takeoff Tribute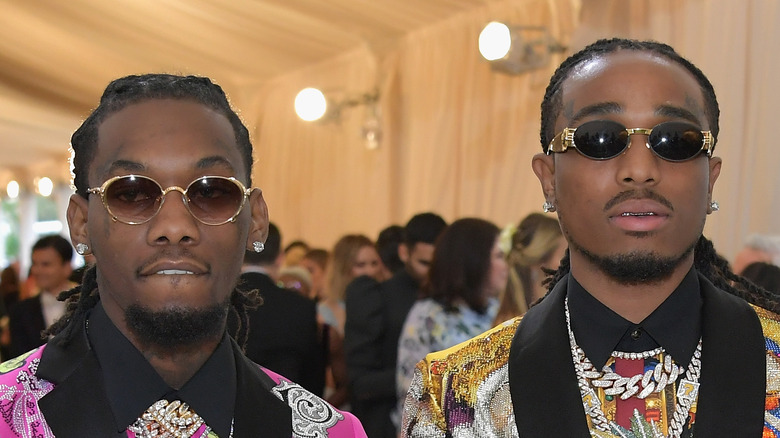 Neilson Barnard/Getty Images
Even with the passing of Takeoff, Quavo and Offset are still not seeing eye to eye. Relatives Quavo, Offset, and the late rapper, Takeoff were all part of one of the biggest rap groups of this generation, Migos. Migos was formed in 2008 and became a huge success with their 2013 track "Versace." The group continued to be successful with releases like "Bad and Boujee" and "Walk It Talk It." However, in 2021, fans noticed a shift in the group. And, as they say, you should never mix family with business.
In 2022, Quavo and Takeoff revealed that they were working on a project together without Offset, per Vibe. Quavo alluded that things between him and Offset had gone sour. He said, "I just feel like we want to see our career as a duo. Because you know, we just came from a loyal family, s*** that's supposed to stick together. And sometimes, when s*** don't work out, it ain't meant to be." It was clear whatever happened between the three members, Offset was on the outskirts.
Tragically, the group's whole world shifted when Takeoff died, per TMZ. To honor him, Quavo performed a tribute to the late rapper during the in memoriam segment at the 2023 Grammy Awards. While it was incredibly touching, it seems there were a few hiccups along the way, including a fight between Quavo and Offset.
Quavo and Offset pulled apart before Takeoff tribute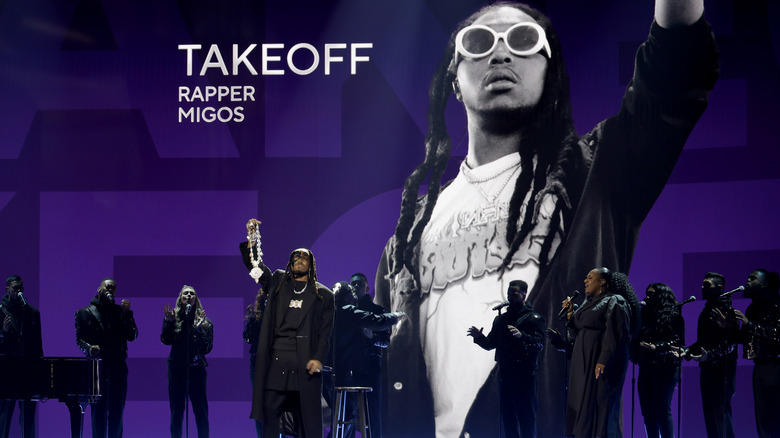 Frazer Harrison/Getty Images
It was clear when Migos broke up that the three members were not getting along. However, with the death of Takeoff, fans believed Quavo and Offset would lean on one another during this difficult time. Unfortunately, that hasn't been the case.
Quavo performed at the in memoriam segment at the 2023 Grammy Awards as a tribute to Takeoff, per Complex. The rapper sang his newly released song "Without You," which was written in honor of Takeoff. Some of the lyrics in the song include, "Out in the galaxy, up in the stars / Over the universe, it's bigger than Mars / See you in heaven, see you heaven / When I see you in heaven, I'ma be with my dog." The touching tribute had fans emotional as Quavo let it all out on the stage. However, the performance was almost ruined, because Quavo and Offset reportedly got into it minutes before the tribute.
According to TMZ, Quavo and Offset got into a physical fight just before the rapper hit the stage. The outlet reports that "The Grammys had asked Offset to be part of the tribute," but Quavo refused to have Offset on stage with him, which led to the fight. The two reportedly had to be pulled apart before Quavo took the stage alone. Neither Quavo nor Offset have spoken about the reported altercation.