Behati Prinsloo Laughs Off Fake Hype Over Adam Levine Addressing His Cheating Scandal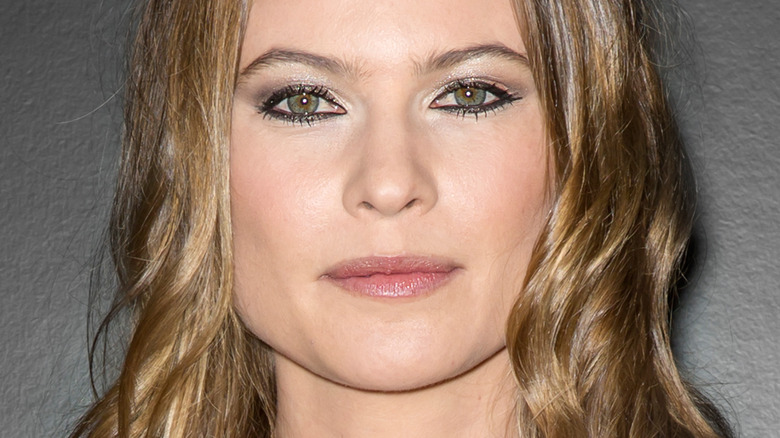 Ovidiu Hrubaru/Shutterstock
Adam Levine is a lot of things — a father, a singer, and a former coach on "The Voice," to name just a few. However, the star found himself at the center of negative press after a TikToker and model named Sumner Stroh revealed some shady details about their relationship. In the viral video from September 2022, Stroh shared some messages she received from Levine on Instagram claiming she and Levine had an affair — all while Levine and Behati Prinsloo were married. Though they broke things off, Stroh revealed to fans how Levine came back to her. "Ok serious question. I'm having another baby and if it's w [sic] boy I really wanna name it Sumner. You ok with that? DEAD serious," Levine wrote to the model in her DMs. Say what? "I was like, I have to be in hell at this point," Stroh added. "My morals were unknowingly compromised. I was completely manipulated." 
The model followed up her first video with a second TikTok, where she apologized to Prinsloo, who fans called the "only victim" in the scenario. "I'm not the one getting hurt in this. It's Behati and her children," Stroh said in the video before telling fans that she was "so sorry" for what transpired.
According to CNN, Levine addressed the elephant in the room on his Instagram Stories after the viral clip. "I used poor judgment in speaking with anyone other than my wife in ANY kind of flirtatious manner," he wrote while denying the affair.
Behati Prinsloo LOLs at Adam Levine's expense
Behati Prinsloo is literally laughing off Adam Levine's cheating scandal. It all began when the "Call Her Daddy" podcast teased an upcoming episode with a short video clip posted to their Instagram page. In the promo for the series, host Alex Cooper revealed she was a huge Maroon 5 fan. "I'm glad that you agreed to sit down with me today and discuss the scandal surrounding infidelity in your marriage," she said to someone who fans presumably figured to be Adam Levine. Even Behati Prinsloo commented on the post, saying, "LOL," which was kind of confusing, seeing as the scandal was probably not that funny to her.
Only a few hours later, it came to light that Cooper didn't sit down with Adam Levine but instead interviewed "Pitch Perfect" star, Adam Devine, who bares a very similar name to the Maroon 5 frontman. "Adam Devine is here to set the record straight – he and his wife are doing amazing," the "Call Her Daddy" podcast wrote in a different Instagram post. Still, we must applaud Cooper and her team for one of the greatest PR stunts in recent memory and Prinsloo for laughing it off. 
In late January, People reported that Levine and Prinsloo welcomed their third child, though no further details like the name were leaked at the time. One thing's for sure — we don't think the name Sumner made the cut this time.