Todd And Julie Chrisley Had A Major On-Screen Argument Before Reporting To Prison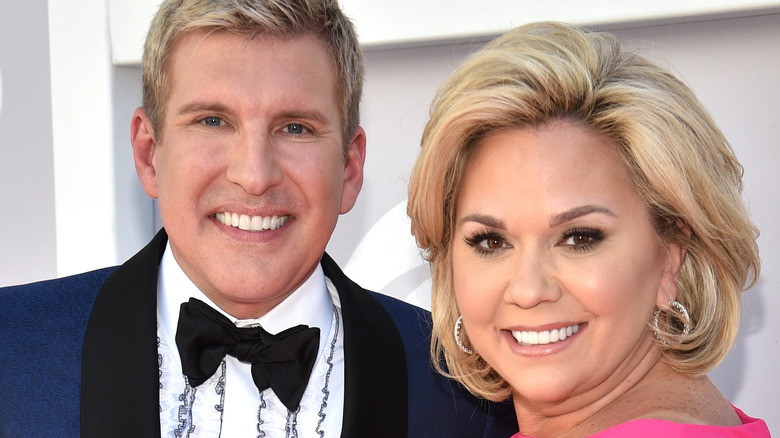 Kevin Mazur/acma2017/Getty Images
Reality television couple and convicted felons Todd and Julie Chrisley had a major argument filmed before their reporting to their respective prisons, new footage from the Season 10 premiere of their series "Chrisley Knows Best" shows. Though Todd and Julie were given lengthy sentences, which they began serving in January 2023, their on-screen argument isn't about their legal troubles. Instead, as shown in the Season 10 opener, titled "Renovation Frustration" (via USA Network), the couple is seen in a heated exchange about a completely unrelated subject.
The issue at hand, as shown in the episode, is that Todd and Julie don't see eye to eye regarding their latest project. Julie is unhappy with Todd after discovering he had lied to her about his renovation plans concerning the home the couple intends to reside in, and it's safe to say that things between the two quickly went downhill from that point.
Julie and Todd Chrisley are frustrated by home renovations
During an episode of "Chrisley Knows Best" (via USA), Julie Chrisley laments, "Being married to Todd means you're never gonna call a place home for very long," sharing that they had moved "three times in the past year" as of her confessional. She adds, "Now we're in a rental. The only reason I agreed to move into this new house is because it was turnkey. I'm just excited to move in, unpack, and be done."
Julie's excitement about the turnkey property is short-lived when she realizes that her husband, Todd Chrisley, has changed his mind regarding renovations. Though Todd attempts to placate her, Julie has a different view on the matter, explaining to him, "Todd, you understand that the rental has sold. We have to be out. We have nowhere to go. Because I'm living in a delusional world thinking I'm moving into a house in a few weeks."
Later in the episode, Julie stresses to her husband that she is frustrated that they can't give their son Grayson some stability before he attends college. With the season off to a very rough start, it isn't clear how things will pan out for the Chrisleys moving forward. Off-screen, their daughter Savannah has spoken about how she and her younger siblings are struggling with their parent's prison sentences.