Bradley Cooper Became A Massive Eagles Fan Long Before Silver Linings Playbook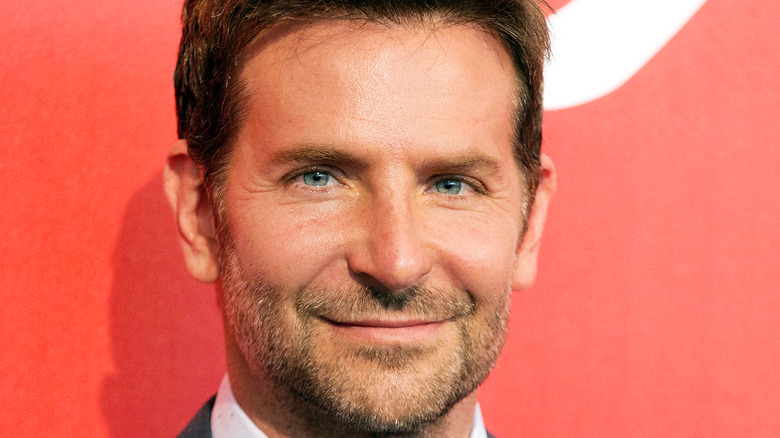 Andrea Raffin/Shutterstock
Bradley Cooper's love for the Philadelphia Eagles goes way back. The actor portrayed an enthusiastic Eagles fan named Pat Solitano in the acclaimed 2012 comedy/drama film "Silver Linings Playbook," per NBC Sports. Leading up to the movie's release, Cooper talked about his similarities to his character during an "Inside the Studio" interview. "There's a lot of love put in this movie from everybody, from Robert De Niro to [director] David O. Russell," Cooper said, according to the Philadelphia Eagles. He added, "It was a very personal thing. I'm from Philly, I'm Italian-Irish like Pat Solitano." 
Additionally, the 48-year-old stated that he and his cast and crew members "tried to be as authentic as possible" throughout the journey of shooting "Silver Linings Playbook." In 2012, it was revealed that Cooper spent time around Eagles players as he was participating in press interviews for the movie. "It kinda doesn't get any better," Cooper said of visiting the football team (via Eagles Unscripted). Just like his character, in real life, Cooper also has a deep connection to the Eagles.
Bradley Cooper has been a Philadelphia Eagles fan since childhood
Bradley Cooper's loyalty to the Philadelphia Eagles started way before he portrayed Pat Solitano in "Silver Linings Playbook." In 2012, the Philadelphia native was asked by The Washington Post whether he was a fan of the team just as his character was. "Yes, ma'am. I'm a huge Eagles fan, I'm a huge Philly sports fan," Cooper said. "The only thing I never grew up with — hockey was not big in our family." The actor shared with The Philadelphia Inquirer that he and his father, who sadly died of lung cancer in 2011, were "drawn together" by their shared enjoyment of watching Eagles games. "We brought the TV into the kitchen so we wouldn't miss anything," Cooper said.
When he chatted with ESPN, the "Limitless" star discussed the passion Eagles fans possess. "I think it's a badge of honor that we wear. I'm proud to be an Eagles fan," Cooper said. "['Silver Linings Playbook'] is a send-up of that, to how much football is a member of the family and how it creates a sense of community." In 2022, Cooper showed his zeal for the game, as NBC Sports Philadelphia reporter John Clark tweeted a video of the "Hangover" actor encouraging the crowd to cheer during an Eagles game at Lincoln Financial Field. Now, Cooper's team is in a position to possibly win a major title.
Bradley Cooper has watched the Philadelphia Eagles in a past Super Bowl appearance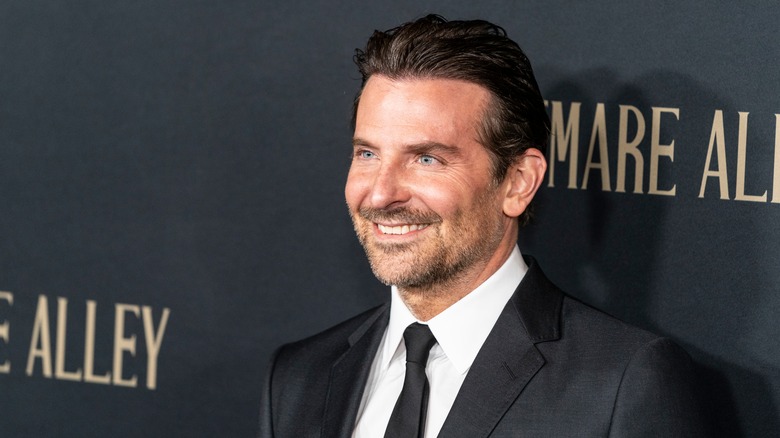 lev radin/Shutterstock
Bradley Cooper remains an avid supporter of the Philadelphia Eagles. The Ringer wrote that Cooper was one of the celebrities seen at the Eagles vs. 49ers game on January 29. The "A Star is Born" actor was also shown cheering his team on during the game in a photo tweeted by NFL on Prime on game day. Per 6 ABC, since the Eagles secured the win, the team is now gearing up to battle the Kansas City Chiefs for Super Bowl LVII on Sunday, February 12.
Us Weekly reported in 2018 that Cooper attended Super Bowl LII to watch the Eagles as they played against the New England Patriots. The "Nightmare Alley" star sat in box seats with the owner of the Eagles, Jeffrey Lurie. The performer walked away with a satisfying end to the game, as Philadelphia defeated New England with a final score of 41-33. This was a milestone for the team, as the news site noted that it was the Eagles' first-ever Super Bowl victory. Time will tell whether they're able to again win a Super Bowl title on February 12, as well as whether Cooper will attend the big game to support his team in person.